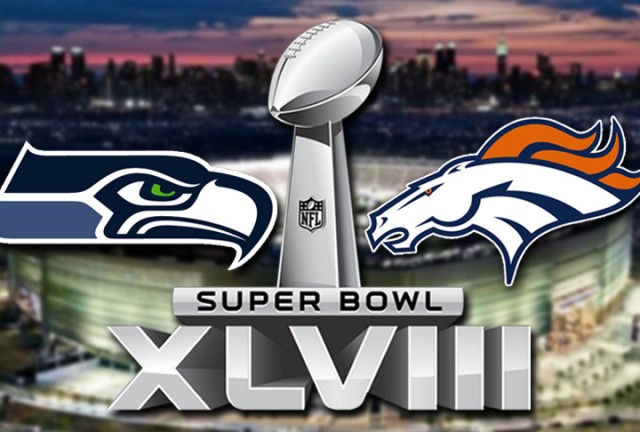 Super Bowl Betting: Line Movement Report
The Super Bowl is less than a week away, yet we've already seen more than 48,000 bets placed at our contributing sportsbooks. The Greek (Olympic), well known as one of the market-setting sportsbooks, opened their line with the Seahawks listed as a 1-point favorite. Within minutes the line had moved to a pick 'em, and shortly thereafter the Broncos emerged as 2-point favorites.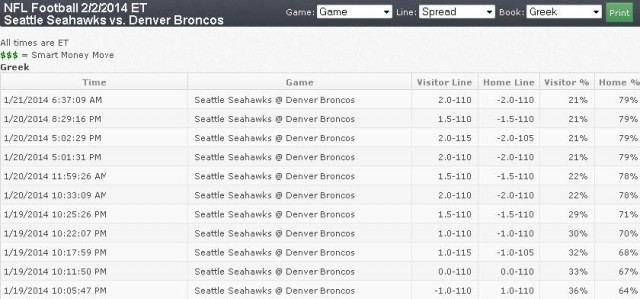 As you can see, the line began to settle once the Broncos became two-point favorites, and since then the line has been bouncing back and forth between -1.5 and -2. It's also notable that it has been six days since the line has even moved. The line graph below, which is available on our live odds page, shows the line movement and public betting percentages at the Greek.

Right now it appears that public money is responsible for this 3-point line movement as 72% of spread bets are taking the Broncos according to our Super Bowl betting trends. The screenshot below is also taken from our matchups page and displays the public betting percentages from all seven of our contributing sportsbooks.

At this point most sportsbooks have settled on Broncos -2, although there is a bit of variation with 5Dimes offering Denver -1 and Bovada offering Denver -3. The line at Bovada is particularly noteworth as three is considered a key number for NFL bettors.
Who do you like in Super Bowl XLVIII? Do you think there will be buyback on the Seahawks after seeing the public pound the Broncos in early betting? Make sure to leave your thoughts in the comment section below.
[adrotate group="4″]