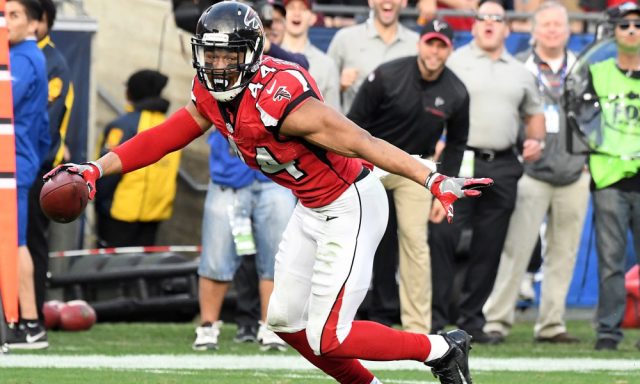 Super Bowl 51: Our Favorite Prop Bets
Super Bowl 51 is just days away and sportsbooks have posted more prop bets than ever before. These props start with odds on the pregame coin toss and the duration of the national anthem and extend into the postgame award ceremonies. Several decades ago these prop bets comprised about 2% of action seen in sportsbooks, but that number has soared in recent years.
Last Friday the Westgate Las Vegas SuperBook released hundreds of props, but all Las Vegas sportsbooks are required to offer prop bets that can be easily graded based on the final box score. Bettors looking for novelty props would need to take their action offshore.
Over the past few years, the popularity of these prop bets has seemingly reached a fever pitch, with fans gravitating towards the most ridiculous options. How many pizzas will Domino's sell on Super Bowl Sunday? Will a fire alarm be triggered at either team's hotel the night before the big game? How many times will the announcers say "deflategate"? These are just a sample of the most frequently discussed prop bets.
Whether you're a casual bettor just looking to have consistent action throughout the game with or a statistician who has been systematically running the numbers, everybody loves betting Super Bowl props. It's important to realize that most of these prop bets take small limits, and many of them feature prohibitive juice. That said, the following list represents the most interesting, funny, or potentially valuable prop bets according to the team here at Sports Insights.
Disclaimer: The following article is for entertainment purposes only.
David Solar – Content Manager
Will Super Bowl 51 go into overtime? (Bovada)
This isn't just a solid value; it's an important lesson for anybody betting on Super Bowl prop bets. Everybody is looking for that big one-time payout, so they're willing to take bad numbers on unlikely outcomes. Perhaps that's why two bettors have taken the Patriots at 9,999/1 to score exactly two points, even though that's only happened seven times since the NFL/AFL merger in 1970 and the Patriots offense features arguably the greatest quarterback of all-time.
In terms of the total number of tickets, the most popular Super Bowl 51 prop bets at William Hill are almost entirely comprised of long shots, as you can see from the screenshot below.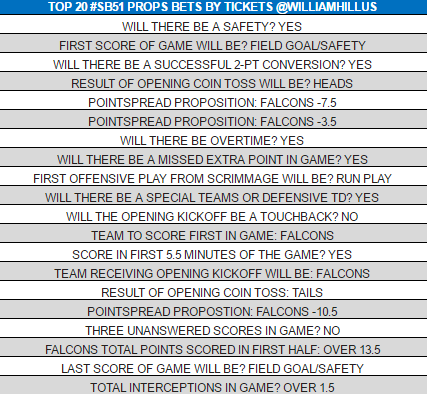 The seventh most popular wager listed on that list concerns whether Super Bowl 51 will go into overtime. Most bettors are expecting a competitive game, so they're happy to get big plus money payout (+700) on Sunday's game going into overtime. The only problem? No Super Bowl has ever gone into overtime and just over 5% of all NFL games have been decided in extra time.
Bovada is offering -1000 odds that Super Bowl 51 won't go into overtime and, although most bettors won't lay those long odds, it's actually a solid value. Based on the current odds, there's a 90.91% implied probability that this game won't go into overtime. Since the actual probability is about 95%, those odds should be much closer to -2000.
Since casual bettors are willing to take longshot payouts at bad prices, opportunistic bettors can capitalize on artificially inflated lines as sportsbooks attempt to mitigate their risk. It's not sexy, but props like the game being decided in regulation (-1000) or no safety being scored (-1000) are definitely mispriced.
The pick: Super Bowl 51 doesn't go into overtime (-1000)
PJ Walsh – Vice President of Operations
Super Bowl MVP (5Dimes)
I know, MVP is a quarterback award and with many fans, analysts and bettors (66% of bets on the over despite the highest total in Super Bowl history) expecting a shootout on Sunday, Tom Brady and Matt Ryan are the obvious choices to compete for the Super Bowl 51 MVP.
As a result, sportsbooks have priced the QB's accordingly with Brady listed as the MVP favorite at +100 and Ryan next at +175. While those signal-callers are the most likely players to win the award, I'm interested in taking a flier on a defensive longshot.
In the Patriots' two Super Bowl losses during the Brady/Belichick era, the New York Giants were able to consistently pressure Brady, successfully preventing him from getting comfortable when dropping back to pass. Looking at the Falcons' defense, Vic Beasley has the talent and skills to be a key factor in picking up where the Giants left off.
Beasley not only proved he could get to the quarterback this season by leading the league with 15.5 sacks, but he also tied for the league lead in forced fumbles. It's reasonable to assume that if Atlanta ultimately wins the game, pressure on Brady and forced turnovers will be a key factor and Beasley fits the profile of a player who can make that happen.
While Beasley certainly isn't my favorite to win the MVP, there is a realistic path for him to get there and at 80-1; he's worth a couple of leftover dollars after you're done breaking down the implied probability/true odds of Lady Gaga's cleavage.
The pick: Vic Beasley to win Super Bowl MVP (+8000)
Dan McGuire – Operations Manager
Which will be more? Premier League goals on Sunday (+0.5) vs. Tom Brady + Matt Ryan TD passes (William Hill US)
I've chosen a soccer cross-sport prop for Super Bowl 51 once again, and I love the value on +0.5 Sunday EPL goals vs. Brady/Ryan combined TD passes. Brady's O/U TD passes is set at 2.5, same as Ryan, which combine to 5 total TD passes on average. The totals for Leicester/Manchester United and Manchester City/Swansea are 2.5 and 3 respectively, which combine to 5.5 total goals.
From the odds alone, there are more expected goals than TD passes thrown. Manchester City are also massive favorites against Swansea, so we could see a blowout 4-0 or 5-0 win. I would have thought about betting this prop even if EPL goals was the -0.5 favorite, so I will gladly take +0.5. Unrelated, but I also think a small wager on the Super Bowl going to overtime at +1000 is worth a shot.
The pick: Premier League goals on Sunday (+0.5, -105 juice)
Josh Appelbaum – Customer Service Manager
Will Donald Trump say "Bill Belichick" on Twitter?  (BetOnline)
Normally I gravitate toward plus-money props; however, this one is too valuable to pass up. Everyone knows Trump loves Belichick (and Brady). And I do expect Trump to mention Belichick on Twitter. But here's where it gets interesting. The prop stipulates that Trump must say "Bill Belichick." When Trump mentions Belichick, he almost always refers to him as "Coach Belichick." Take "No" at -130. And always remember to read the fine print!
The pick: No (-130)
Mark Gallant – Sports Betting Specialist
Will the word "lacrosse" be said on television? (Bovada)
For those who don't know, Patriots wide receiver Chris Hogan is a former Penn State lax bro. Since most of the country probably doesn't know that, they will most likely mention it once he makes a catch. Even if he doesn't make a catch, they'll likely talk about him considering his 180 yard, 2 touchdown performance in the AFC Championship game.
The pick: Yes (-250)
Nicole Patti – Marketing Coordinator
If the Patriots win will Brady, Belichick or Kraft be seen shaking Roger Goodell's hand on TV? (Bovada)
WHEN the Patriots win, all eyes will be on Brady, Belichick, and Goodell. I do believe we'll see a handshake go down between Goodell and Brady, Belichick and Kraft. Both B's are stand up guys, and have enough dignity to participate in the traditional handshake between coach, quarterback and the NFL commissioner. Plus, doesn't it rub in the Super Bowl win even more? Nothing like making your biggest opponent acknowledge he just may have made a mistake.
The pick: Yes (-300)
John Ewing – Director of Analytics for Bet Labs
Will any player leave the Super Bowl with a concussion? (Bovada)
There were 244 player concussions in 2016 per the NFL, down slightly from 2015 (275 concussions). Fewer concussions make "No" look appealing. Also, remember the hit Matt Moore took against the Steelers in the Wild Card round? Well, per the NFL, the Dolphins didn't follow strict concussion protocol and Moore returned to the game. So even if a player does get a concussion in the Super Bowl, there is a chance the team won't handle it correctly.
The pick: No (-160)
Make sure to check out our free NFL odds page for the latest odds, betting trends, injuries and more. We also want to know which Super Bowl props you plan on taking, so please leave any comments in the section below.
Have any questions for the staff at Sports Insights? Utilize our live chat to speak with a customer service representative or e-mail us at help@sportsinsights.com.