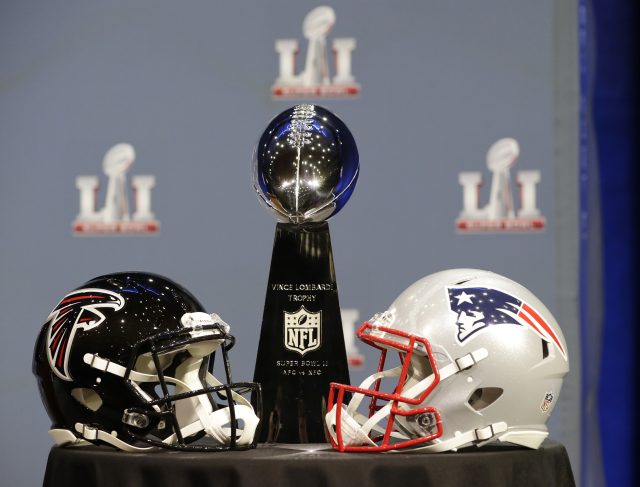 Super Bowl 51 Betting Analysis
Super Bowl 51 kicks off this Sunday at NRG Stadium in Houston, Texas. The New England Patriots (16-2 SU, 15-3 ATS) are making their seventh appearance of the Brady/Belichick era and, not surprisingly, they're favored to win their fifth Lombardi Trophy. With a win and cover on Sunday, the Patriots would actually tie the 1989 San Francisco 49ers for the greatest ATS season in league history.
Despite New England's recent dominance, it's important that bettors don't overlook the Atlanta Falcons (13-5 SU, 12-6 ATS). Head coach Dan Quinn is making his third Super Bowl appearance in four seasons, having previously served at the defensive coordinator for the Seattle Seahawks. Led by odds-on regular season MVP favorite Matt Ryan, they run one of the most dynamic offenses in league history, having averaged 33.8 points/game during the regular season.
When the line was first released nearly two weeks ago, the Patriots opened as 3-point favorites at the market-setting Pinnacle sportsbook. Since that time, New England has received 66% of spread tickets and 63% of spread dollars. Although we've only had money percentages for one season, that ticket percentage represents historically one-sided public betting. Since 2003, only one team (Denver -1.5 against Seattle in Super Bowl 48) has received more than 66% of spread tickets.
The screenshot below, which is available to Sportsbook Insider subscribers, shows the individual ticket percentages from our contributing sportsbooks.

Despite this historically lopsided public betting, only one sportsbook has moved off the key number of 3. Treasure Island, a Las Vegas sportsbook, is currently offering Falcons +3.5 (-135). Since most sportsbooks charge 25 cents to buy a half-point, this is no different than the standard spread of Falcons +3 (-110). The only reason Treasure Island is offering this juiced up line is because they don't want the Patriots to win by exactly 3-points, which would result in a push. By offering the hook, they guarantee action on the spread.
Although no offshore sportsbook has moved off Patriots -3, it's worth noting that oddsmakers have been adjusting their juice all week. Since opening, the Patriots have moved from -3 (+102) to -3 (+106) at Pinnacle. It may not seem major, but the Patriots juice has improved by four cents despite overwhelming public support. This is an example of reverse line movement, which indicates that sharp bettors are leaning towards the Falcons.
[click image below to enlarge]

To understand why sharp money is important, bettors first have to understand how sportsbooks operate. Many bettors believe that oddsmakers are looking to balance their book by attracting 50% of the action on each side and thereby mitigating any risk. That is pure fiction. Sportsbooks shade their opening line to capitalize on public perception and allow their most-respected clients to move the lines.
Although sportsbooks have taken more money on New England, they're willing to stomach that liability since their sharpest bettors have been favoring Atlanta.  Sportsbooks aren't in the business of minimizing risk; they're in the business of maximizing profits. Sharp bettors have correctly backed the Falcons in consecutive weeks, and books know they'll take more sharp money if they adjust the spread to 3.5.
The public action has balanced out a bit as we've taken a good bit of Atlanta money from them," according to Scott Cooley, a spokesman for Bookmaker.eu. "It's a little under 60 percent Patriots right now." He also stated there's "a 30-40 percent chance we'll get off the -3. All depends on where the big sharp money comes in."
There hasn't been any significant movement on the spread, but the total is an entirely different animal. With two of the league's top offenses squaring off, Pinnacle opened the total at 57.5. Although this is lower than last week's NFC Championship total, it's actually the highest Super Bowl total in NFL history — just a half-point higher than Super Bowl 44 between the New Orleans Saints and Indianapolis Colts (closed 57).
Bettors love high-scoring games and naturally gravitate towards the over — especially in a matchup of two elite offenses. Dating back to 2003, the majority of bettors have taken the over in 86.6% of regular season games and 90.6% of playoff games. To nobody's surprise, bettors have once again been favoring the over for Super Bowl 51.
According to our public betting trends, 62% of tickets and 63% of total dollars wagered have taken the over. This has pushed the total from 57.5 to 58.5 at Pinnacle.
[click image below to enlarge]

Pinnacle was one of the last sportsbooks to move their Super Bowl 51 total to 58.5, and that total dipped back down to 58 briefly on Tuesday morning.  It's also worth noting that the Super Bowl total briefly reached 60 at several sportsbooks earlier in the week, although sharp bettors almost immediately took the under at that point.
Before placing a wager on the total, bettors should be sure to check the status of the roof. NRG Stadium features a retractable roof and, although it initially seemed likely that the roof would be closed, the NFL recently stated they would prefer to see it open. "If the weather cooperates with us, which we hope it does, the roof will be open," NFL director of events Eric Finkelstein said at a media briefing last week.
That would be huge news given the performance of overs in dome stadiums. Since 2003, NFL regular season overs have gone 411-379 (52%) when the game is played in a dome and 1,360-1,370 (49.8%) when the game is played outdoors. During the postseason, that edge is even more apparent with indoor overs going 24-8 (75%) and outdoor overs going just 50-66 (43.1%). Perhaps even more pertinent are the strong projected wind speeds.
[click image below to enlarge]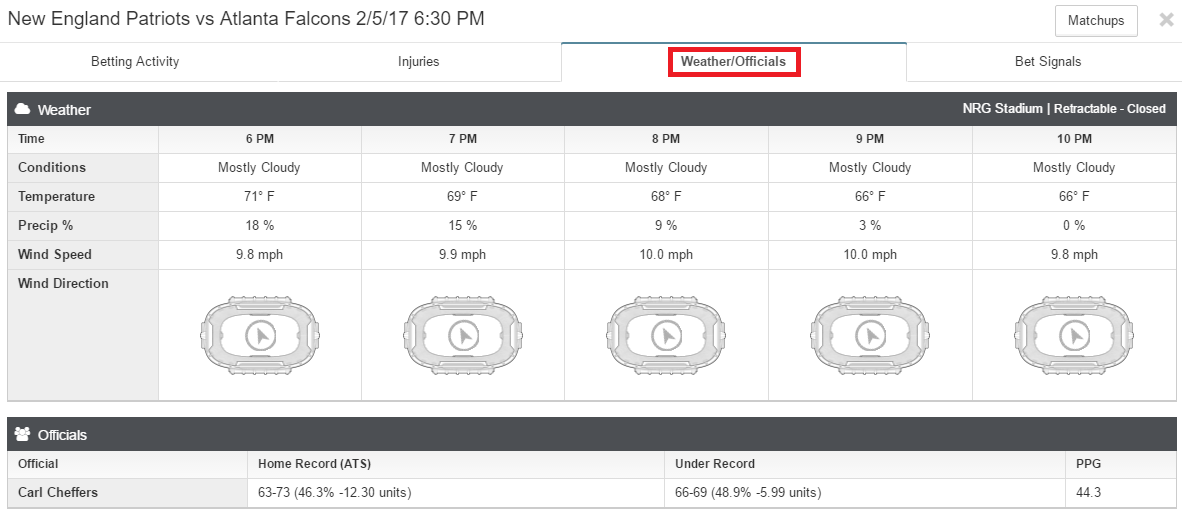 Although cold temperatures don't have a major impact on totals, strong wind speeds have historically been very detrimental to scoring. Over the past fourteen seasons, the under has gone 432-344 (55.7%) when the wind is blowing at least 10 miles per hour. That includes a 19-13 (59.4%) record during the playoffs.
The table below displays the closing total for every Super Bowl matchup.
| Super Bowl | Final Score | Total | Over/Under |
| --- | --- | --- | --- |
| XLIV | New Orleans 31, Indianapolis 17 | 57 | UNDER |
| XLII | N.Y. Giants 17, New England 14 | 55 | UNDER |
| XXIX | San Francisco 49, San Diego 26 | 53.5 | OVER |
| XIX | San Francisco 38, Miami 16 | 53.5 | OVER |
| XLVI | N.Y. Giants 21, New England 17 | 53 | UNDER |
| XXXVI | New England 20, St. Louis 17 | 53 | UNDER |
| XXXIII | Denver 34, Atlanta 19 | 52.5 | OVER |
| XXX | Dallas 27, Pittsburgh 17 | 51 | UNDER |
| XXVIII | Dallas 30, Buffalo 13 | 50.5 | UNDER |
| XXVI | Washington 37, Buffalo 24 | 49 | OVER |
| XXXI | Green Bay 35, New England 21 | 49 | OVER |
| XXXII | Denver 31, Green Bay 24 | 49 | OVER |
| XXIV | San Francisco 55, Denver 10 | 48 | OVER |
| XVIII | L.A. 38, Washington 9 | 48 | UNDER |
| XVI | San Francisco 26, Cincinnati 21 | 48 | UNDER |
| XLVII | Baltimore 34, San Francisco 31 | 48 | OVER |
| XXIII | San Francisco 20, Cincinnati 16 | 48 | UNDER |
| XLVIII | Seattle 43, Denver 8 | 47.5 | OVER |
| XLIX | New England 28, Seattle 24 | 47.5 | OVER |
| XXII | Washington 42, Denver 10 | 47 | OVER |
| XLI | Indianapolis 29, Chicago 17 | 47 | UNDER |
| XL | Pittsburgh 21, Seattle 10 | 47 | UNDER |
| XXIX | New England 24, Philadelphia 21 | 46.5 | UNDER |
| XLIII | Pittsburgh 27, Arizona 23 | 46 | OVER |
| XXXIV | St. Louis 23, Tennessee 16 | 45 | UNDER |
| XLV | Green Bay 31, Pittsburgh 25 | 45 | OVER |
| XXVII | Dallas 52, Buffalo 17 | 44.5 | OVER |
| XXXVII | Tampa Bay 48, Oakland 21 | 44 | OVER |
| II | Green Bay 33, Oakland 14 | 43 | OVER |
| L | Denver 24, Carolina 10 | 43 | UNDER |
| XXV | N.Y. Giants 20, Buffalo 19 | 40.5 | UNDER |
| XXI | N.Y. Giants 39, Denver 20 | 40 | OVER |
| III | N.Y. Jets 16, Baltimore 7 | 40 | UNDER |
| XII | Dallas 27, Denver 10 | 39 | UNDER |
| IV | Kansas City 23, Minnesota 7 | 39 | UNDER |
| XI | Oakland 34, Minnesota 14 | 38 | OVER |
| XXXVIII | New England 32, Carolina 29 | 37.5 | OVER |
| XX | Chicago 46, New England 10 | 37.5 | OVER |
| XV | Oakland 27, Philadelphia 10 | 37.5 | UNDER |
| XIII | Pittsburgh 35, Dallas 31 | 37 | OVER |
| XVII | Washington 27, Miami 17 | 36.5 | OVER |
| V | Baltimore 16, Dallas 13 | 36 | UNDER |
| XIV | Pittsburgh 31, L.A. Rams 19 | 36 | OVER |
| X | Pittsburgh 21, Dallas 17 | 36 | OVER |
| VI | Dallas 24, Miami 3 | 34 | UNDER |
| VII | Miami 14, Washington 7 | 33 | UNDER |
| IX | Pittsburgh 16, Minnesota 6 | 33 | UNDER |
| VIII | Miami 24, Minnesota 7 | 33 | UNDER |
| XXXV | Baltimore 34, N.Y. Giants 7 | 33 | OVER |
| I | Green Bay 35, Kansas City 10 | N/A | N/A |