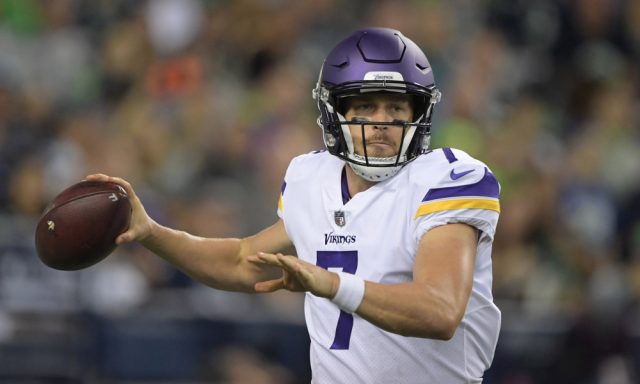 Steelers Vikings Roller Coaster Line Coming to a Peak With Bradford Out
Earlier in the week, we targeted the Vikings Steelers line as one to watch given the early betting percentages and line movement. We didn't expect Sam Bradford to be on the bench, though.
Given Bradford's performance last week, nearly 75% of bettors were backing the Vikings as of Wednesday afternoon. The line at Bookmaker, which opened at Steelers -6.5, had gone all the way to 5 given the support on Minnesota. Those who got the Steelers -5 are certainly pumped heading into the game now.
However, on Friday, buyback on the Steelers started to take place. Perhaps some of this can be attributed to the Bradford injury news, which wasn't expected to keep him out originally, but could have impacted his performance even if he did play. The percent of bets, which was once quite lopsided, moved closer to 50/50 and the line moved back to 6.

This morning at about 10 AM eastern, with Bradford's status becoming more and more questionable, the line jumped from 6 to 7.5. In an article we wrote earlier in the summer, Bradford was considered a "Tier 5" quarterback and worth 2-3 points to the spread. Given his week 1 performance and public perception, the line has moved even more than that.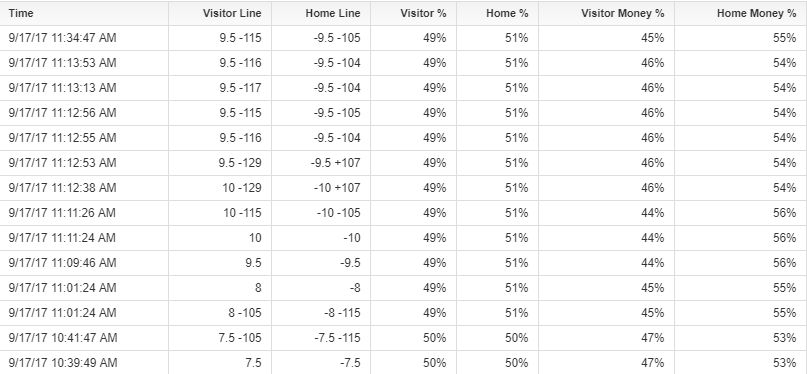 Once news on Twitter started leaking that Bradford was going to miss the game, Bookmaker's line jumped from 8 to 9.5 and even reached 10 for a couple of minutes. As of about noon eastern, the Steelers are getting 52% of bets and 55% of dollars with Case Keenum getting the start. Teams have gone 11-11 ATS when Case Keenum has started.
The total for this game has also taken a hit, moving from 45.5 to 43.5. 53% of bettors are actually taking the under, which is a rarity. Over the past decade plus, the under has received the majority of bets only about 15% of the time.
Follow us on Twitter @SportsInsights for more NFL news and bookmark our NFL free odds page to track lines and percentages leading up to gametime.