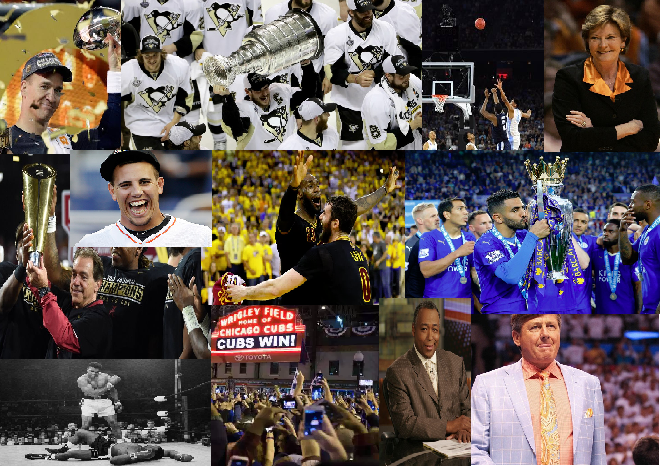 Sports Insights 2016 Betting Review
As 2016 comes to a close, we've taken a look at this year's most profitable teams, biggest upsets and title winners, as well as product enhancements, new features, popular articles, and top tweets.
2016 Most Profitable Regular Season Teams (Moneylines for MLB/NHL)
NFL: New England Patriots 12-4 ATS (+7.88 units)
NCAAF: Temple 12-1 ATS (+10.14 units)
MLB: Texas Rangers 95-67 ML (+27.64 units)
NBA: Toronto Raptors 47-30 ATS (+14.98 units)
NCAAB: Virginia Tech 19-7 ATS (+11.20 units)
NHL: Columbus Blue Jackets 43-32 ML (+12.75 units)
CFL: BC Lions 13-5 ATS (+7.98 units)
WNBA: Connecticut Sun 20-11 ATS (+8.20 units)
2016 Biggest Upsets (Moneylines)
NFL: Rams +357 at Cardinals on October 2
NCAAF: South Alabama +3000 at Mississippi State on September 3
MLB: Brewers +288 at Cubs on September 18
NBA: Lakers +2352 at Warriors on March 6
NCAAB: Delaware St +3250 at St. John's on November 29
NHL: Canucks +301 at Rangers on November 8
CFL: Toronto Argonauts +425 at Ottawa Redblacks on July 31
WNBA: New York Liberty +658 at Minnesota Lynx on June 29
2016 Title Winners w/Preseason Consensus Odds
NFL: Denver Broncos +1500
NCAAF: Alabama +750
MLB: Chicago Cubs +700
NBA: Cleveland Cavaliers +250
NCAAB: Villanova +2500
NHL: Pittsburgh Penguins +1200
CFL: Ottawa Redblacks +700
WNBA: LA Sparks +1500
UEFA Champions League: Real Madrid +500
England Premier League: Leicester City +500000
Spain La Liga: Barcelona -140
Italy Serie A: Juventus -175
Germany Bundesliga: Bayern Munich -1000
France Ligue 1: PSG -750
USA MLS: Seattle Sounders +2000
Men's Golf: Masters: Danny Willett +12500    |    US Open: Dustin Johnson +1800    |    British Open: Henrik Stenson +3600    |    PGA Championship: Jimmy Walker +15000
Men's Tennis: Australian Open: Novak Djokovic -130   |    French Open: Novak Djokovic +120    |    Wimbledon: Andy Murray +350    |    US Open: Stan Wawrinka +2000
Women's Tennis: Australian Open: Angelique Kerber +5000    |    French Open: Garbine Muguruza +1500    |    Wimbledon: Serena Williams +150    |    US Open: Angelique Kerber +1000
Sports Insights News:
New and Improved Live Odds Page
Over the summer we spent significant time and resources to upgrade our Live Odds platform to better serve our members. The new Live Odds page allows for faster updates, quick and easy navigation, improved customization and more.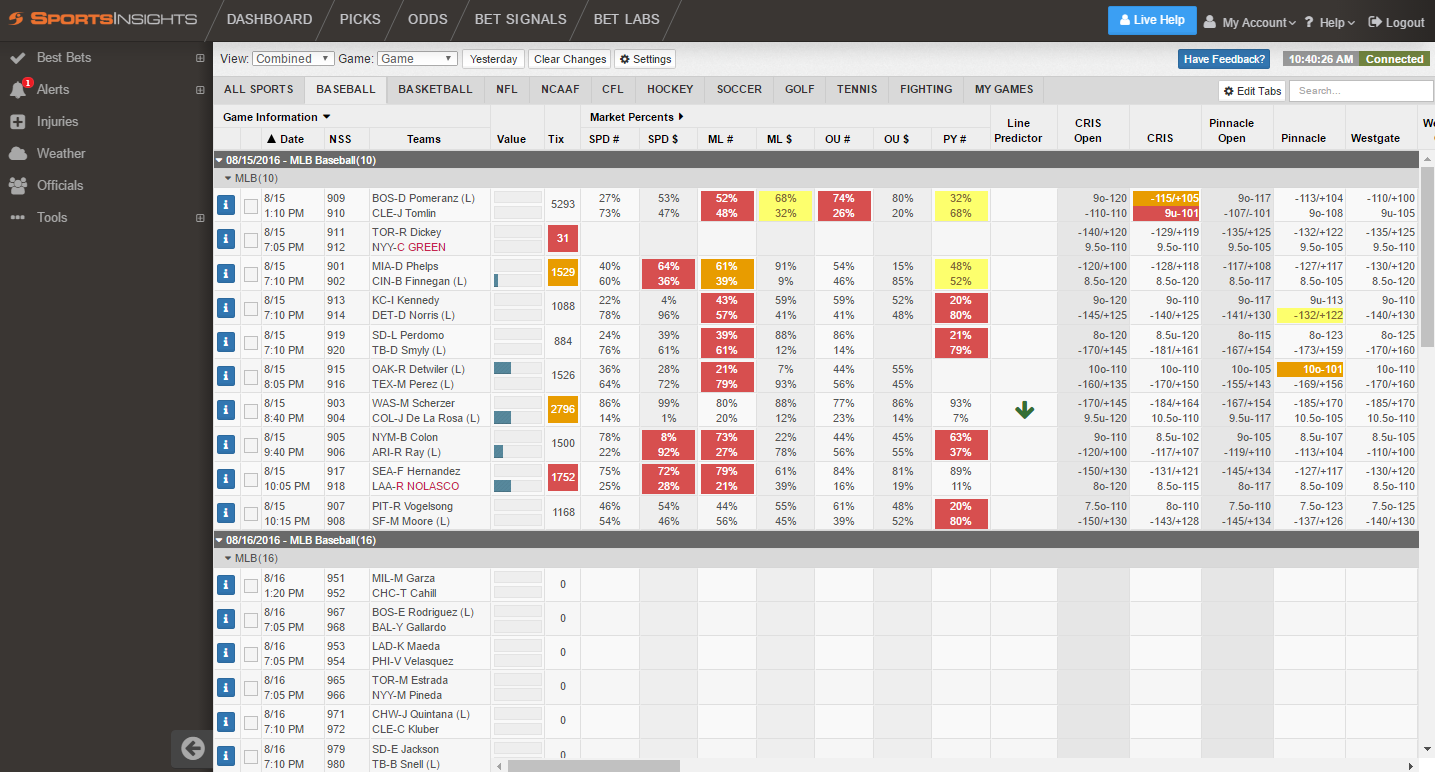 Enhanced Dashboard Features
With the new Live Odds page we're able to provide more valuable data, including a more in-depth look at the betting breakdown around the market for every game, as well as enhanced pages for Weather, Officials, Bet Signals, and Best Bets. And one of the biggest additions we've made this year is showing the Money Percentages on spread, moneyline, and totals for each game:

These new Money Percentages are something you won't find anywhere else, and are available with a Premium or Pro membership. Now our members are able to distinguish where the tickets AND money is going for every single game, an invaluable tool for any sports bettor.
New "Smarter Bets" podcast
Over the summer David Solar and Dan McGuire launched the first "Sports Insights: Smarter Bets" podcast, available on iTunes and SoundCloud. The goal of the podcast is to educate bettors on how to make smarter bets using our software and has run weekly since July 22, 2016. You can also view all past episodes right from our homepage here.
ESPN Contributions
Our Live Odds page is still being used at ESPN Chalk, and David has also been busy providing weekly NFL columns for ESPN Insider, as well as an NCAAF Bowl Betting Preview.
Most Popular Articles/Posts:
1. 2016 NFL MVP Odds
2. 2017 NBA MVP Odds
3. 2016 NFL Offensive Rookie of the Year Odds
Top Tweets of the Year:
Since 2003, Peyton Manning has gone 19-20 ATS when the temperature is 50 degrees or lower. He has gone 92-66 ATS in all other games.

— Sports Insights (@SportsInsights) January 23, 2016
The top two road refs (+105 units combined) are officiating tonight's Cavs-Warriors Game 2: https://t.co/k4GDjoWLLI

— Sports Insights (@SportsInsights) June 5, 2016
In August, #Bills HC Rex Ryan was +2500 to be the first coach fired, but he's since moved to +900. https://t.co/5ocYR9Hzge

— Sports Insights (@SportsInsights) September 14, 2016
Donald Trump is now the FAVORITE to be the next President of
the United States (via 5Dimes)
#Trump: -120
#Clinton: +100#ElectionNight

— Sports Insights (@SportsInsights) November 9, 2016
Another look at Leicester's odds

Aug: +500,000
Sep: +30,000
Oct: +150,000
Nov: +30,000
Jan: +3,250
Feb: +275
Mar: -165
Apr: -700
May: -1900

— Sports Insights (@SportsInsights) May 2, 2016
And finally, here are some useful links to bookmark for 2017:
Free Live Odds
Memberships
Blog
We wish you all betting success in 2017 and if you have any suggestions/thoughts, feel free to let us know in the space below.