Announcing The Newest Sports Insights Live Odds Page
Great news for all of our Sportsbook Insider subscribers! We are excited to announce the official launch of our new and improved live odds page. We have been working hard all summer to improve our live odds interface with several new features, improved customization options, faster updates, and much more. The new modernized layout allows bettors to easily track the latest odds, public betting trends, money percentages and sharp money indicators.
At Sports Insights, we are committed to providing our customers with the best live odds experience. That means keeping up with the latest technologies and ensuring that valuable sports betting information is available at lightning speeds. Our new live odds page is easy to use, so even casual bettors can start bet like a sharp.
To be a sports betting professional, you need professional information. Our products are designed to help any level of sports bettors achieve consistent winning results, but the new odds page makes that information easily available at the fastest speeds.
Click here for a quick video overview of our new Live Odds and Bet Signals pages!
New Odds Page
While most of our competitors are still using outdated technology, our new live odds page provides the fastest update speeds and more customization options than ever before. Users can drag and drop columns, expand and contract headers, seamlessly change bet types, view full line histories, and much more.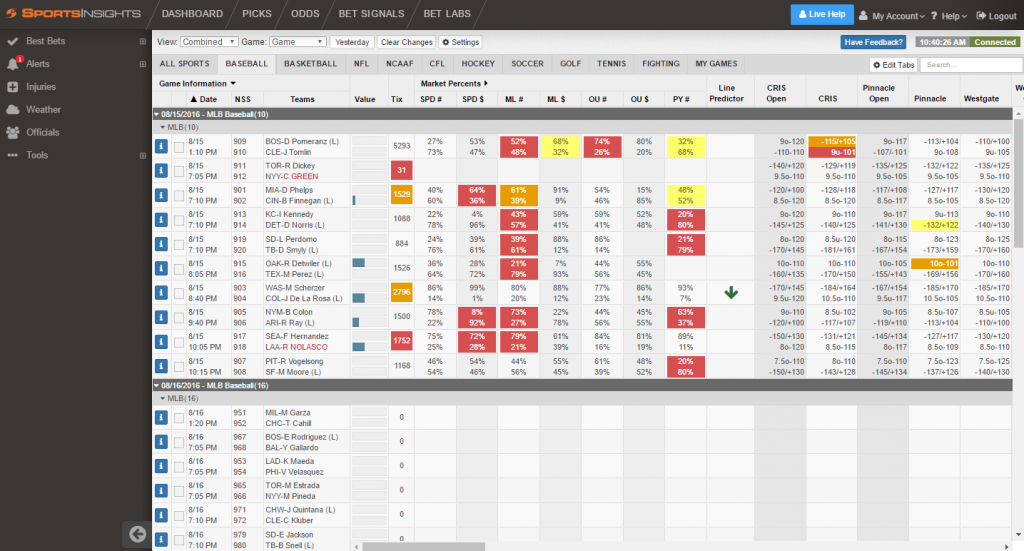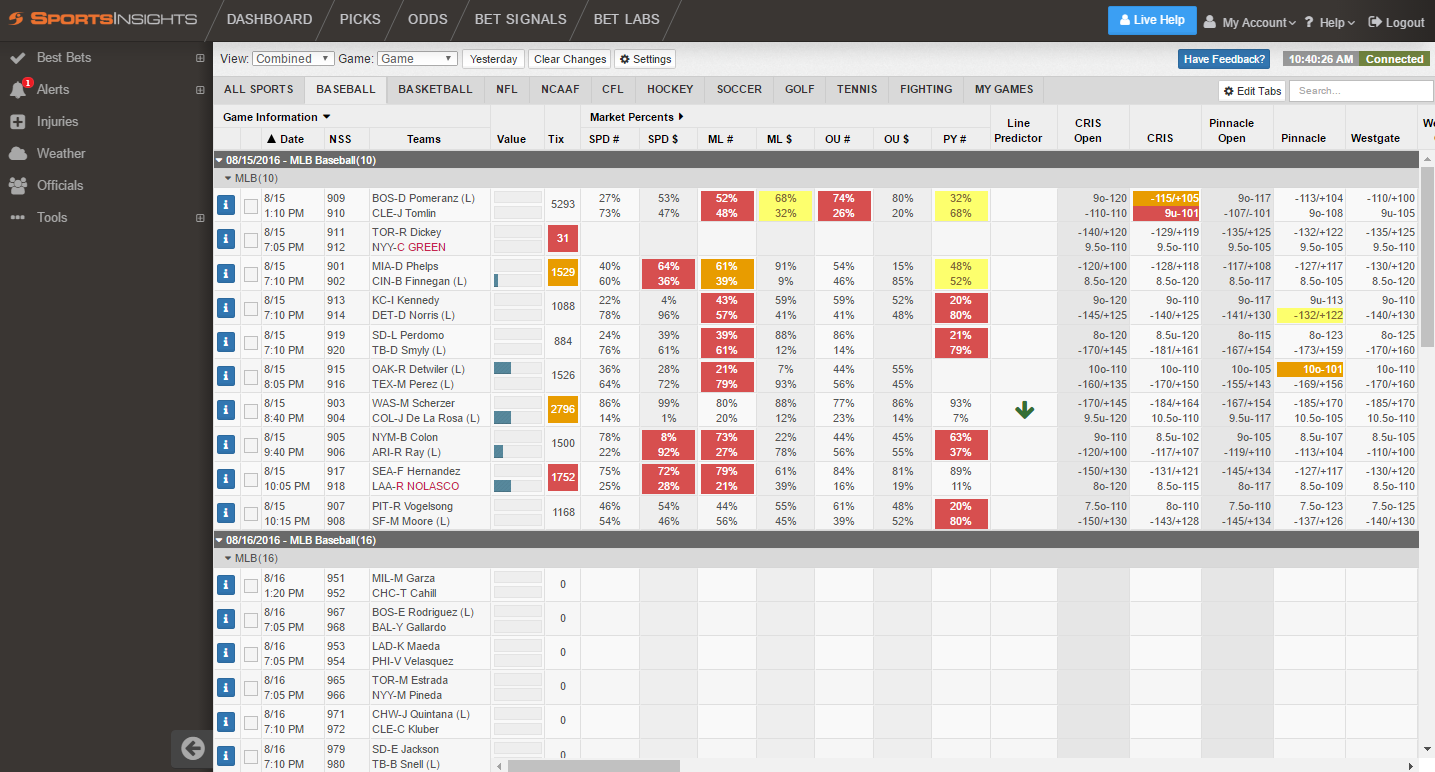 With one click of the mouse, bettors can collapse their sidebar, game information and betting percentages to maximize the number of viewable sportsbooks on their live odds page. Bettors can also pin columns for improved control when scrolling.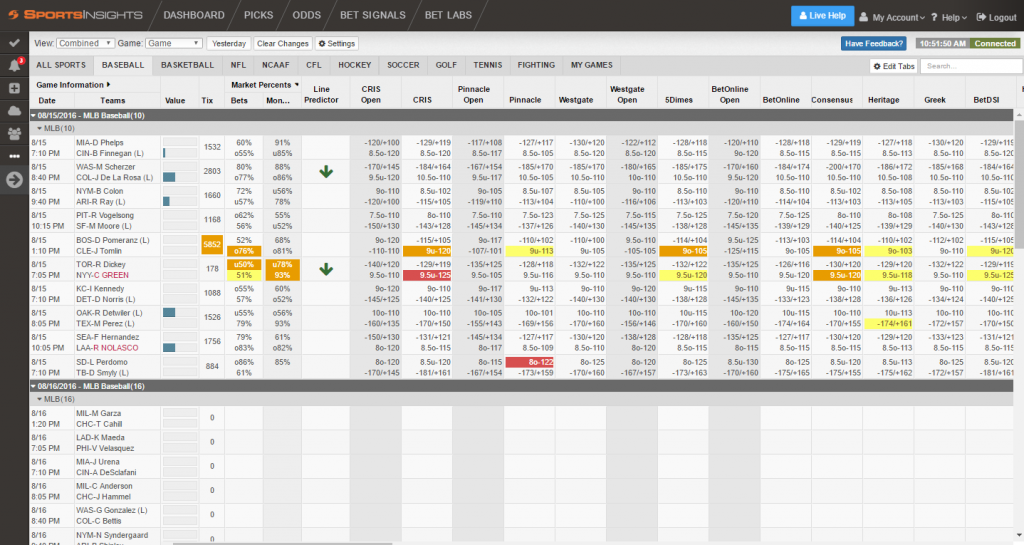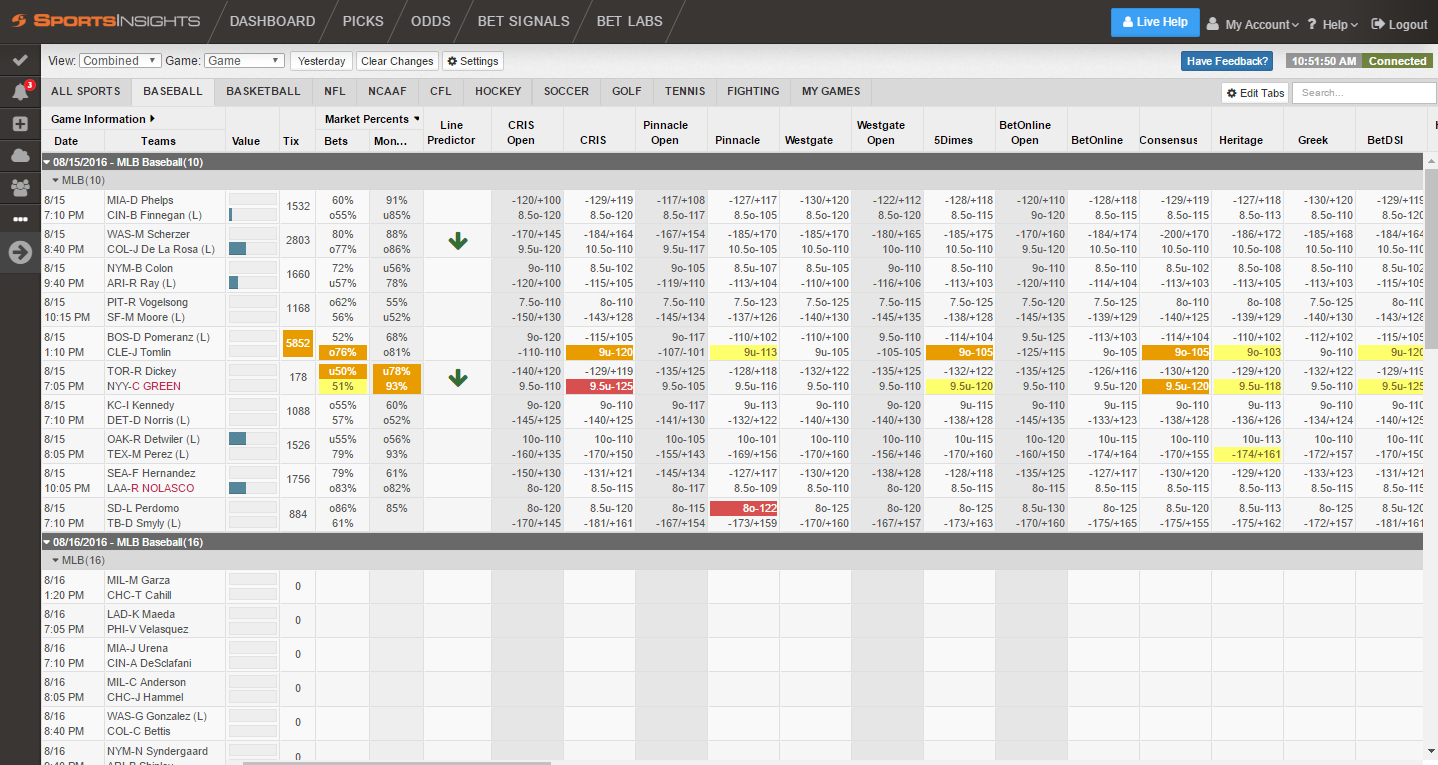 You may notice that next to the alerts tab on the sidebar, the number "3" is circled and highlighted in red. That indicates that there have been three bet signals and/or injury alerts triggered since the icon was last clicked. This allows bettors to know exactly what they missed while they were away from their computer. Simply scroll over the tab to see the latest alerts, or click the icon to reset the counter.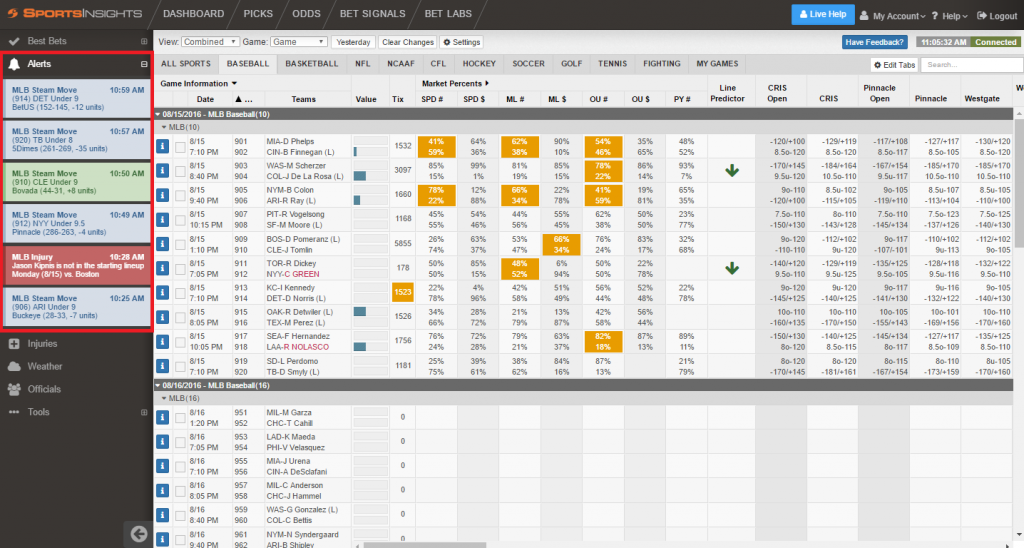 These alerts will display in the sidebar, but users can also receive pop-up notifications. These will appear in the lower right-hand corner of the screen and can be customized in your settings. Injury alerts will be highlighted in red, profitable plays will be highlighted and green and losing plays will be highlighted in blue.
By clicking "open game details," users can launch the in-game dashboard for that game.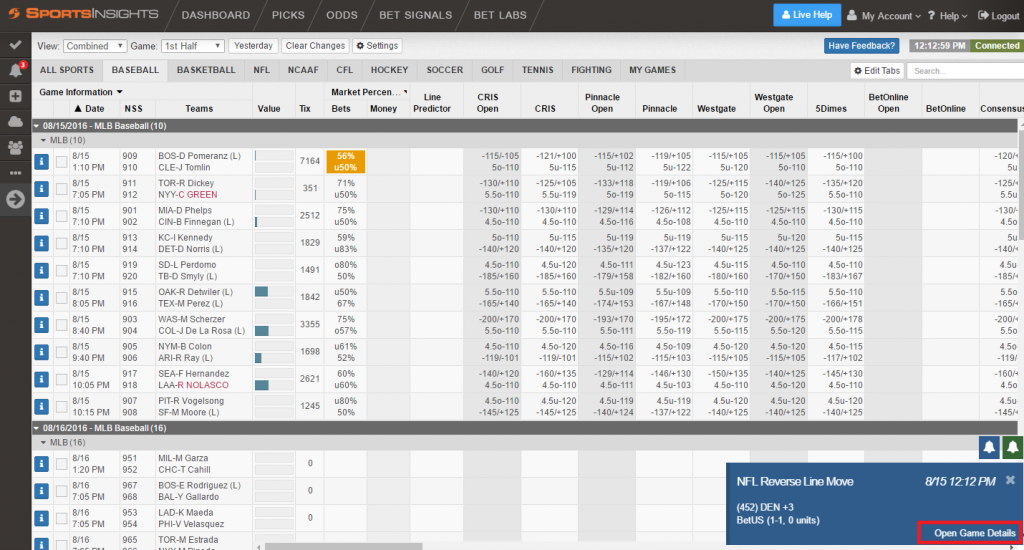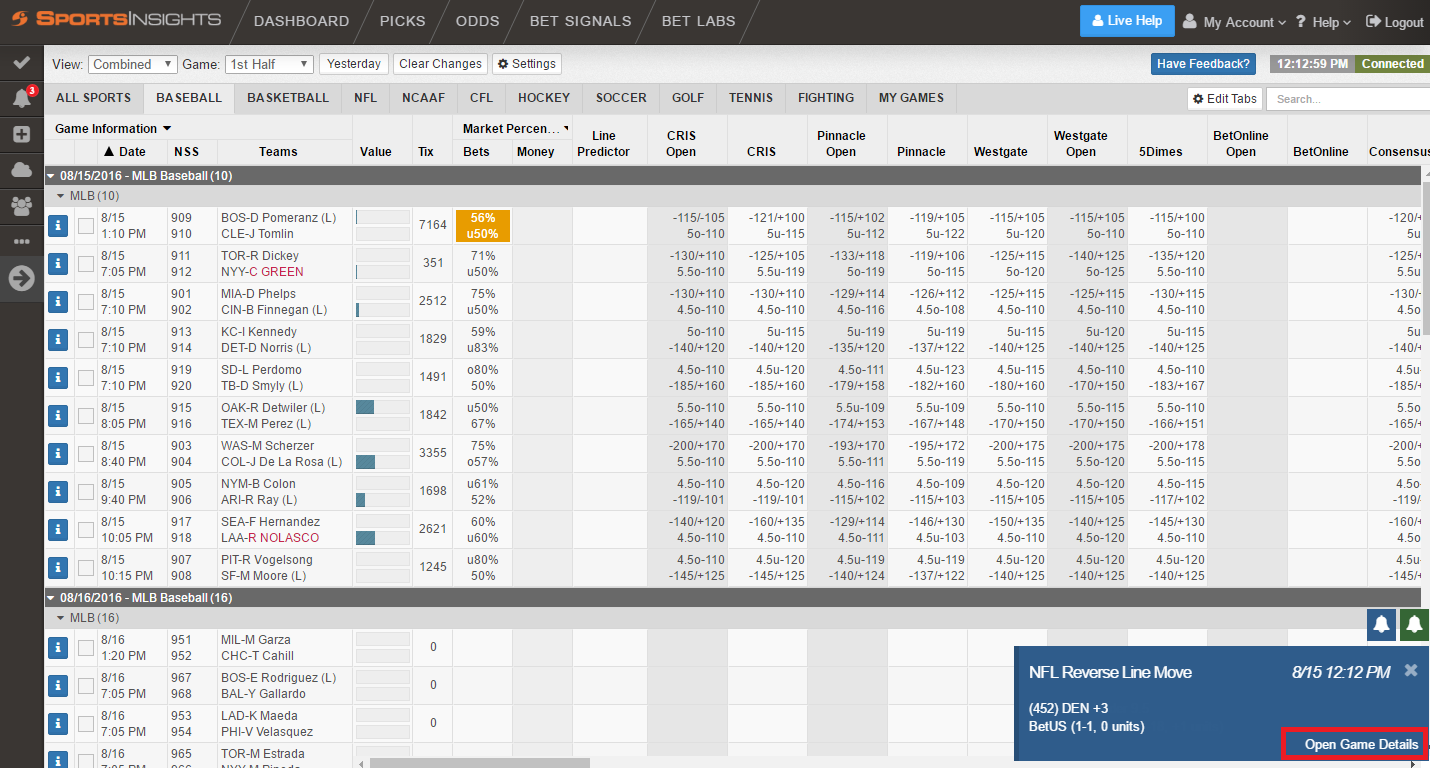 Looking for familiar features like the line watcher, scores, historical archives, futures, lineups and line predictors? That can now be found in the sidebar under "tools."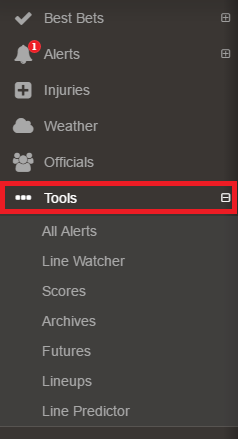 As mentioned earlier, you can now pin columns to your live odds page. This is very helpful if you would like to view the public betting trends (ticket and money percentages) as you scroll across the live odds page. This can easily be done by clicking the three horizontal lines next to your desired column.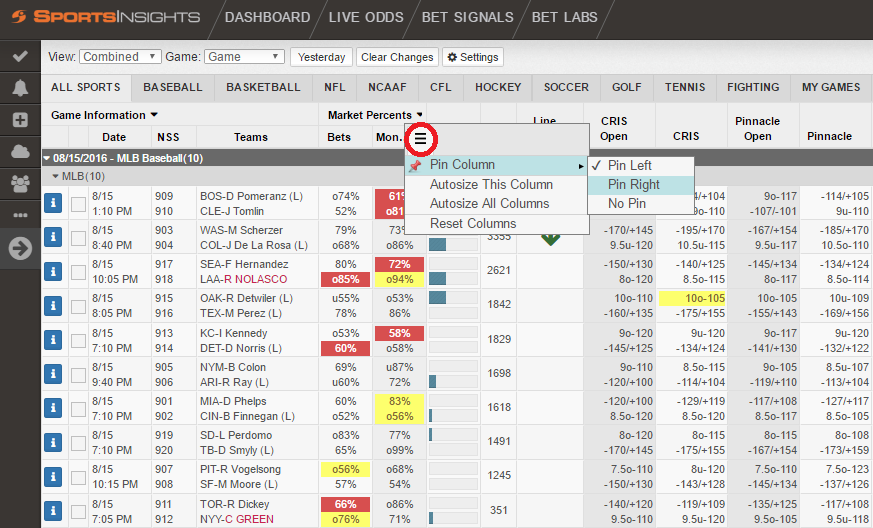 Sport Tabs
We have also made several tweaks to our settings, including more customization options for the sports displayed on your live odds page. Rather than having every single soccer league listed individually (i.e. EPL, Spanish Premier, etc…), users can choose to have all soccer games listed under one tab. Likewise for basketball (NBA, NCAAB, WNBA) and football (NFL, NCAAF, CFL).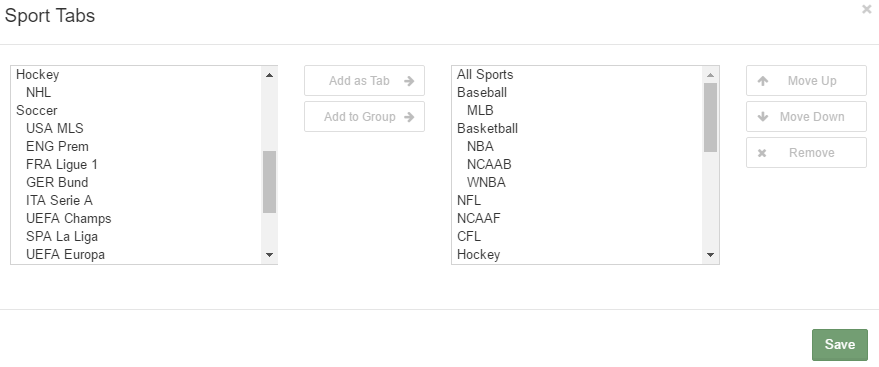 In-Game Dashboard
By clicking on the "i" icon, bettors can view all of the latest information for their desired game. That includes the breakdown of our public betting trends at all seven contributing sportsbooks, improved line graphs for all of our available sportsbooks, full injury reports, enhanced weather reports, detailed referee/umpire data, bet signals (including steam moves, reverse line movement, contrarian plays and best bets), and current lineups.
The new in-game dashboard is fully dynamic, meaning that you will see any changes to these trends in real-time. We are also excited to include our newly added money percentages to the dashboard. This will help bettors more accurately ascertain which factors are driving line movement.
Weather is an important factor in line movement. Temperature and wind speeds can have a tremendous impact on the line, and bettors will often see the total fluctuate tremendously if the wind is blowing straight out. Our new weather tab gives detailed projections on the conditions throughout the game.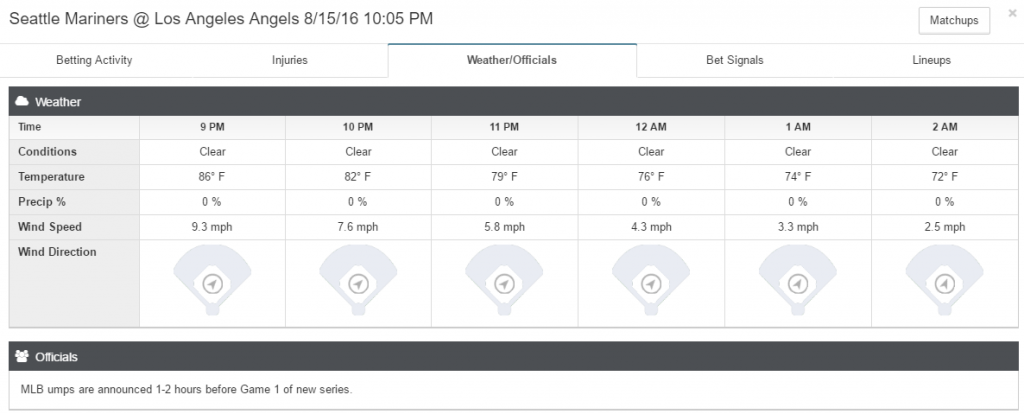 Bet Signals
For years we have been tracking steam moves, reverse line movement, and contrarian plays, but our new bet signals page quickly summarizes all of the day's action and allows users more search and customization options than ever before. Want to know which games have been hammered by sharp money? We summarize the top five plays of the day based on the most profitable bet signals.
Users can easily sort bet signals by sport, bet type, units won and triggering book while hiding any contradicting moves. Not only can users view every bet signal triggered this season, they can also access our archives to view the results from past seasons.
We are also excited to announce our new charting feature, which displays the units won over time based on your search criteria. Want to know how well the Pinnacle moneyline MLB steam move has performed since the All-Star break? Simply select sport, season and bet type before clicking update.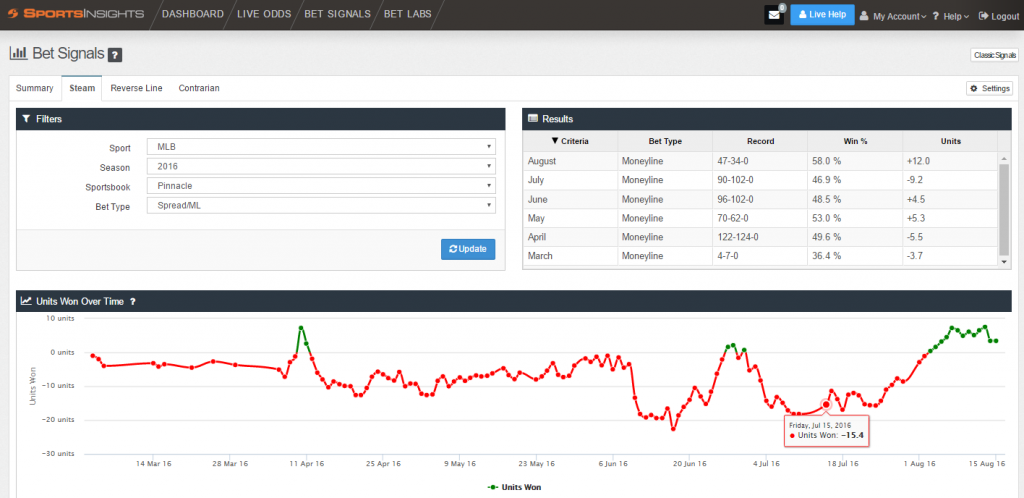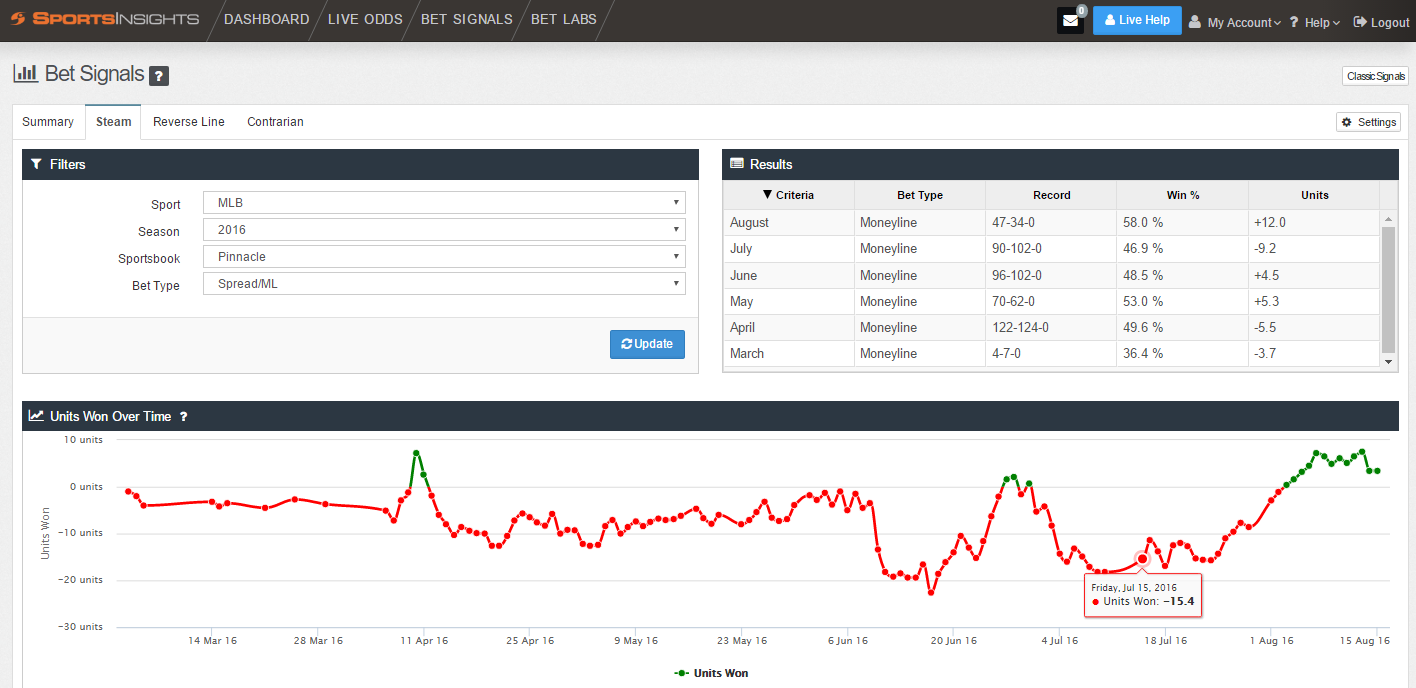 Bettors can view every sportsbook that moved as part of each steam move, along with the previous and current line. You can also easily access the full line history, final score and units won/lost for every game listed.

---
We are very excited about these new improvements and believe it will help our customers in their quest to make smarter bets; however, this is only the tip of the iceberg. Over the next few months, we will continue to add new features that are now possible due to our new odds platform.
Interested in trying our new odds page? Sign up for a 4-day Pro trial for real-time odds, public betting trends, money percentages, bet signals and much more. Schedule a one-on-one demo and we'll add four days onto your subscription for free!