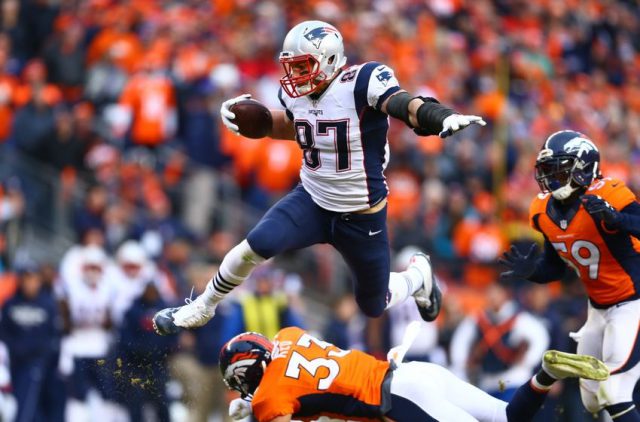 Should You Really Bet NFL Favorites Early and Underdogs Late?
For years there has been a popular axiom that bettors should take favorites early and underdogs late. This theory is rooted in psychology since casual bettors prefer taking winning teams, and overwhelmingly put their money on favorites. Oddsmakers can accurately anticipate one-sided action from public bettors, and they react by shading lines to force "square" bettors to take bad numbers when playing the popular side of a game.
Since sportsbooks know that they will receive public money on the favorite in nearly every game, many bettors believe that it's best to wait until the last moment before placing a wager on the underdog. Hypothetically, this would ensure that bettors are able to get the best line possible which is particularly crucial when the game opens near a key number.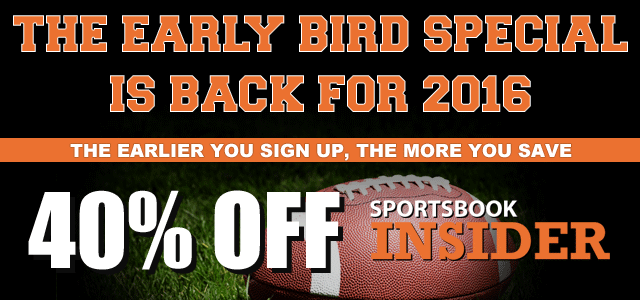 In an attempt to confirm this theory, the first step was determining how often a majority of bettors have taken the favorite using the public betting trends from our seven contributing sportsbooks. My research found that, since the start of the 2003 NFL season, at least 50% of spread bettors have taken the favorite in 2576 of 3218 regular season games. That means the public backed the favorite in more than 80% of all regular season games!
[easy-tweet tweet="The public has backed the fav in 80% of NFL games since 2003." user="SportsInsights"]
The spread can move for a variety of reasons including injuries, weather, and officials, but most of the time oddsmakers shade their opening lines to account for public money on the favorite and then allow sharp money from their most respected clients to shape the line. Although sportsbooks aren't necessarily looking to encourage 50/50 betting on each side, they will occasionally adjust their line to mitigate risk — especially given the heavy volume of bets on every NFL game.
To determine whether it was really advantageous to take favorites early and underdogs late, I examined every NFL regular season and playoff game since the start of the 2003 season. When the line got worse for the favorite (i.e. moving from -2 to -3), the game was categorized as moving towards the favorite. When the line got better for the favorite (i.e. moving from -7 to -6), I categorized the line as moving towards the underdog.
My research found that over the past 13 NFL seasons, the closing line at Pinnacle moved towards the favorite in 43.82% of all games and towards the underdog in 31.82% of all games. In 24.37% of all games during this period, the closing line was the same as the opening line. This confirmed the belief that bettors should take favorites early and underdogs late in order to get the best line possible.
The table below displays which way the opening line has moved at Pinnacle over the past 13 seasons.
| YEAR | Favorite | Underdog | Unchanged |
| --- | --- | --- | --- |
| 2003 | 39.51% | 21.95% | 38.54% |
| 2004 | 45.06% | 30.83% | 24.11% |
| 2005 | 46.33% | 22.01% | 31.66% |
| 2006 | 52.12% | 24.71% | 23.17% |
| 2007 | 37.02% | 32.44% | 30.53% |
| 2008 | 35.25% | 32.57% | 32.18% |
| 2009 | 45.56% | 31.27% | 23.17% |
| 2010 | 42.75% | 34.35% | 22.90% |
| 2011 | 38.67% | 36.72% | 24.61% |
| 2012 | 39.31% | 37.02% | 23.66% |
| 2013 | 49.23% | 34.62% | 16.15% |
| 2014 | 52.49% | 31.80% | 15.71% |
| 2015 | 45.53% | 41.25% | 13.23% |
| Overall | 43.82% | 31.82% | 24.37% |
The closing line has moved towards the favorite in 49.1% of all games over the past three seasons, which shows that this trend continues to ring true. However, one interesting observation was that public betting had surprisingly limited impact on line movement.
Since 2003, there have been 474 games in which one of the teams has received more than 75% of spread bets. In those games the line has only moved towards that team 228 times (48.10%), away from that team 116 times (24.47%), and remained unchanged 130 times (27.43%). Although this indicates that one-sided public betting has minimally affected the spread, it doesn't necessarily disprove the value of betting against the public.
As we mentioned earlier, oddsmakers are very skilled at anticipating bettors' behavior and shading their opening lines to account for the influx of public money on one side. They know which teams will attract public money, and these shaded lines create excellent value for any contrarian bettors who are willing to take an unpopular viewpoint.
My research found that teams receiving more than 75% of spread bets have gone 215-259 ATS (45.4%) with -51.8 units lost. By betting against (fading) those popular teams, contrarian bettors would have actually earned +30.71 units with a 6.5% return on investment (ROI). When the line is artificially inflated and gets worse for the public side, that ROI nearly doubles from 6.5% to 12.6%.

NFL lines are typically released on Sunday evening when the late games are still in play, and sharp bettors will typically hammer those lines immediately if there's an obvious mistake made by the oddsmakers. However, most sharp bettors prefer spending the necessary time to prepare by studying game film, tweaking their models and avoiding any surprising mid-week injuries. By waiting until later in the week to place your wager, you can ensure that you have all the necessary information to make smarter bets.
Bettors also have to be aware of buy-back, particularly around key numbers like 3 or 7, which are the most common margins of victory in the NFL. If a team opens as a 6.5-point favorite and receives overwhelming public support, many sharp sportsbooks will be hesitant to adjust the spread by a half-point because they know sharp bettors are waiting to pounce on the underdog at plus-seven. That's why it's important to have access to advanced tools like the line watcher.
I wanted to confirm these findings so I reached out to Scott Cooley, an Odds Consultant for Bookmaker.eu. "I do think it is wise to bet chalk early, but it has to be very early or you'll miss a good number," said Cooley. "There are some opportune times throughout the week where underdog plays seem to provide the most value. The middle of the week is when the favorites seem to peak so getting a dog then is often a good spot."
Cooley elaborated that although it's still preferable to take underdogs late, you can't wait until the last possible moment. "Late is good but you can't wait until right before kickoff because that half hour window is usually when the value players start to take the dogs. So if you wait too late you'll miss the good number."
Sharp bettors tend to take underdogs and they tend to bet them early. Casual, recreational bettors tend to take favorites and they tend to bet them later in the week. This isn't a hard-and-fast edict, but it's a decent rule of thumb. Historically the line has moved towards the favorite more often than it's moved towards the underdog, so ultimately it's fair to say that bettors should still take favorites early and 'dogs late.
The odds for popular teams like Dallas, Green Bay and New England are often shaded to account for public action, but sportsbooks don't always shade their lines towards the favorite. It's also worth pointing out that sharp players will bet throughout the week, which is why it's important to monitor sharp money indicators like steam moves or reverse line movement.
Bettors can track the latest odds, betting percentages, injuries and more by visiting our free NFL odds page. Interested in viewing the newly added money percentages? Sign up for Sportsbook Insider today!
Have any questions for the staff at Sports Insights? Utilize our live chat to speak with a customer service representative or e-mail us at help@sportsinsights.com.