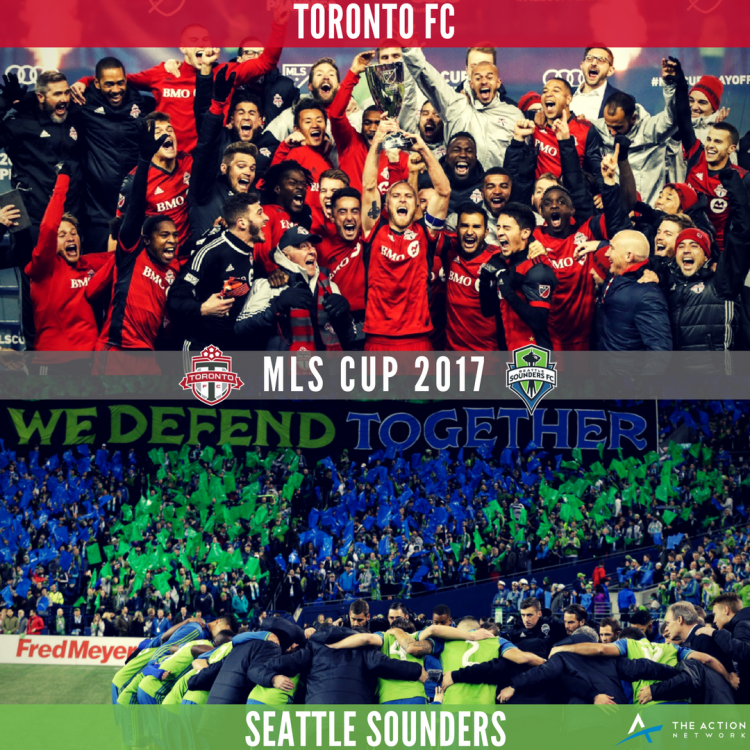 Sharp Money on Toronto FC to Get Their Revenge on Seattle at MLS Cup 2017
In an exact rematch from last season's final, Toronto FC will host the Seattle Sounders at MLS Cup 2017 on Saturday, December 9th at 4 pm ET. Last year, Seattle pulled off the small upset in penalty kicks (5-4) after surviving regulation and extra time 0-0 to win their first ever MLS Cup. It was almost a perfect scenario having Toronto +1900 to win the Cup from preseason, and Seattle +0.5 goals in the final, but it just wasn't meant to be. This year, Toronto FC are the -215 favorites to get their revenge on Seattle and lift the trophy, while the Sounders are +185 to repeat as champions. Here's a look at title odds throughout the season:
Team
Dec 5
(5Dimes)
Aug 1
(5Dimes)
May 25
(5Dimes)
Feb 26
(5Dimes)
Jan 9
(Bovada)
Toronto FC
-215
+600
+700
+550
+700
Seattle Sounders
+185
+1200
+1400
+700
+600
NY Red Bulls
N/A
N/A
N/A
+500
+600
Minnesota United
N/A
N/A
N/A
+20000
+10000
FC Dallas
N/A
N/A
N/A
+1000
+1200
Colorado Rapids
N/A
N/A
N/A
+1050
+1000
New York City FC
N/A
N/A
N/A
+1600
+700
Sporting KC
N/A
N/A
N/A
+2000
+1200
DC United
N/A
N/A
N/A
+2000
+2000
Portland Timbers
N/A
N/A
N/A
+3000
+2000
Columbus Crew
N/A
N/A
N/A
+4000
+3300
LA Galaxy
N/A
N/A
N/A
+650
+600
Real Salt Lake
N/A
N/A
N/A
+5000
+1400
New England Revolution
N/A
N/A
N/A
+6000
+3300
Vancouver Whitecaps
N/A
N/A
N/A
+6000
+1600
Philadelphia Union
N/A
N/A
N/A
+6000
+3300
Orlando City
N/A
N/A
N/A
+6600
+3300
San Jose Earthquakes
N/A
N/A
N/A
+7000
+3300
Chicago Fire
N/A
N/A
N/A
+9000
+10000
Atlanta United
N/A
N/A
N/A
+12000
+8000
Houston Dynamo
N/A
N/A
N/A
+12500
+6600
Montreal Impact
N/A
N/A
N/A
+4500
+1400
Toronto FC and Seattle Sounders both entered the season among the top favorites along with New York Red Bulls and LA Galaxy. Toronto FC stayed at the top for the entire season while Seattle started slowly and slipped a bit to +1400 before getting red-hot.
Current Betting Odds
There are a few other ways to bet on the MLS Cup including the 3-way moneylines and 2-way spreads based on regulation-time only. This means that your bet is graded based on the 90 minutes of regulation only, and anything after that is irrelevant to your wager. Here are your options for betting regulation-time based on current consensus odds around the market:
Moneyline
Seattle +411
Toronto -120
Draw +252
Spread
Seattle +½ (+110)
Toronto -½ (-120)
Total
Over 2½ (+129)
Under 2½ (-144)
Where The Bets Are Going
Since opening at -108 we've definitely seen some sharp money taking Toronto FC (29% of bets), moving the line up to -127 before settling at -120 where it currently sits. The majority of public bettors (57%) are taking big underdog Seattle to win straight up, but their odds have drifted from +355 to +411 since opening. The Sounders are trendy underdogs that you want to avoid, and early bettors that already pounced on Seattle got the worst of the number so far. A glimpse of how the line has moved toward Toronto FC since opening at Pinnacle:

We've also seen a little bit of line movement away from the draw from +249 to +252 but hardly anything significant yet compared to the moves on Toronto and Seattle. As always, I'm keeping my eye on the draw odds and betting %'s since that's where there tends to be value, especially in final matches. The MLS Cup has been tied after regulation in 3 of the last 4 seasons, but so far just 14% of bettors are taking the draw for Toronto/Seattle. Public bettors tend to overlook draws in general, but even more so in final matches since they like to pick a side to win straight up. Whether it's the MLS Cup, Champions League Final, World Cup Final or any other, don't be afraid to bet the draw.
How They Got Here
Toronto FC rolled through the entire season, winning 20 of 34 games and amassing 69 points along the way, a league-record. They were also the best on goals differential at +37. They were able to squeeze through New York Red Bulls and Columbus Crew in the Eastern Conference Playoffs to reach the MLS Cup for their second straight season. Forward Jozy Altidore has been hampered by an ankle injury but fully expects to be ready by Saturday.
As for Seattle, they started the season slowly with just 5 wins in their first 17 matches. However, they got incredibly hot through the summer and went on a 13-match unbeaten run over the course of four different months (June, July, August, September). The Sounders have actually been more impressive than Toronto in the playoffs and have yet to concede a goal in four playoff games this season. The playoff streak extends even further going back to last year's MLS Cup 2016 in Toronto. Unfortunately, they'll be missing defensive midfielder Osvaldo due to injury:
Ozzie Alonso failed his physical and won't feature at all in #MLSCup final for #Sounders.

— Geoff Baker (@GeoffBakerTIMES) December 7, 2017
Where The Value Lies
While there's definitely been early sharp money taking Toronto FC, I'm still very intrigued by the draw. If the public continues to overlook the draw and we see the line come down, it may be time to pounce. With the juice heavily on the Under 2.5 (-144) and movement going that way since opening, we shouldn't expect goals to be easy to come by. I could see the match ending 1-1 in regulation with Toronto FC getting their revenge in extra time/penalties to win MLS Cup 2017 on their home turf.