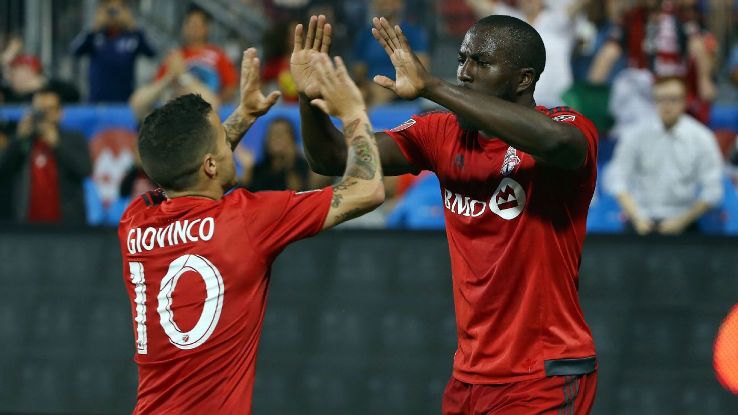 2016 MLS Cup Betting Preview: Seattle at Toronto
The 2016 MLS Cup Final will take place on Saturday, December 10th in Toronto at 8 pm ET between Toronto FC and Seattle Sounders. As we always mention before each season, longshots have a much better chance to reach the final in MLS than other major US sports like the NFL or NBA. Prior to the season, I picked out the New England Revolution at +3300 and Toronto FC at +1900 as value picks to win the title, and now that Toronto has reached the final, there's a hedging opportunity on Seattle. Below shows the MLS Cup odds throughout the season:
Team
Dec 5
(5Dimes)
Nov 10
(5Dimes)
Oct 28
(5Dimes)
July 30
(5Dimes)
June 12
(5Dimes)
Mar 4
(5Dimes)
Jan 28
(5Dimes)
Toronto FC
-175
+200
+800
+2000
+1800
+1900
+1700
Seattle Sounders
+135
+225
+1100
+5000
+2000
+1500
+1500
Colorado Rapids
N/A
+300
+700
+850
+1700
+8000
+5000
Montreal Impact
N/A
+350
+2500
+1800
+3000
+3000
+2500
NE Revolution
N/A
N/A
N/A
+2800
+2500
+3300
+2500
LA Galaxy
N/A
N/A
+700
+400
+400
+500
+500
FC Dallas
N/A
N/A
+350
+800
+1100
+1300
+1000
New York City FC
N/A
N/A
+800
+1100
+2000
+2500
+3300
Orlando City SC
N/A
N/A
N/A
+4500
+2500
+3300
+4000
Philadelphia Union
N/A
N/A
N/A
+2500
+2000
+7500
+5000
New York Red Bulls
N/A
N/A
+350
+700
+1300
+500
+400
San Jose Earthquakes
N/A
N/A
N/A
+4000
+3000
+4000
+3300
Vancouver Whitecaps
N/A
N/A
N/A
+2000
+1800
+1700
+1300
Portland Timbers
N/A
N/A
N/A
+1700
+1900
+750
+525
DC United
N/A
N/A
N/A
+5000
+3000
+2800
+2000
Columbus Crew
N/A
N/A
N/A
+5000
+1900
+950
+750
Houston Dynamo
N/A
N/A
N/A
+12500
+10000
+5500
+5000
Chicago Fire
N/A
N/A
N/A
+15000
+15000
+10000
+5000
Sporting Kansas City
N/A
N/A
N/A
+1500
+1600
+2000
+2000
Real Salt Lake
N/A
N/A
N/A
+2000
+1400
+4000
+4000
Before the season started, Seattle was listed at +1500 to win the title and Toronto was +1900. On July 30th Seattle reached +5000 while Toronto reached +2000, showing just how far teams are able to come in a short amount of time. Toronto is now the favorite at -175 odds and Seattle +135.
Vegas-based sportsbook Westgate was the first to open 3-way betting lines (Based on 90 minutes ONLY):
Seattle +210
Toronto +125
Draw +250
Offshore sportsbook CRIS then opened 3-way betting lines:
Seattle +222
Toronto +117
Draw +257
Since opening, there's been a ton of public support for Toronto, which does make sense– they played an incredibly entertaining last match against Montreal to advance, and they also have home-field advantage in the title game. During the week, Toronto was receiving more than 75% of early moneyline tickets which moved the line from Toronto +117 to Toronto +100. Since odds have been adjusted, bettors have finally been attracted towards Seattle. The line graph below shows the early action and movement on the home side Toronto at offshore sportsbook CRIS:

Seattle has moved from +222 to +280 since opening while the Draw had moved from +257 to +270, which has created some additional value on Seattle at the right price. If you're holding a futures ticket on Toronto +1900, there are a couple options to hedge:
Right now you could take Seattle +135 to win MLS Cup and you're locking in a profit, depending on how much you previously wagered on Toronto to win the title. You can hedge for a small amount if you still really like Toronto, or you can increase the amount if you want to lock in a bigger profit if Seattle wins.
Another option, which is much better, is taking Seattle +0.5 on the goal line at even money. This is basically the same thing as a spread in NFL or NCAAF, where a team could cover the spread but lose the game. The MLS Cup could go to overtime which would cash your Seattle +0.5 goals ticket, and you'd still have a chance for Toronto to win in overtime or penalty kicks. So in this scenario you could win both the Seattle +0.5 goals ticket, as well as your Toronto +1900 ticket as well. So you'd win both bets. However, even if Seattle wins in overtime or PKs, you've at least hedged your original Toronto +1900 bet with no risk.
The total opened at 3 (u-125) at Westgate in Las Vegas while CRIS opened 2.5 (o-117). Normally soccer games have low totals, ranging from 2 to 4, and books are more keen on moving the juice rather than the actual total. Casual bettors usually love the Over, but in this case the slight majority is actually on the Under. I don't normally play totals but keep an eye on the line movement and betting %'s as they could create contrarian value on the Over.
Looking for more soccer content? Check out our Soccer Blog with weekly Premier League Previews as well as Futures updates, Champions League Previews, and more.
We also provide all odds, betting %'s, market data and more for all major soccer leagues with a 4-Day Trial or Monthly Membership.