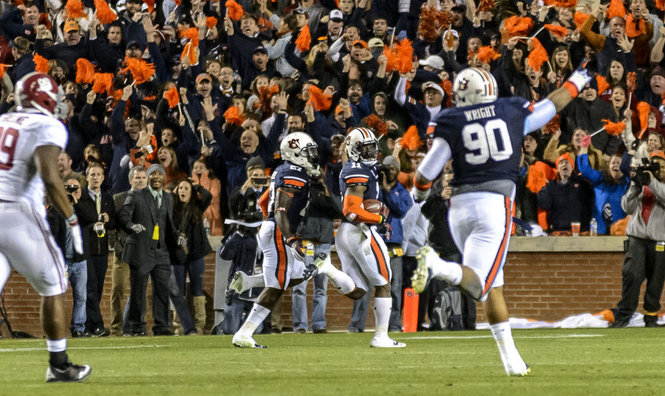 Has Sharp Money taken a side in the Iron Bowl?
While College Football Week 14, better known as Rivalry Week, is already underway, the most anticipated game of the weekend will kick off tonight at 7:45 PM eastern time when the Alabama Crimson Tide (10-1, 6-1 SEC) host the Auburn Tigers (8-3, 4-3 SEC) in the Iron Bowl.
Alabama, who leads the all-time series 42-35-1, opened as a 9.5-point favorite at the market-setting Pinnacle sportsbook and are currently receiving 72% of spread bets at our contributing sportsbooks. Despite this fairly one-sided public betting, Alabama has dropped from -9.5 to -8.5.
Reverse line movement refers to betting line movement that contradicts the public betting percentages and this 1-point line move indicates that sharp money is leaning towards Auburn in this historic rivalry.
Using our Bet Labs software, we also found a number of intriguing trends concerning SEC conference games. For starters, road teams have gone 253-227 ATS (+13.1 units) in conference games while Auburn actually holds the best in-conference ATS record of any SEC team with a 46-34 (+9.18 units) mark since 2005.
On the flip side, we wanted to know what happened when two ranked SEC teams faced off and found that both home teams (62-47, +12.66 units) and favorites (64-52, +9.82 units) were both historically undervalued. Considering the limited line movement and these contradicting historical trends, we would suggest laying off this game barring any late action.
There are a number of key players who are coping with injuries including Auburn's D'haquille "Duke" Williams (Knee) and Alabama's T.J Yeldon (Ankle) and Amari Cooper (Knee). Although all three players are currently listed as probable, make sure to check out our free College Football injuries page for up to the minute updates.
Mississippi vs. Mississippi State (3:30 pm ET)
In another long-running rivalry game, the Mississippi State Bulldogs (10-1, 6-1 SEC) will travel to Oxford to face their in-state nemesis, the Mississippi Rebels (8-3, 4-3 SEC), in the Egg Bowl.
Ole Miss currently leads the all-time series 61-43-6 but opened as a 1-point home underdog at Pinnacle. Since opening, the betting public has pounded the 4th-ranked Bulldogs which has moved the line 1.5-points to 2.5.

It's interesting to note that while Pinnacle is still offering 2.5, many sportsbooks across the sports betting market have moved this line to a full 3 points, including CRIS, Heritage and 5Dimes.
This is noteworthy not only because 3 is a key number for football bettors, but also because there was a Reverse Line Movement alert triggered at BetUs (26-21, +2.5 units) on Ole Miss +3. This once again highlights the importance of having access to multiple sportsbooks and shopping for the best line.

Sign up for our 4-day Pro trial to receive real-time odds and public betting data plus any picks and bet signals for this weekend's slate of football action. If you have any questions or would like assistance with your account, please contact our customer service department at 877-838-2853, e-mail us at help@sportsinsights.com, or utilize our live chat to speak directly with a representative.
[adrotate group="4″]