Sharp Bettors Fading the Cubs This Evening
Two of the most disappointing teams in baseball will face off this evening when the defending World Series champion Chicago Cubs (28-27, -8.91 units) host the Miami Marlins (-7.75). This season there have only been three teams (Phillies, Mets, and Giants) that have been less profitable for bettors, but sharp bettors definitely like a side in tonight's showdown.
Dan Straily will take the mound for the Marlins, and he's been quietly efficient in 11 starts. The 28-year-old right-hander has gone 4-3 with a 3.56 ERA, 1.12 WHIP, and 64 strikeouts in 60 2/3 innings. In his most recent start, Straily held the Phillies to just one earned run in 6 2/3 innings while striking out 10 batters.
For the Cubs, 26-year-old right-hander Eddie Butler will make his fifth start of the season. The former top prospect was decent in his first three starts but allowed six earned runs in just 4 1/3 innings in his last outing against the San Diego Padres. On the season, Butler has gone 2-1 with a 4.42 ERA and 1.58 WHIP.
Chicago opened as -130 favorites at the market-setting Pinnacle sportsbook and, as usual, the majority of public bettors have been taking the Cubbies. At the time of publication, the Cubs have received 75% of moneyline tickets and 92% of moneyline dollars at our contributing sportsbooks.
[click image below to enlarge]

Last season the Cubs received at least 50% of moneyline tickets in 151 of 162 regular season games (93.2%), which made them easily the league's most public team. Despite their early struggles, public bettors continue to hammer Chicago with regularity as the Cubs have received the majority of moneyline tickets in 51 of 55 games (92.7%).
Since oddsmakers can easily anticipate this one-sided action on the Cubs, they typically respond by shading their opening lines and forcing public bettors to take a bad number. Contrarian bettors can often exploit this tendency by betting against the public and capitalizing on artificially inflated lines. In fact, $100/game bettors would have earned $836 by fading the Cubs in every game this season.
Although public money on the Cubs often allows bettors to take their opponent at an inflated price, that's not the case this evening. Despite receiving such overwhelming public support, Chicago has actually dropped from -130 to -118 at Pinnacle. That reverse line movement is an excellent indicator that sharp bettors have been taking the road underdog.
[click image below to enlarge]

In addition to this reverse line movement, our newly added Sharp Action Report confirms our assessment that sharps are backing the Marlins. This feature, which is available to Sportsbook Insider Premium and Pro subscribers, allows members to quickly view which side the sharp money is on and which games are the most lopsided in terms of both tickets and money.
[click image below to enlarge]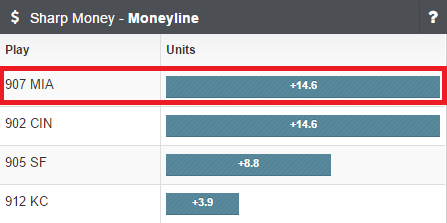 As you can see, the Marlins have been one of the sharpest plays today while the Cubs have been one of the most public sides in terms of moneyline tickets and dollars. We already encourage bettors to fade the public, follow the sharp money, and buy on bad news to capitalize on market overreactions. The Marlins fit all of those criteria, which makes them one of the more intriguing potential contrarian values on the board.
We constantly preach the importance of betting against the public, and it continues to be a profitable strategy this season — particularly in games with extreme levels of one-sided public betting.
Receiving >50% of moneyline tickets: 379-436, +4.62 units, +0.6% return on investment
Receiving >40% of moneyline tickets: 231-271, +17.91 units, +3.6% return on investment
Receiving >25% of moneyline tickets: 45-54, +11.25 units, +11.4% return on investment
Receiving >20% of moneyline tickets: 15-17, +5.64 units, +17.6% return on investment
Another interesting trend involves the total, which has seen similarly one-sided public betting. According to our public betting trends, 94% of early tickets had been placed on the over, which has caused the total to increase from 7.5 to 8. Assuming this level of public support holds up, there could be value on the under — especially given the current weather conditions with strong winds blowing in.
[click image below to enlarge]

Interested in checking out our new money percentages and line charts for the every MLB game? Sign up now for a 4-day trial of Sportsbook Insider Pro. In addition to the features shown in this post, subscribers also have access to our entire suite of live odds, public betting data, and in-house Best Bet picks.
Have any questions for the staff at Sports Insights? Make sure to utilize our live chat or call us directly at 877-838-2853.