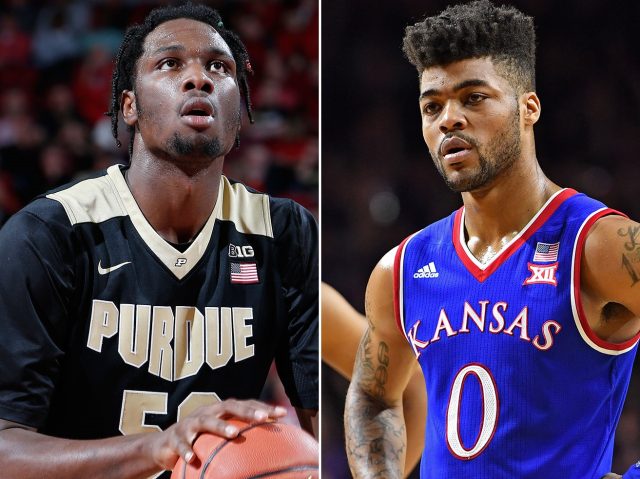 Public Money Moving Purdue-Kansas Line
It may be listed as a neutral venue, but one team will enjoy a substantial home-court advantage when the 4th-seeded Purdue Boilermakers (27-7 SU, 19-11 ATS) take on the top-seeded Kansas Jayhawks (30-4 SU, 13-19 ATS) on Thursday night. This matchup will take place at the Sprint Center in Kansas City, Missouri — a venue located just 35 miles away from the Jayhawks home court. This will likely be a hostile environment, and bettors are lining up to take Kansas despite their struggles to cover the spread throughout the season.
After opening as 4-point favorites at the market-setting Pinnacle sportsbook, Kansas has received 76% of spread tickets and 81% of spread dollars. As you can see from the screenshot below, the majority of public bettors are taking Kansas at all seven of our contributing sportsbooks.
[click image below to enlarge]

With the market steadily pounding Kansas since the line opened on Sunday evening, oddsmakers have been forced to adjust their number multiple times, eventually landing at the current line of Kansas -5. There haven't been any steam moves triggered on the Jayhawks, which indicates public perception has been largely responsible for this 1-point line move.
A few sportsbooks (not including CRIS or Pinnacle) did move to Kansas -5.5 earlier in the week, but there was immediate buyback on Purdue at that number.
[click image below to enlarge]

In addition to this one-sided public betting on the spread, casual bettors are also taking Kansas to win straight up. 75% of moneyline tickets are currently taking the Jayhawks, which is fairly surprising since casual bettors often take small favorites on the spread and small underdogs on the moneyline during March Madness.
Parlay percentage is another excellent indicator of square money since you won't find many sharps betting parlays. At the time of publication, 76% of bettors who parlayed or teased this game had taken Kansas.
Earlier this week, we explained why betting against the public has been such a profitable strategy during March Madness. With an influx of casual bettors entering the market, public money has a more significant impact on line movement, which often creates artificially inflates lines that can be exploited by contrarian bettors. That's particularly true for spread bettors, as there's more than three times as much money wagered on the spread as opposed to the total.
Since 2005, teams receiving less than 50% of spread tickets have gone 424-383 ATS (52.5%) in the NCAA Tournament, while teams receiving less than 25% of spread tickets have gone 33-20 ATS. Those results have continued this season, with teams receiving less than 50% of spread tickets going 30-19 ATS (61.2%). We will continue to monitor the betting trends for this game, but this may be the ideal opportunity to sell high on Kansas and buy low on Purdue.
Kansas has clearly struggled to cover the spread all season long, but that has been especially when they're being backed by the public. This season the Jayhawks have gone just 9-17 ATS when receiving more than 50% of spread dollars. Sharp money hasn't taken a side in this matchup, but one-sided public betting appears to have created some contrarian value on the Boilermakers.
Interested in checking out our new money percentages and line charts for every college basketball game? Sign up now for an extended 5-day trial of Sportsbook Insider Pro. In addition to the features shown in this post, subscribers also have access to our entire suite of live odds, public betting data, and our Best Bet picks.
Have any questions for the staff at Sports Insights? Make sure to utilize our live chat or call us directly at 877-838-2853.