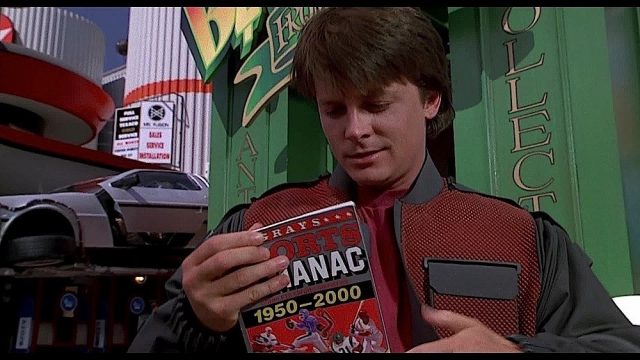 Public Bettors Should Think Twice Before Betting on the Cubs this Season
Last week, as I was leafing through Gray's Sports Almanac, I stumbled upon a little betting nugget that baseball fans and gamblers alike should take note of.
The Chicago Cubs, a franchise with over a century's worth of pain and suffering, finally ended the Curse of the Billy Goat and won the World Series in dramatic fashion last year. Who woulda thunk it?
(I know, off by one year)
They weren't some Cinderella story, though. The Cubs went scorched earth last season, becoming just the third team in the 2010 decade to win at least 100 games. They were also the World Series favorite for the duration of the season, reaching as low as +210 before the regular season ended. That shouldn't happen in a sport like baseball, but the Cubs finally redeemed themselves. If you bought in early and put some money on the Cubbies to win the World Series, good for you. You probably made a fistful of dollars.
"But Biff, what if I bet on them every game? I must've made a fortune since they won 103 games."
If you just bet on the Cubs on a day-to-day basis, chances are you made little to no money doing so.
And guess what? Even if the Cubs win 100 games again this year, you're still not going to make any money on them.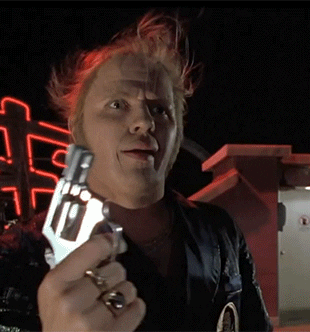 You heard me. The Cubs are now America's team. Square bettors from the redwood forest to the Gulf Stream waters see the lovable Cubbies bunch playing at good ol' Wrigley Field and think, "What the hell, why not bet a few bucks on 'em?" Pretty good chance of winning, right?
If you are good at picking your spots and can win 70% of the time or so, you probably can make some decent money. However, if you end up taking a few losses here and there, your winnings will dry up very quickly.
This is what it would look like if a die-hard Cubs fan bet $100 on them every game last season. (Obviously, there aren't many MLB bettors who bet on the same team every game, but this gives you an idea of how tough it would be riding the Cubs gambling roller-coaster.)
Despite winning practically two-thirds of the time, they would have only ended up earning $155.50 over the course of six months.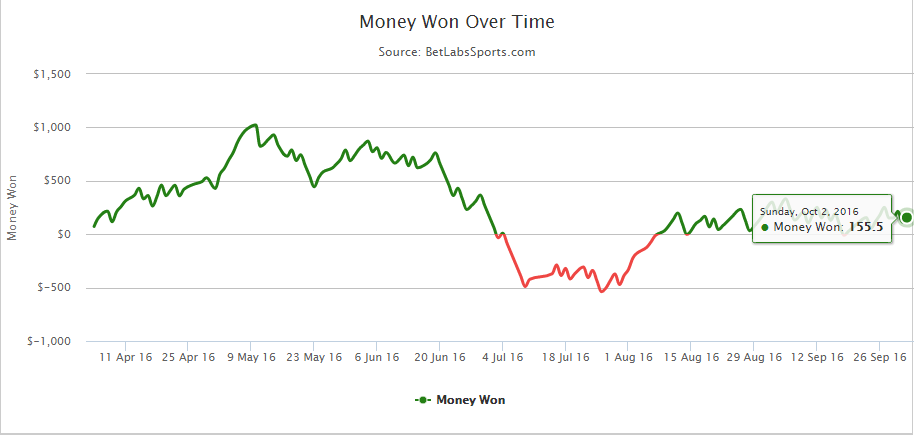 The majority of their winnings, that ten unit peak, was accrued by May 10th. At that point in the season, they were 25-6 — decent for a baseball team. The rest of the season they went 78-52…meh, a casual 60%. Clearly, if you weren't an early adopter, you wouldn't have fared well, as illustrated by the graph.
Despite winning so often, you won't win money. This is because the books know that everyone is going to be betting the Cubs no matter what and the Cubs will likely win, too. Since sportsbooks have to make money, they are going to shade those lines big time. Last season, the Cubs received less than 50% of bets just 11 times. The next closest team was the Nationals with 23. No matter how juiced up their line is, square bettors will take the Cubs every *bleeping* time. It also doesn't help that they have such poor competition in their division. When facing the Brewers and Reds last season, the lowest they closed was -141. They closed at -200 or higher in 18 of the 38 division games, which explains why their 26-12 record only netted +0.8 units.
One of our core philosophies here is to bet against the public. This is because heavy one-sided action on one team creates value on the other side. If you were to follow this philosophy, you'd literally never take the Cubs. And by literally never, I mean twice. They received less than 35% of bets two times. Ironically, they lost both times — one to Madison Bumgarner and the Giants, the other to Cole Hamels and the Rangers.
I think the perfect team to compare this Cubs team to is the New York Yankees of 2009 and 2010. In 2009, they also won 103 games, but were at least able to rack up close to 10 units in the process. They won their first World Series in almost a decade and once again won back the hearts of fans across the country (if they ever actually lost them).
They followed up that terrific campaign with a 95 win season, essentially the same number that the Cubs are projected to win this year. However, they were down seven units by season's end. Much like the Cubs, the public was on them almost every game. That 2010 Yankees squad received less than 50% of bets just eight times. It will be hard, but it's possible that the Cubs beat that number this year.
Is the point getting across to you buttheads?

The Cubs are a damn good team, but unless they somehow out-do their performance from last year, they are going to cost you money. If by some chance they underperform significantly — say 88 wins for example — they could end up over 10 units in the red.
If you do want to bet on the Cubs, you are better off taking them on the runline. Last season, they finished as the 2nd most profitable team on the runline, up nearly 13 units. Can't say it is something I recommend doing often, but if you feel the urge to take the Cubs, you might want to consider taking them -1.5 +110 instead of taking them straight up at -200.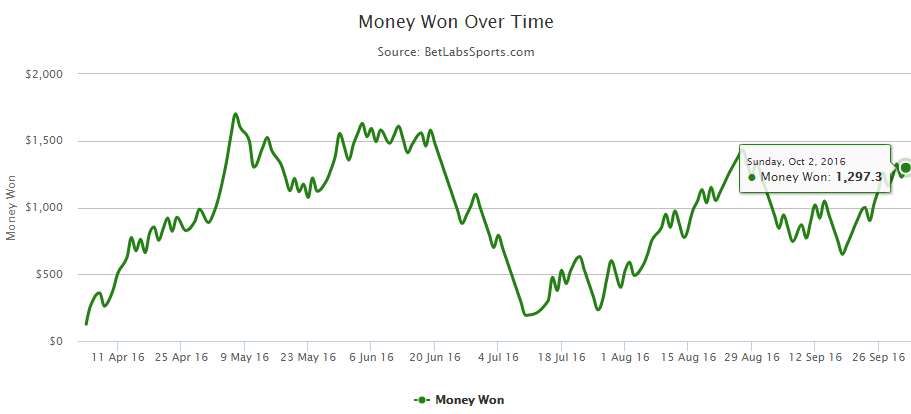 Looking to track the latest MLB odds, trends and futures throughout the baseball season? Make sure to bookmark our free MLB odds page.
If you have any thoughts or questions, feel free to reach out to the Sports Insights staff by utilizing our live chat feature, commenting below, or emailing us at help@sportsinsights.com.