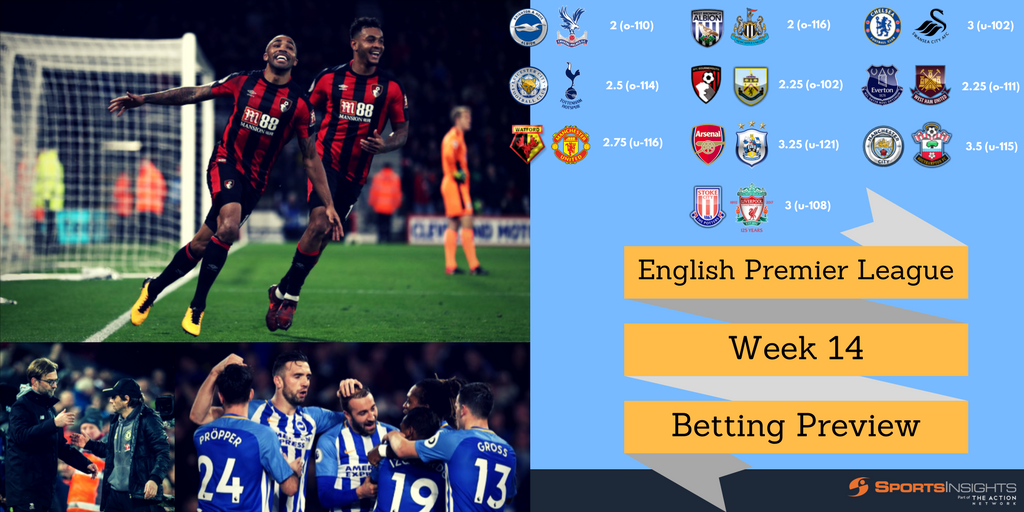 Premier League Week 14 Betting Preview: Beware of Big Favorites
There's hardly any time to soak in last weekend's EPL matches as there's already another slate of games on Tuesday and Wednesday. But Week 13 was another success for value plays, going 2-1 for +2.44 units (now +14.79 units this season). In the marquee match, Chelsea scored a late goal to draw 1-1 at Liverpool while there were other late wins around the league– Crystal Palace scored in stoppage time to beat Stoke City 2-1, and both Arsenal and Man City escaped with late road goals on Sunday. Here's a look at the latest trends, results, title odds and Week 14 preview.
Week 13 Results:
Home 3 of 10 (-5.03 units)
Away 3 of 10 (-3.92 units)
Draw 4 of 10 (+6.56 units)
Season Results:
Home 59 of 130 (-0.53 units)
Away 40 of 130 (-9.39 units)
Draw 31 of 130 (-4.84 units)
Finally a big week for draws, earning more than 6 units and really balancing the overall season results.
Title Odds via BetOnline:
Man City -1000 (37 points)
Man Utd +1200 (29 points)
Chelsea +2000 (26 points)
Tottenham +3300 (24 points)
Arsenal +5000 (25 points)
Liverpool +6600 (23 points)
With such a quick turnaround from Week 13 to Week 14, we've seen tons of line movement on big underdogs including Leicester (+426 to +400), Watford (+550 to +450), Huddersfield (+1550 to +1350) and Southampton (+1700 to +1300). Even though the best teams have deeper squads, these mid-week games tend to be tricky for them, especially when you mix in Champions League and Europa League in the schedule. Historically, draws have done exceptionally well on Tuesdays and Wednesdays, earning +31 units on the moneyline since 2012. Incredibly, the biggest draws (+600 or higher) have gone 5-8 for +27 units over that span. It's hard to advocate betting on all 10 draws this week, but I think we can pick out the games that have some extra value.
Two of those matches are on Tuesday– Crystal Palace/Brighton (+215) and Newcastle/West Brom (+214). By now you can probably guess my reasoning behind them– really low totals of just 2 goals for each, and very low betting %'s on the draw for each. In both matches we've seen some line movement toward the road team, but the majority of tickets on the home team. These aren't the high weekday draw lines that I mentioned earlier, but the low draw lines that perform well on any day. They are boring picks, but picks that consistently do well, and that's really all we're looking for.
On Tuesday the other two matches have popular road favorites with the lines moving against them. Tottenham have moved from -144 to -132 at Leicester City, and Manchester United have dropped to -145 from -174 at Watford. I'm tempted to take both big home dogs but also intrigued by both draws at +300. If you do like the dogs, it may be worth it to take the spread of +0.5 goals instead, or live-bet during the game to get better odds. In-game odds are always shaded toward favorites since sportsbooks know the public will always bet favorites, so they're a great option as long as the underdog doesn't score early.
Wednesday's matches are a lot of duds on paper if we're being honest, but we'll probably see something crazy like Stoke beating Liverpool 4-3. That's just how the EPL goes, and we'll also see a lot of moneyline parlays on big favorites Arsenal (-435), Chelsea (-500) and Manchester City (-500). The draws are listed at big odds of +625, +680, and +730 respectively for those matches, and that's historically where we've seen the Tuesday/Wednesday profits. They're ugly and risky, but I'm taking a shot on the Chelsea/Swansea Draw +680 and Man City/Southampton Draw +730.
Most Lopsided Action
74% on Tottenham (-132)
73% on West Brom (+140)
Biggest Line Moves
West Ham (+282 to +235) at Everton
Liverpool (-165 to -184) at Stoke
Watford (+550 to +450) vs. Man Utd
Value Plays (14-14 season record, +14.79 units, 53% ROI)
Crystal Palace/Brighton Draw +215
Newcastle/West Brom Draw +214
Chelsea/Swansea Draw +680
Man City/Southampton Draw +730
There's another quick turnaround for Week 15 with matches being played on Saturday and Sunday. I'll have a betting preview for the weekend slate by Friday as always.
Track all the latest Premier League line moves, betting percentages, market data and more with a Premium or Pro membership.