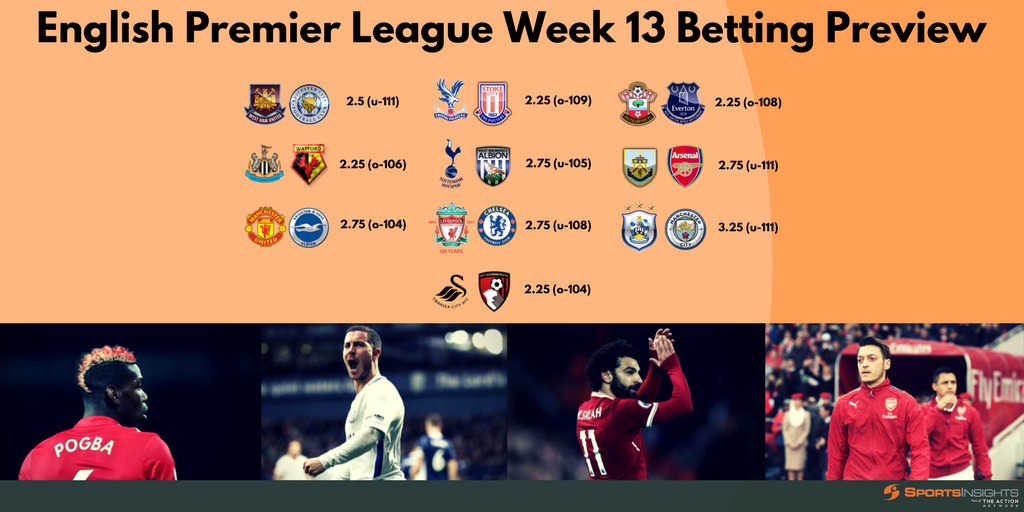 Premier League Week 13 Betting Preview: Contrarian Favorites and an Afternoon Draw
Week 12 of the Premier League was dominated by the favorites, going 8-2 on the moneyline for +4.65 units. I took two draws as value plays and was fortunate to hit on one of them– Brighton and Stoke played to a surprisingly entertaining 2-2 draw on Monday afternoon. However, the real excitement for me last weekend was seeing Arsenal beat Tottenham 2-0 at home to move within 1 point of Spurs in the table. Here's a look at the most recent results, season trends, title odds and Week 13 preview with value plays.
Week 12 Results:
Home 6 of 10 (+1.71 units)
Away 2 of 10 (-7.07 units)
Draw 2 of 10 (-3.57 units)
After a really solid Week 11 for road teams, they struggled in Week 12, going just 2-8 straight up for -7.07 units.
Don't forget, we now have EPL included in Bet Labs where you can look at historical odds and trends.
Season Results:
Home 56 of 120 (+4.69 units)
Away 37 of 120 (-5.46 units)
Draw 27 of 120 (-11.40 units)
The bookmakers have been pretty good in setting their lines this season. The draws haven't been great overall, but I'm still picking my spots nearly every week and won't be shying away from them.
Title Odds via Paddy Power:
Man City -800 (34 points)
Man Utd +1400 (26 points)
Chelsea +1800 (25 points)
Tottenham +2000 (23 points)
Liverpool +5000 (22 points)
Arsenal +6000 (22 points)
Burnley +100000 (22 points)
Watford +75000 (18 points)
The opening match of the week is Friday afternoon with two underperforming teams squaring off as West Ham host Leicester City. Since opening, we've seen a lot of line movement toward Leicester City from +212 to +173 behind nearly 70% of tickets. Hardly anyone wants to bet on the draw, and even fewer want to bet on West Ham to win straight up. They are in bad shape right now and just sacked their manager Slaven Bilic, replacing him with David Moyes. I'm not a huge Moyes fan and I question what's going on around the management of the club right now, so I can't go full contrarian and pick them to win straight up. However, I do think the players will put in a good effort though and will surprise some people, so I like the draw at +239 odds. Also, tickets are on the over 2.5 but money is on the under 2.5, so the O/U movement could be trending toward a 1-1 finish.
The marquee match of the week is Saturday afternoon with Liverpool hosting Chelsea. A home win by Liverpool would see them level on points at 25 with Chelsea, and we've seen some line movement on the Reds to win at home. Chelsea are a pretty popular ticket with nearly 50% of bets, and at a price of +265 it's certainly understandable. It seems like Liverpool are the play here but I can't get myself to bet them at nearly even money, so I'm laying off this one completely.
There are a few games with big favorites like Man United (-517), Man City (-492) and Tottenham (-370), and I tend to stay away from betting those. In games with tighter lines, there are two contrarian "favorites" who I like to win at home: Newcastle +120 vs. Watford, and Crystal Palace +105 vs. Stoke City. Neither is getting even 20% of the tickets to win, and both Watford and Stoke City are very trendy underdogs on the road. Both look enticing on paper, but I like Crystal Palace to get a much-needed home win at +105, and Newcastle to get back on track after three straight defeats at +120.
In the other 3 matches, I'm expecting Arsenal (-171) to let me down at Burnley but hoping for the best. Swansea host Bournemouth in a game both teams can win so it may actually be entertaining, but I don't see the betting value anywhere. Finally, Southampton (-113) host Everton in a match that I have no clue what will happen. Both teams are wildly inconsistent and while Everton and the Draw both look tempting, there's no reason to bet either.
Most Lopsided Around Market:
70% on Leicester +174
45% on Chelsea +265
Biggest Market Line Moves:
Leicester +212 to +174
Liverpool +129 to +112
Value Plays (12-13 season record, +12.35 units, 49% ROI):
West Ham/Leicester City Draw +239
Newcastle +120
Crystal Palace +105
Reminder that Week 14 is right around the corner with matches played on Tuesday, November 28th and Wednesday, November 29th. There may not be enough market data to fully analyze the betting opportunities, but will still try to post a preview on Monday, November 27th.
As always, you can track all the latest Premier League line moves, betting percentages, market data and more with a Premium or Pro membership.