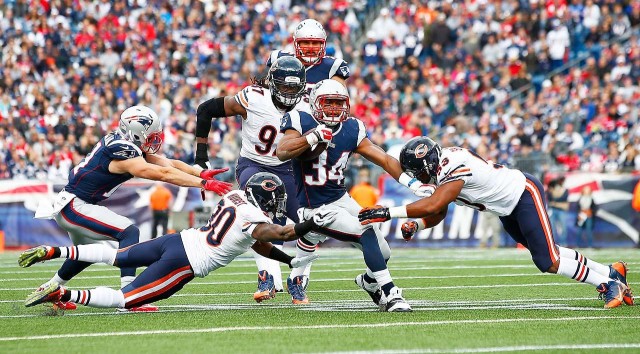 NFL Week 8 Betting Recap
– Apparently bettors are late risers. This weekend's Lions/Falcons game — which kicked off at 9:30 AM eastern in London, England — received roughly 27,000 bets. For comparison, only Tennessee/Washington and Minnesota/Buffalo received fewer bets last Sunday.
– While many bettors may have missed the beginning of the Lions/Falcons game, it was tough to miss the ending. After falling behind 21-0 in the first half, the Lions scored 10 straight points to make it 21-10 entering the fourth quarter.
#Lions get an INT on Matt Ryan and are threatening to score again down 21-10. DET was at +823 in live betting at CRIS when down 21-0.

— SportsInsights.com (@SportsInsights) October 26, 2014
– Matt Prater, the Lions third new place kicker this season, booted a 48-yard game winner as time expired to give the Lions to a 22-21 win. Ironically, Prater missed a 43-yard attempt just before the kick, but was saved by a delay of game penalty.
Updated NFL Futures via 5Dimes #Broncos +265 #Seahawks +850 #Packers +925 #Patriots +1300 #Cowboys +1500 #Colts +1600 #49ers +1700 — SportsInsights.com (@SportsInsights) October 28, 2014
– Favorites went just 8-7 ATS this week and are now 60-58 ATS on the season. Home teams went 9-5 ATS this week bringing their season record to 58-58 ATS. Teams receiving less than 50% of spread bets went 10-5 ATS bringing their record to 58-58 ATS — teams receiving no more than 40% of spread bets are 42-37 ATS on the year. Teams coming off a loss went 7-7 bringing their season record to 58-58.
Most bet NFL games: 1. Colts-Steelers 2. Bears-Patriots 3. Packers-Saints — SportsInsights.com (@SportsInsights) October 26, 2014
– Although that Packers/Saints game was only third in bets at the time of that post, it closed the day as the most heavily bet game. In fact, the most popular games for bettors have been dominated by prime time matchups.
Most bet NFL games of the year: Patriots-Chiefs MNF Panthers-Steelers SNF Bengals-Patriots SNF Redskins-Cowboys MNF Packers-Saints SNF

— SportsInsights.com (@SportsInsights) October 28, 2014
– Each week former Caesars oddsmaker Todd Fuhrman tweets out the teams being pounded by sharp money and the teams being hammered by the less-informed public. This week the Pros were 3-4 ATS while the Joes were 2-2 ATS.
PROS: Vikings +2.5, Bears +6, Eagles +2.5, Ravens +2.5, Bengals +3, Raiders +7, Steelers +4 JOES: Seahawks, Dolphins, Texans, Colts — Todd Fuhrman (@ToddFuhrman) October 26, 2014
– To say Geno Smith struggled last week would be the understatement of the century, much like saying Charlie Sheen has "some erratic tendencies." The second year quarterback completed just 2 of 8 passes for 5 yards and 3 interceptions before being replaced by Michael Vick. The former Falcons and Eagles quarterback is expected to start next week when the Jets (+10) travel to Kansas City to face the Chiefs — but buyer beware.
Since returning from prison, Michael Vick is 16-24 against the spread as a starter. — Bet Labs Software (@Bet_Labs) October 27, 2014
– Most popular Week 8 teams:
Houston Texans (-3.5 at Tennessee) – 80% of spread bets
Indianapolis Colts (-5 at Pittsburgh) – 77% of spread bets
Miami Dolphins (-7 at Jacksonville) – 73% of spread bets
Detroit Lions (-3.5 vs. Atlanta) – 68% of spread bets
Kansas City Chiefs (-7.5 vs. St. Louis) – 68% of spread bets
– The under went 8-7 in Week 8 and but is just 54-64 on the season. Although bettors typically consider the under to be undervalued, the over has actually had a winning record every season since 2009.
– You can view the latest odds and public betting trends on our free NFL odds page, but some opening of lines of interest include: (via CRIS)
Denver Broncos (-3) at New England Patriots
Baltimore Ravens (pick 'em) at Pittsburgh Steelers
New Orleans Saints (-1.5) at Carolina Panthers
Indianapolis Colts (-3) at New York Giants
– Although Colt McCoy led the Redskins (+10 on the spread, +369 on the moneyline) to an unlikely 20-17 overtime victory over the Dallas Cowboys, it may be his loan start this season. Robert Griffin III, who had not played since dislocating his left ankle in Week 2, is listed as questionable for this week's matchup in Minnesota. Note: The Redskins game is currently off the board as we await news regarding Washington's starting QB.
– Other key injuries to monitor include:
Rams OT Jake Long, Knee, Out For Year
Colts WR Reggie Wayne, Elbow, Doubtful
Bengals WR A.J. Green, Toe, Questionable
Lions WR Calvin Johnson, Ankle, Questionable
Lions RB Reggie Bush, Ankle, Questionable
Eagles RB Darren Sproles, Knee, Questionable
Cardinals CB Patrick Peterson, Concussion, Questionable
Chargers RB Ryan Mathews, Knee, Questionable
Browns TE Jordan Cameron, Concussion, Questionable
Packers QB Aaron Rodgers, Hamstring, Probable
Cowboys QB Tony Romo, Back, Probable
Chiefs QB Alex Smith, Shoulder, Probable
– For the latest news and injury updates, make sure to visit our free NFL injury page.
– MVP odds movement since last week at Sportsbook.com:
Peyton Manning +220 to +130
Aaron Rodgers +280 to +500
DeMarco Murray +800 to +600
Andrew Luck +650 to +1000
Tom Brady +2000 to +1200
Philip Rivers +1200 to +1500
Russell Wilson +2500 to +2500
JJ Watt +2500  to +5000
Demaryius Thomas +3000 to +5000
Dez Bryant +4000 to +5000
Have any questions for the staff at Sports Insights? Utilize our live chat to speak with a customer service representative or e-mail us at help@sportsinsights.com.
[adrotate group="4″]