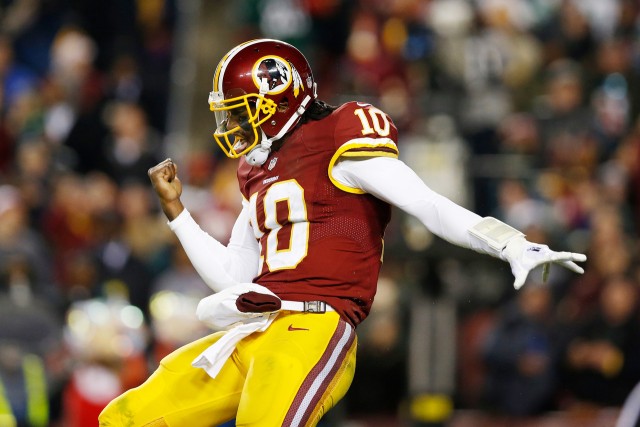 NFL Week 16 Betting Recap
– In Week 16, underdogs went 11-5 pushing their season record to 122-111 ATS. Home teams went 9-7 ATS in Week 14 pushing them to 115-115 ATS on the season. It was also a profitable week for contrarian betting with teams receiving less than 40% of spread bets going 7-4 ATS.
– On Sunday the Dallas Cowboys destroyed the Indianapolis Colts by a final score of 42-7. That doesn't bode well for Andrew Luck and company who opened as 7-point road favorites this weekend against the Titans.
This year NFL teams are 1-13 ATS the week after playing the #Cowboys. Only Arizona in Week 10 was able to cover after playing Dallas.

— Bet Labs Software (@Bet_Labs) December 22, 2014
-Entering the final week of the regular season, five NFC teams have already clinched a playoff berth but the NFC South is still up for grabs. Carolina (6-8-1) can clinch the division with a win over the Falcons (6-9). Atlanta opened as 3-point favorites at Pinnacle but have already moved to -4 across the sports betting marketplace. Before Sunday's action, we tweeted the following divisional odds:
Falcons will play the Panthers next week for the NFC South title. Heading into today, NO was -250 to win the division, ATL +375, CAR +550. — SportsInsights.com (@SportsInsights) December 21, 2014
–  For what it's worth, the Falcons (+3500) also have slightly better odds of winning the NFC than the Panthers (+5500). – Each week former Caesars oddsmaker Todd Fuhrman tweets out the teams being pounded by sharp money and the teams being hammered by the public. In week 16, the Pros went 3-1 ATS while the Joe's went 1-3.
PROS: Falcons +6.5/+6, Jets +10.5/+10, KC +3.5/+3, Panthers -3/-3.5, JOES: Packers, Lions, Patriots, Ravens — Todd Fuhrman (@ToddFuhrman) December 21, 2014
 – Before the start of the season we posted the odds for every NFL team to win their division. On Sunday morning, we tweeted out the following update:
Divisional Odds (BOnline): BAL +160, PIT +160, CIN +250 GB -280, DET +240 NO -250, ATL +375, CAR +550 SEA -300, ARZ +240 — SportsInsights.com (@SportsInsights) December 21, 2014
-Entering the Monday Night Football game, Cincinnati was listed at -225 to make the playoffs. After their shocking win over Denver, Cincinnati has already clinched their postseason berth. 
Odds to make playoffs (BOnline): BAL: Yes -500, No +350 BUF: Yes +500, No -800 CIN: Yes -225, No +180 PIT: Yes -350, No +260

— SportsInsights.com (@SportsInsights) December 21, 2014
-Teams who have already clinched spot in playoffs:
AFC: 

New England, Indianapolis, Denver, Pittsburgh, Cincinnati

NFC: 

Arizona, Detroit, Green Bay, Dallas and Seattle
Most bet NFL games: 1. Packers-Bucs 2. Colts-Cowboys 3. Patriots-Jets 4. Chiefs-Steelers — SportsInsights.com (@SportsInsights) December 21, 2014
– Most lopsided bet games from Week 16:
Packers -11.5: 74% of spread bets
Broncos -3.5: 74% of spread bets
Lions -10: 72% of spread bets
Patriots -10: 71% of spread bets
Ravens -6: 70% of spread bets
    – The Dallas Cowboys (+600) scored 42 points on Sunday, making them the highest scoring team of Week 16.
Most points on Sunday (Sportsbk): NO +400 GB +500 DAL +600 NE +700 DET +900 IND +1000 MIA +1200 ATL+1200 STL +1200 PIT +1200 — SportsInsights.com (@SportsInsights) December 21, 2014
-The Seahawks entered the season as +450 favorite to repeat as Super Bowl champions and, following Sunday's win, have moved to +272 at 5Dimes:
NFL Futures via 5Dimes #Seahawks +272 #Patriots +325 #Broncos +640 #Packers +655 #Cowboys +1225 #Steelers +2450 #Lions +2650 #Bengals +3600

— SportsInsights.com (@SportsInsights) December 23, 2014
– Most likely Super Bowl matchups (via 5Dimes)
New England Patriots vs Seattle Seahawks +276
New England Patriots vs Green Bay Packers +532
New England Patriots vs Dallas Cowboys +1180
Denver Broncos vs Green Bay Packers +1345
New England Patriots vs Detroit Lions +2460
Pittsburgh Steelers vs Seattle Seahawks +2490
Denver Broncos vs Dallas Cowboys +2825
Indianapolis Colts vs Seattle Seahawks +3150
Cincinnati Bengals vs Seattle Seahawks +3850
New England Patriots vs Arizona Cardinals +3900
– NFL Week 17 current lines at Pinnacle versus preseason lines (Note: Week 17 lines were projected using the previous game between the two teams and adjusting for home field advantage — typically valued at 3-points.)
Carolina Panthers at Atlanta Falcons (-4 | -2)
Cleveland Browns at Baltimore Ravens (N/A | -6)
Dallas Cowboys at Washington Redskins (+6.5 | -1.5)
Indianapolis Colts (-7 | -1.5) at Tennessee Titans
Detroit Lions at Green Bay Packers (-7.5 | -7)
Jacksonville Jaguars at Houston Texans (-10 | -10)
San Diego Chargers at Kansas City Chiefs (-2.5 | -4)
New York Jets at Miami Dolphins (-6 | -5)
Chicago Bears (+6.5 | -1) at Minnesota Vikings
Buffalo Bills at New England Patriots (N/A | -9.5)
Philadelphia Eagles at New York Giants (-3 | -1.5)
Cincinnati Bengals at Pittsburgh Steelers (-3 | -3)
New Orleans Saints (-3.5 | -1.5) at Tampa Bay Buccaneers
Oakland Raiders at Denver Broncos (N/A | -16)
Arizona Cardinals at San Francisco 49ers (-6 | -8.5)
St. Louis Rams at Seattle Seahawks (-13 | -12)
– Largest discrepancies between current Pinnacle lines and preseason lines from CG Technologies:
Cowboys: 8 points
Vikings: 7.5 points
Colts: 6.5 points
– You can view the latest odds and public betting trends on our free NFL odds page, but here are some key Week 17 injuries to monitor:
Bengals WR A.J. Green, Arm, Questionable
Browns QB Brian Hoyer, Shoulder, Questionable
Browns CB Joe Haden, Shoulder, Questionable
Chargers QB Philip Rivers, Back, Probable
Packers QB Aaron Rodgers, Calf, Probable
Colts WR T.Y. Hilton, Hamstring, Questionable
Patriots WR Julian Edelman, Thigh, Questionable
Jets WR Percy Harvin, Ribs, Questionable
Jets C Nick Mangold, Knee, Out
Bills DT Marcell Dareus, Knee, Questionable
– With Johnny Manziel out for the season and Brian Hoyer listed as questionable, rookie quarterback Connor Shaw could be in line for his first career start. In Arizona, a rookie will definitely be behind center as Logan Thomas will start against the 49ers.
– The MVP odds have not been updated, but here are last week's odds from Sportsbook.com:
Aaron Rodgers (-800)

Tom Brady (+400)

JJ Watt (+1000)

DeMarco Murray (+1200)

Peyton Manning (+1500)
Andrew Luck (+3000)
LeVeon Bell (+5000)
Rob Gronkowski (+10000)
– Have any questions for the staff at Sports Insights? Utilize our live chat to speak with a customer service representative or e-mail us at help@sportsinsights.com.
[adrotate group="4″]