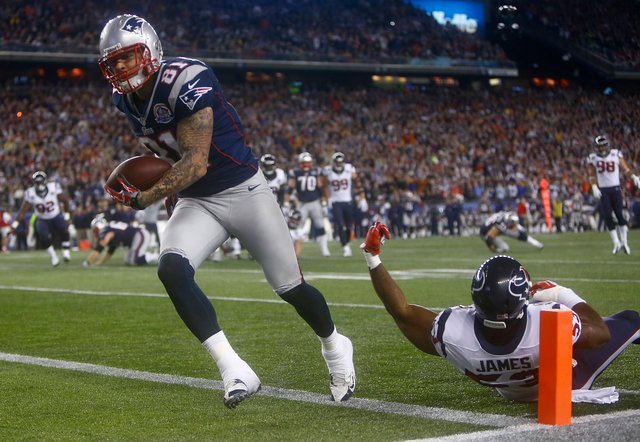 NFL Playoff Betting Trends: Is There Value in Postseason Rematches?
After seeing all four favorites emerge victorious last weekend, the NFL playoffs continue this weekend with the divisional round — and there should be a lot of familiarity between these teams. Although Seattle's matchup in Atlanta will mark the first time this season these two teams will face off against each other, the other three games are all rematches from earlier in the season.
In the case of the 49ers/Packers game, much has changed since they last played. It was the first week of the season and Colin Kaepernick was still the backup to Alex Smith — although he was occasionally used in the team's Wildcat package. However, the other two games have been played quite recently. The New England Patriots embarrassed the Houston Texans with a 42-14 during their Monday Night Football game on December 10th. Just six days later, the Broncos knocked off the Ravens 34-17 — although that game took place in Baltimore.
Our goal is to analyze the NFL Playoff betting trends for these three matchups using Sports Insights proprietary betting data in an attempt to determine which teams have value this weekend.
Baltimore Ravens at Denver Broncos (-9.5) – Saturday, January 12th at 4:30 PM ET
It was less than a month ago when these two teams faced off, so both teams should be quite familiar with each other. With Ray Lewis sidelined due to a torn tricep, the Ravens opened as a 1-point home underdog against Peyton Manning and the Broncos. Money poured in on the road favorite as 66% of spread bets were placed on the Broncos, moving the line to -3 by kickoff.
Although Manning threw for just 204 yards and one score, Knowshon Moreno posted his best game of the season, rushing for 118 yards and a touchdown in a 34-17 victory.
Only weeks later, we have seen drastically different odds for this game. Assuming that home field advantage is worth three points, one would expect that Denver would have opened as a 6-point favorite. Instead they opened as a 9.5-point favorite, where the line has remained for the duration of the week.
Despite the fact that defensive captain (and emotional leader) Ray Lewis will be on the field, it's surprising to see that 64% of spread bets have been placed on Denver this week. While bettors still have Denver's lopsided victory on their minds, it would appear that the value has shifted to Baltimore in this weekend's matchup.
The table below represents the public betting trends from the Week 15 game between Denver and Baltimore using lines from Pinnacle. The team that covered the spread is highlighted in bold.
Teams

Date

Opening Line

Closing Line

Betting %

Closing Total

O/U %

Final Score

DEN
BALT
12/16
-1
+1
-3
+3
66%
34%
48
64%
36%
34
17
Green Bay at San Francisco (-3) – Saturday, January 12th at 8:00 PM ET
A lot has changed since the last time these teams met in week 1 of the season. Before the season, Green Bay was considered the Super Bowl favorite and in fact had the best future odds at Bovada (13/2). Perhaps that explains why they opened as 7-point home favorites against a dangerous 49ers team. Still, even after receiving 60% of spread bets the Packers saw the line drop from 7 to 6 indicating that sharp money was taking the Niners.
Apparently that sharp money was dead on as San Francisco dominated Green Bay — though the final 30-22 score was far from indicative of this one-sided play. In that game, Alex Smith completed 77% of his passes for 211 yards, two touchdowns and no interceptions en route to an impressive 125.6 passer rating. However, the more mobile Kaepernick took over when Smith suffered a concussion in week 10 and has not relinquished the starting job since.
This time around, the 49ers opened as a 3-point home favorite meaning that the line is nine points different from the last time these two teams met. That helps to explain why the Packers are currently receiving 64% of spread bets despite losing by eight at home in their previous matchup.
Teams

Date

Opening Line

Closing Line

Betting %

Closing Total

O/U %

Final Score

SF
GB
9/9
+7
-7
+6
-6
40%
60%
46.5
63%
37%
30
22
Houston Texans at New England Patriots (-9.5) – Sunday, January 13th at 4:30PM ET
When these two teams first met back on December 10th, it was considered a potential game of the year. Houston, sitting on an 11-1 record, was travelling to New England with the league's best record on the line. In a Monday Night Football game, the Texans had the opportunity to prove to the nation that they were a force to be reckoned with.
Instead, Tom Brady put on a clinic and showed once again why he is considered one of the best to ever play the game. The three-time Super Bowl champion threw for nearly 300 yards with four touchdowns and no interceptions en route to a 42-14 walloping. Houston proceeded to lose two of their final three games — knocking them from the top overall seed and costing themselves a first-round bye in the process.
In that December 10th matchup, New England opened as a 4-point favorite and the betting was split evenly with the Pats receiving 49% of spread bets. Despite that even public betting percentage, the line moved 1.5-points with the Patriots closing as 5.5-point favorites. This would seem to indicate that there was sharp money on the home favorites, and that once again that smart money was right on.
While the public betting was split down the middle just a month ago, clearly that blowout has warped the public's perception. Despite being 9.5-point favorites, the Pats are currently receiving a whopping 68% of spread wagers. That means that the line actually jumped four points from the last time these two teams met, yet the number of bettors who like the Patriots has risen by nearly 40%. Based on this line movement as well as our betting against the public data, Houston appears to have value this weekend.
It's also interesting to note the Patriots 28-21 playoff loss back in January of 2011. Just a month removed from whipping the Jets 45-3, the Patriots not only struggled to cover the spread, but also lost straight up. We always encourage our members to sell on good news and buy on bad news. After limping into the postseason, Houston certainly fits those criteria.
Also noteworthy is the line movement on the total. Last time these two teams met, 68% of bettors took the over yet it dropped from 52.5 to 50.5. With a combined 56 points, the over easily covered and yet that total is even lower this time around. The total opened at 49 (at CRIS) and has dropped 1.5-points to 47.5 despite an overwhelming 70% of bets coming in on the over. This reverse-line movement indicates that sharp money has come in on the under.
Teams

Date

Opening Line

Closing Line

Betting %

Closing Total

O/U %

Final Score

HOU
NE
12/10
+4
-4
+5.5
-5.5
51%
49%
50.5
68%
32%
14
42
Last weekend all four favorites not only won, but also covered the spread. Will that trend continue this weekend? Which team is most likely to change their fortunes the second time around? Do you see any value in these three rematches? Make sure to leave any questions or comments in the section below.