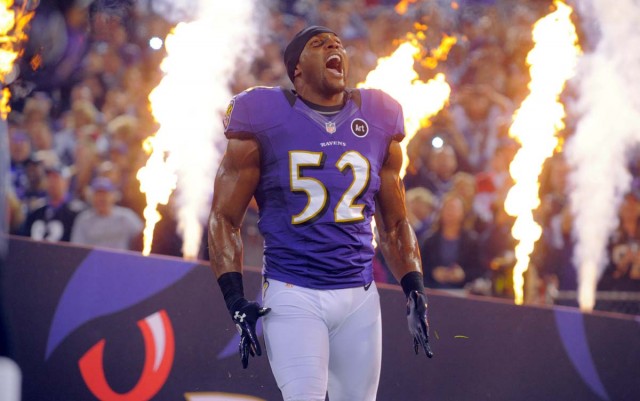 NFL Betting Trends: Examining Early Super Bowl Line Movement
Within moments of Baltimore's shocking upset of the New England Patriots, our live odds page lit up as sportsbooks began posting their Super Bowl XLVII lines. A majority of the market opened this so-called "Harbaugh Bowl" with the Ravens listed as a 5-point underdog against the 49ers, and early action has favored the upset-minded Ravens.
According to our NFL betting trends, after just four minutes, there were 58% of spread bets being placed on the underdog — moving the line a half-point to 4.5. Books continued to receive heavy action on Baltimore, and oddsmakers began shifting the juice in order to encourage action on the favored Niners.
However, just ten minutes after the line was posted, 67% of spread bets were taking Baltimore and the points. This lopsided action caused the market-setting Pinnacle sportsbook to move their line from 4.5 to 4.
Although a handful of books are still offering a juiced up 4.5 (including Carib and The Greek), almost the entire marketplace has San Francisco listed as a 4-point favorite at the time of this article's publication.
The line history below shows the early Super Bowl line movement at the Pinnacle sportsbook. This feature is available to all of our Sportsbook Insider customers.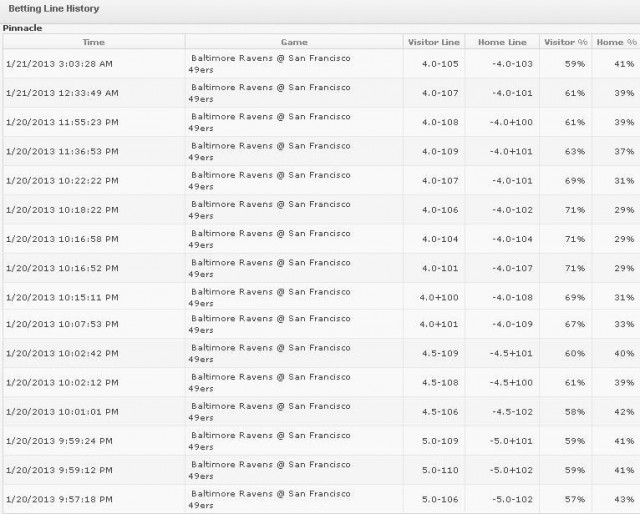 So far, there have been no betting systems triggered on Super Bowl XLVII which indicates that this line movement has been caused mainly by public money. We will continue to monitor these trends in the two weeks leading up to the big game, but we're always curious about your opinion.
Who will you be taking on February 2nd? Can Ray Lewis and the Ravens continue their unlikely run? Does Colin Kaepernick have what it takes to win the Lombardi trophy in his first season as a starter? Make sure to leave any thoughts or questions in the comment section below.