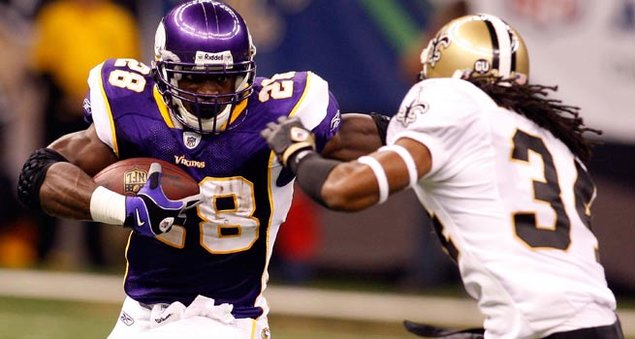 NFL Marketwatch – Minnesota Vikings vs. San Francisco 49ers
Welcome to the 2012-13 edition of NFL Marketwatch, where the team at Sports Insights gives sports fans unprecedented insight into the NFL point-spread market.
Every week we analyze the sports betting marketplace to pinpoint which games the public is chasing and which the sharps are pounding.
Overall Record: 0-1 (0.0%)
The goal of this weekly column is to highlight games that offer true line value. Often, if a line looks too good to be true, there is a reason. You'll occasionally need the worst teams on the board to come through. We typically buy on bad news and sell on good.
Minnesota Vikings vs. San Francisco 49ers (9/23 – 1:00 p.m. ET)
After a terrific 2011-12 season in which our NFL Marketwatch posted a record of 12-5 (70.6%), we got off to a rocky start in week 1 when the Dolphins were unable to pull off a back door cover against the Houston Texans. We'll look to return to our winning ways in the second edition of NFL Marketwatch.
Through two weeks, it's tough to find many negatives about this San Francisco 49ers team. After posting a 13-3 record in Jim Harbaugh's first season, the Niners' offense has taken great strides while their physical defense continues to dominate the line of scrimmage. A large part of that is due to the evolution of former number one overall pick Alex Smith. Regarded for years as a bust, Smith has been extremely efficient this season, completing 70% of his passes and throwing for four touchdowns with zero interceptions. Largely due to the success of the ground game (San Fran leads the NFC with 334 rushing yards); the 28-year old quarterback has done an excellent job utilizing play-action to keep opposing defenses off balance.
For the Vikings, the 2012 season is already off to a more promising start than last season when the team lost their first four games en route to a 3-13 campaign. Safe to say, the Vikings' season rests on the shoulders of two dynamic playmakers — RB Adrian Peterson and WR Percy Harvin. Despite returning from a torn ACL and MCL that was supposed to sideline him for much of the season, Adrian "All Day" Peterson has looked terrific in the early going. The four-time All-Pro has already rushed for 144 yards and 2 touchdowns on 33 carries (4.4 yards per carry). The scariest part? He's posting those numbers at much less than 100%.
While A.P helps take some of the burden off young signal-caller Christian Ponder, his real safety blanket is 24-year old Percy Harvin. The former Florida Gator hauled in 56 balls for 663 yards over the final eight games last season and it doesn't look like he's about to slow down. In just two games this season, Harvin has 18 catches (tied for 2nd in the NFL) for 188 yards, while also being utilized in the run game and on kick returns.
Despite these two offensive weapons, the Vikings were unable to knock off Andrew Luck and the Colts last week — losing 23-20 on the strength of a last-second field goal by Adam Vinatieri. With this loss fresh on the minds of bettors, and a lasting image of San Fran's impressive victories over both the Packers and Lions, the public has been pounding the 49ers.
The line opened at Pinnacle with the 49ers listed as 7-point favorites and, according to our NFL betting trends, San Francisco is currently receiving a staggering 83% of spread bets, 76% of moneyline wagers and 91% of parlays. Despite this incredibly one-sided betting, the line has actually dropped to -6.5. This reverse line movement is a strong indicator that sharp money has taken the host Vikings.
The table below shows a breakdown of the spread betting percentages from our six contributing sportsbooks.
Teams

Market %

Sprtsbk

BetUS

Carib

WagerWeb

5Dimes

SIA

SF
MIN
83%
17%
63%
37%
83%
17%
86%
14%
95%
5%
67%
33%
94%
6%
It is interesting to note that this game fits into our much discussed 80/20 betting rule. Since 2004, underdogs receiving less than 20% of spread bets have gone 84-65 for +14.6 units and a 9.8% return on investment (ROI).
The chart below shows the changes in spread betting percentages and line movement since this game opened at Pinnacle.

In addition, our Betting Systems triggered a number of moves including a Smart Money Move on Minnesota at Diamond (BetDSI) and a Steam Move at CRIS. This gives further credence that the value is on Minnesota in Sunday's matchup.
Adding an extra half point can often times be the difference between winning and losing so, as we constantly preach, make sure to shop for the best line before placing your bet.
Game to Watch (0-1)
Minnesota Vikings +7
It should be another exciting week of NFL Football action. Keep Marketwatch handy and your browser pointed to SportsInsights.com for the latest real-time updates.
Enjoy the games!
Daniel Fabrizio
President
SportsInsights.com