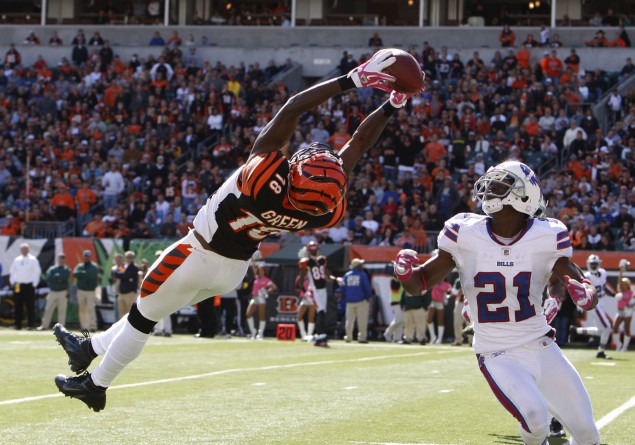 NFL Marketwatch – Cincinnati Bengals vs. Denver Broncos
Welcome to the 2012-13 edition of NFL Marketwatch, where the team at Sports Insights gives sports fans unprecedented insight into the NFL point-spread market.
Every week we analyze the sports betting marketplace to pinpoint which games the public is chasing and which the sharps are pounding.
Overall Record: 2-2 (50%)
The goal of this weekly column is to highlight games that offer true line value. Often, if a line looks too good to be true, there is a reason. You'll occasionally need the worst teams on the board to come through. We typically buy on bad news and sell on good.
Cincinnati Bengals (3-4) vs. Denver Broncos (4-3) – 11/4 at 1:00 p.m. ET
Following a shaky start to the season, fans and analysts alike wondered whether Peyton Manning would ever fully recover from his fourth neck surgery. In fact, after a three interception performance against Atlanta in week 2, it seemed the career of Manning was nearing a close. So how did he respond? How about at least 300 passing yards in the next five games during which the future Hall of Famer threw 14 touchdowns and just one interception. With that type of turnaround, Manning has emerged as a legitimate MVP candidate and the Broncos look primed for another playoff run.
In order for Cincinnati to pull off the upset, they'll need a big game from wide receiver A.J. Green. The fourth overall pick in the 2011 draft, Green currently leads the league in receiving touchdowns with seven. The gifted physical specimen is the type of versatile receiver that coaches dream about and causes nightmares for opposing foes. Utilizing his exceptional route-running ability and an uncanny ability to create separation from his defender, Green is a serious threat in the short passing game. With a 6'4″ frame, tremendous vertical leaping ability, strong hands and elite speed, Green is always a threat to take the top off a defense.
Denver opened as a 3.5-point favorite at CRIS and is currently receiving 81% of spread bets, 77% of moneyline bets and 86% of parlay wagers. Despite this heavily one-sided betting, the line has actually remained stagnant at 3.5. One would expect that such lopsided betting would cause the line to climb higher, but every time this line has been moved to 4, it has immediately been bet back down to 3.5.
The table below shows a breakdown of the spread betting percentages from our seven contributing sportsbooks.
Teams

Sprtsbk

BetUs

Carib

Wager

5Dimes

SIA

CRIS

DEN
CIN
89%
11%
79%
21%
74%
26%
91%
9%
65%
35%
89%
11%
77%
23%
The Bengals are coming off a bye week and recent research indicates that there is additional value on well rested squads. Since 2004, teams coming off their bye have a record of 147-118 with +21.89 units earned and an 8.3% return on investment.
The chart below shows the changes in spread betting percentages and line movement since this game opened at CRIS.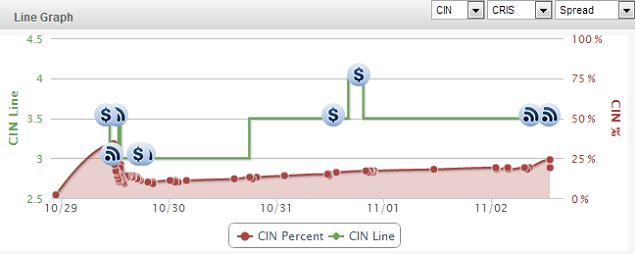 With that in mind, we encourage you to shop for the best line, fade the public, and take the home dog in this AFC showdown.
Game to Watch (2-2)
Cincinnati Bengals +4
It should be another exciting week of NFL Football action. Keep Marketwatch handy and your browser pointed to SportsInsights.com for the latest real-time updates.
Enjoy the games!
Daniel Fabrizio
President
SportsInsights.com