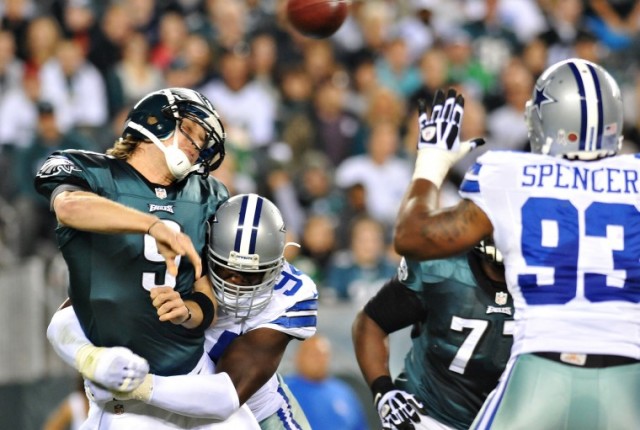 Can You Make Money Betting Must-Win NFL Games?
Note: This article was originally published prior to Week 16 of the 2013 NFL season.
Entering the final week of the NFL regular season the playoff picture is almost set, but there remain a number of meaningful games to be played in week 17. Five teams have already clinched a spot in the NFC playoffs (Arizona, Detroit, Green Bay, Dallas and Seattle) but the NFC South remains up for grabs. Likewise, five AFC teams have already clinched a playoff berth (New England, Indianapolis, Denver, Pittsburgh, Cincinnati) with Baltimore, Kansas City and Houston vying for that final spot.
Although there is no way of definitively categorizing a game as "must-win", for the sake of this article we will be looking at all teams with a winning percentage between 50% and 67% entering the final two weeks of the regular season. Since this is only examining the final two weeks of the year, this will include teams with records ranging between 7-7 and 10-5 as they are most likely to be fighting for a playoff berth or divisional championship.
By utilizing our Bet Labs software, we found that since 2003, there have been over 200 regular season games that can be categorized as "must-win" with teams posting a 117-107 ATS record with +4.6 units won and a 2.1% return on investment (ROI). While these numbers aren't particularly noteworthy, we were curious as to whether home field advantage could benefit teams in must-win games. Our historical archive tells us that home-field advantage is overvalued by bettors, but could the increased fan excitement lead to a stronger than usual performance?
As we expected, this pattern of bettors overvaluing home field advantage is amplified in "must-win" games which creates value betting against these home teams. Fading home teams in these late season games has performed exceedingly well, posting an impressive 70-49 ATS record with +18.24 units earned and a 15.3% ROI. Better yet, if it was a conference game the record improved to 60-37 (+20.32 units, 21% ROI).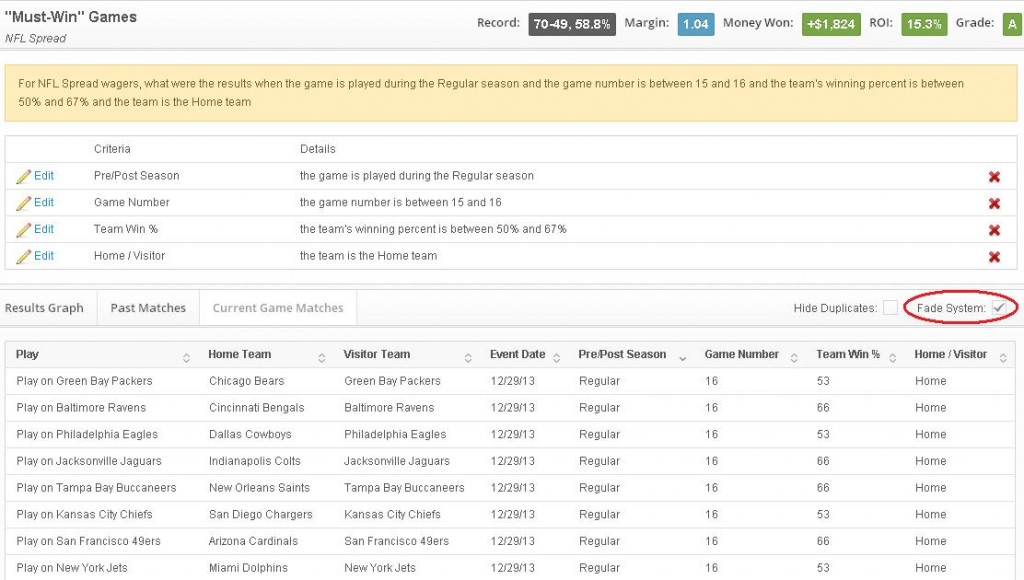 12/23/14 Update: This system went 2-2 ATS during Week 16 of the NFL season and is now 76-55 ATS (+17.76 units) overall. This week there are five teams playing in "must-win" games including Houston, Pittsburgh, Baltimore, Miami and Kansas City. Based on our research, that indicates that there is value on Jacksonville (+10), Cincinnati (Off Board), Cleveland (+8.5), New York Jets (+5.5) and San Diego (+2.5).
Bettors may also be interested to know that if a team is receiving more than 50% of spread bets in one of these "must-win" games, this fade system improves to 45-28 ATS with +15.1 units won and a 20.7% ROI. This once again reinforces our betting against the public philosophy.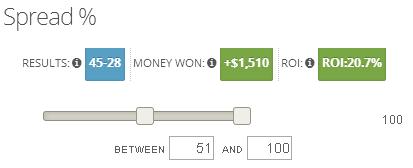 Signup for a 4-day trial of our Pro Membership and receive all of our NFL Week 17 Best Bet picks.