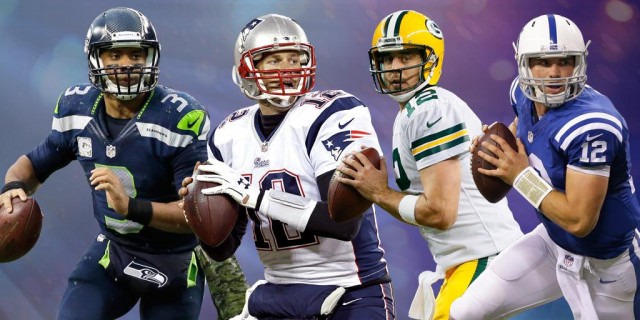 NFL Conference Championships: Early Line Movement Report
The NFL Conference Championship games kick off this Sunday with a trip to Super Bowl XLIX on the line. Although most home teams opened as 7-point favorites at the market-setting Pinnacle sportsbook, the line for these two games have moved in decidedly different directions.
Over the past decade it's become increasingly obvious that you can't win a Super Bowl without a top-tier quarterback, so it's interesting to note that this weekend features four of the most profitable quarterbacks for bettors:
4 of the 5 most profitable QBs playing this wknd Brady: 113-82, +27.5 u Rodgers: 66-44, +19.7 u Wilson: 36-17, +17.6 u Luck: 34-18, +14.3 u

— Bet Labs Software (@Bet_Labs) January 14, 2015
For those who may be interested, Peyton Manning has been the second most profitable quarterback in our database with a career record (playoffs included) of 107-82 ATS with +20.94 units won.
So how has public betting affected early line movement at the market-setting sportsbooks? Read on for our analysis on how the lines have changed since opening on Sunday. For the latest odds and public betting trends, make sure to visit our free NFL odds page.
Green Bay Packers at Seattle Seahawks
The first game on Sunday features a classic matchup with MVP front runner Aaron Rodgers and the Green Bay Packers travelling to Seattle to face the Richard Sherman and the Seahawks top-ranked passing defense. Much has been made about the impact of Seattle's 12th man, and this home field advantage cannot be overstated. Since 2003, the Seahawks have posted a league-best 63-38 ATS record at home and have been nearly twice as profitable (+22.36 units) as the next best home team (Indianapolis with +11.9 units).
Seattle opened as a 7-point favorite at both CRIS and Pinnacle and, at the time of publication, were receiving 52% of spread bets. Despite this incredibly even public betting, the Seahawks have moved to -7.5 across the sports betting marketplace. Although no bet signals have been triggered on this game, this half-point line move is crucial because it includes the second most significant key number for bettors.
It is interesting to note that Green Bay fits the criteria for one of our betting systems featured in an article available for ESPN Insiders. The system, which has gone 22-8 ATS for +12.47 units, highlights contrarian value on underdogs of at least 5.5-points.
The line chart below shows the spread change since opening at Pinnacle:

Indianapolis Colts at New England Patriots
One of the best young quarterbacks will face off against one of the all-time greats in Sunday's late game as Andrew Luck and the Colts travel to Foxboro to face off against Tom Brady and the Patriots. New England opened as a 7-point favorite at Pinnacle and, at the time of publication, were receiving 61% of spread bets. Despite receiving a majority of public bets, the Patriots have actually dropped from -7 to -6.5. This reverse line movement indicates that early sharp money likes the road dogs in this marquee matchup.
Now, this information may be shocking to bettors, especially considering Andrew Luck's career against Bill Belichick and company. In three career starts against New England, Luck and the Colts have lost by a total of 78 points — an average of 26 points per game.
The list below displays the final scores from these games along with the closing line. (Home team displayed first)
11/18/2012: New England 59 | Indianapolis 24 — Pats -10 | O/U 54
1/11/2014: New England 43 | Indianapolis 22 — Pats -7.5 | O/U 51.5
11/16/2014: Indianapolis 20 | New England 42 — Pats -3 | O/U 58.5
So with New England's utter dominance, why would sportsbooks open New England as favorites of only a touchdown? Moreover, why would big money come down on Indianapolis — especially when public money is likely to continually pound the Pats throughout the week?
Certainly the offensive line could be an area of concern for New England. Following their early season trade of Logan Mankins, the Patriots struggled to protect Tom Brady, leading to a shaky 2-2 start which had analysts questioning whether their title window was closing. Although they were able to eventually find the right line combination, a knee injury to rookie center Bryan Stork may be more significant than many would care to admit.
We also promote the idea of buying on bad news and selling on good, and this game certainly fits that criteria. New England has owned Andrew Luck in his short career, and the Pats come into this game with a 17-1 record over their past 18 home games. One positive for Indy? Jonas Gray, who rushed for over 200 yards when these two teams last met, is currently listed as questionable with an ankle injury. For up to the minute injury data, bettors can view our free NFL injuries page.
It's also worth mentioning that although most of the sports betting marketplace has moved to New England -6.5, a few square sportsbooks are still posting a 7-point spread. This once again highlights the importance of shopping for the best line.
The line chart below shows the spread change since opening at Pinnacle:

Have any questions for the staff at Sports Insights? Make sure to utilize our live chat or call us directly at 877-838-2853.
David Solar is the Content Manager at Sports Insights and can be reached directly at david@sportsinsights.com.