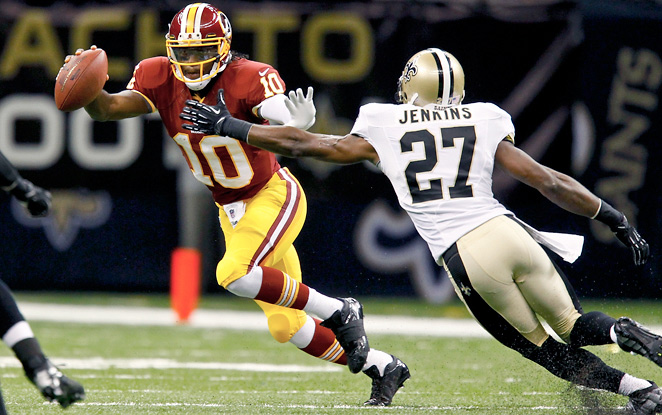 NFL Betting Trends: Examining the Value of Road Underdogs
Although the NFL season officially started on Wednesday, yesterday marked the first full slate of games around the league. It was a good day for favorites (who went 9-5 ATS) and home teams (8-6 ATS), but this early season trend directly contradicts years worth of records and information. Since 2004, betting all road teams would result in a 1466-1408 record. Although this represents a winning record, betting all visitors would result in a loss of 6.21 units and a -0.2% return on investment.
Similarly, betting all underdogs would result in a 1454-1399 record — another winning record that fails to beat the vig. However, when we combine these two filters we actually find a historically profitable betting system.
Using our BetLabs software, we have determined that road dogs have gone 1050-994 with 9.39 units earned and a 0.5% ROI. Granted this is not the most lucrative system but when we start layering in public betting data, a clear trend emerges. The table below — with line data taken from Pinnacle — shows how return on investment changes based on the public betting percentages from our six contributing sportsbooks.
| | | |
| --- | --- | --- |
| Public Betting Criteria | Record | Units Earned (ROI) |
| Road Dogs <49% | 711-662 | +13.11 (1%) |
| Road Dogs <30% | 159-142 | +8.81 (2.9%) |
| Road Dogs <25% | 70-61 | +5.45 (4.2%) |
| Road Dogs <20% | 12-10 | +1.28 (5.8%) |
You will notice that as we become more and more selective in examining heavily lopsided bet games, the return on investment steadily rises. Although the highest units earned comes with the most basic contrarian strategy (<49%), that system would require betting a copious amount of games for a limited return. The optimal level for betting road dogs would appear to be at the 25% level where we see a 4.2% return on investment and a representative sample size with 131 historical game matches.
Yesterday there were only three games in which a road dog received less than 25% of spread bets with the Redskins (+9) beating the Saints straight up, St. Louis (+9) covering the spread against Detroit, and Miami (+13) failing to cover the spread against the Texans. What's odd is that our archived data indicates that Miami was the best bet of that bunch, as this historical data shows that road dogs are even better to bet when they are underdogs of 10.5 points or more. Since 2004, visiting dogs of 10.5+ have gone 116-97 for +17.37 units and an 8.4% ROI.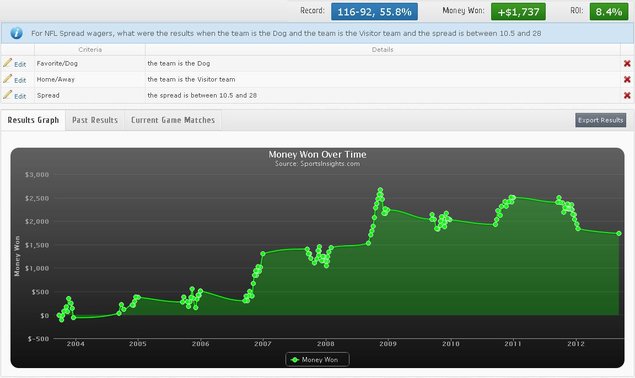 It's still early in the week so it's difficult to project whether the current betting percentages will maintain, but it is worth keeping an eye out on the Jets and Lions this week. Both teams are currently road underdogs receiving less than 25% of spread bets as they travel to Pittsburgh and San Francisco, respectively.
Make sure to check your live odds page throughout the week as this situation develops, and keep your eyes peeled for any other system matches.