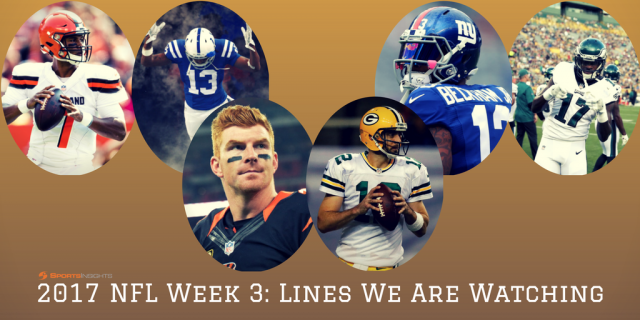 NFL 2017 Week 3: Lines We're Watching
Thousands of bets have already been made on this week's NFL slate and lines are on the move. If you haven't placed your bets yet, here are three games you should keep an eye on over the next few days.
Browns @ Colts
A few months back, you probably wouldn't have guessed that the Colts would be UNDERDOGS to the Browns…and at home, too! Then again, you probably wouldn't have guessed that Jacoby Brissett would be the starting QB, either.

When Bookmaker opened the line at Cleveland -2.5, bettors were all over the Colts in the early going. If you look in the red box, Indy was getting around 80% of bets (blue line) and dollars (green line) in the first day of betting and the line bottomed out at a PK on Monday at about noon eastern. Since then, buyback has taken place on the Browns. Bets and dollars are closer to 50/50 and they are back to a one point favorite around the market. This is the first time they have been favorites since 12/13/15 and first time they've been road favorites since 10/19/14. Will they remain a favorite or will there be another push on the Colts to take away this monumental occasion?
Bonus game
Giants @ Eagles
Bengals @ Packers
Andy Dalton and the winless, coverless Bengals head to Lambeau to take on Aaron Rodgers and the Packers in what could potentially be a shootout. The Bengals have yet to score a touchdown this year, but it's hard to believe that will keep up with offensive weapons like A.J. Green, Tyler Eifert, Joe Mixon, and Giovani Bernard. This could be a good opportunity for Dalton to break out of his slump and score some points.

With the Packers being a country-wide favorite and the Bengals starting the year off on such a bad note, it's not surprising that Green Bay is getting close to 80% of the early spread bets. However, you'll see that the money is nearly split 50/50, meaning that larger bets being made by sharper bettors are coming in on Cincy. As a result, Cincinnati has moved from +9 to +8.5 at many books around the market. If you can, try to nab the Bengals at +9. By doing so, you'd be fading the public and following the sharp action—two of our core philosophies. Not to mention, taking teams off to a 0-2 ATS start has historically been a strong strategy.
Keep an eye on the lines by checking our free NFL odds page. However, if you're interested in getting all of the features you just got a glimpse of, try our sportsbook insider pro membership.