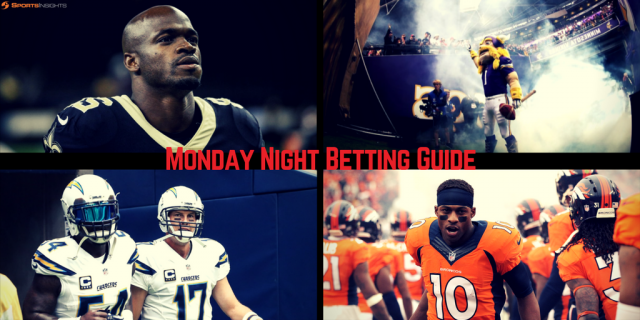 Monday Night Countdown: Gambling Edition
Two games tonight, baby! Thee best Monday of the year (well, except for Christmas). Let's get right into it…
Saints at Vikings
Adrian Peterson makes his Saints debut in, of course, Minnesota. Funny how that works.
Since all of the week 1 lines were out for months, most of them had bounced around quite a bit. Not this game.

The Vikings were -3.5 all summer long until yesterday, when the line moved to -3. Bettors are definitely backing Brees and the Bayou Boys.They're getting 64% of the spread bets and 71% of moneyline bets for those who want around a +150 payout. In fact, our research has shown that taking small dogs on the moneyline is a better approach than taking them against the spread.
Total bets are relatively split and the line remains at the 47.5 opener at Bookmaker.
Chargers at Broncos
The second game features a divisional matchup between Denver and San Diego — two teams who could both probably go either 5-11, 10-6, or anything in between.
Unlike the first game, this line isn't quite the same as it was when it opened.

Early bettors loved the Chargers, who moved from +5 to +3.5 back in May. The line stood still for the duration of training camp and the preseason, but more action on the Chargers over the past week has continued to move the line. Earlier today, it hit +2.5 for the first time.
#Chargers money coming down at Bookmaker.eu, dropping the line to -2.5 (-119) for tonight's late game at #Broncos. https://t.co/9KWbfbkO2n

— Sports Insights (@SportsInsights) September 11, 2017
If you're looking to take the Chargers, do your best to get +3. If you can't, you may want to take the moneyline instead.
With 71% of dollars on the under, the total has dropped from 44 to 42 at both Bookmaker and Pinnacle since opening.
Check the latest lines by using our free NFL odds page and follow us on Twitter @SportsInsights for all of your sports betting information.