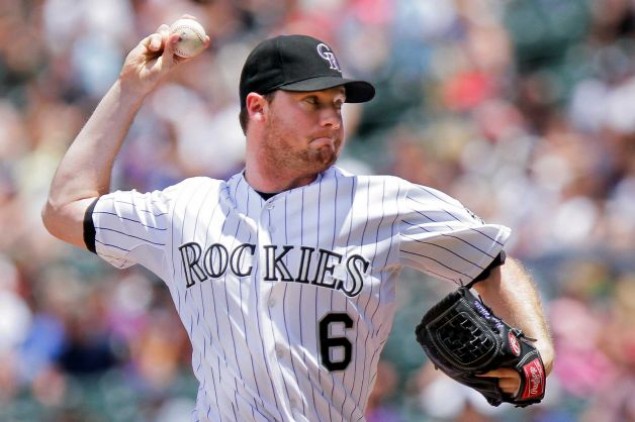 MLB Marketwatch – Colorado Rockies vs. St. Louis Cardinals
Welcome to the 2012 edition of MLB Marketwatch, where the team at Sports Insights gives sports fans unprecedented insight into the MLB betting market.
Every week we analyze the sports betting marketplace to pinpoint which games the public is chasing and which the sharps are pounding.
Overall Record: 8-7 (+4.47 units)
The goal of this weekly column is to highlight games that offer true line value. Often, if a line looks too good to be true, there is a reason. You'll occasionally need the worst teams on the board to come through. We typically buy on bad news and sell on good.
Colorado Rockies vs. St. Louis Cardinals – 8:40 PM EST
This week's marketwatch will focus on two teams with very different levels of success this season as the defending World Series champion Cardinals (56-48, 27-27 Road) travel to Colorado to face the NL West cellar dwelling Rockies (37-65, 20-34 Home). For fans who like pitchers duals, this game is not for you. While the Cards currently lead the National League in runs scored with 518, the Rockies have allowed the most runs in baseball with 584. That combination — along with the thin air of Coors Field — explain the high total of 11.
While the teams records reflect varying levels of achievement, the same can be said about tonight's pitching matchup. Taking the mound for Colorado will be rookie Alex White, who was acquired alongside rotation mate Drew Pomeranz in last season's trade of Ubaldo Jimenez. This season White has struggled mightily, posting a 2-6 record and 6.45 ERA in ten starts. However, despite that anemic performance White has actually performed better at home than on the road — quite the anomaly for a Rockies pitcher. In five starts at Coors Field, White's ERA has been a more respectable 5.02 — a far cry from his woeful 8.22 road ERA.
Opposing White will be All-Star right-hander Lance Lynn. The burly 6'5″ hurler ranks second in the NL this season with 13 wins while posting an impressive 3.42 ERA. Perhaps most remarkable has been the overpowering stuff and excellent control Lynn has shown. In 121 innings, Lynn has struck out 123 batters while allowing just 41 walks. However, of late Lynn has looked like a different pitcher. Over his past seven starts, the 25-year old has allowed 24 earned runs in just 39 1/3 innings which calculates to a 5.49 ERA. This rocky stretch has resulted in a rise of more than half a run in Lynn's season ERA.
Both teams are dealing with injuries, although it's fair to say that Colorado may be affected more be their afflictions. While star shortstop Troy Tulowitzki has been on the disabled list for weeks now, the Rox are dealing with uncertainly surrounding a number of players. Both Michael Cuddyer (Oblique) and Todd Helton (Illness) are listed as questionable for tonight's game while Dexter Fowler (Illness) is considered probable. For St. Louis, the only question mark concerns leadoff hitter Rafael Furcal. The veteran shortstop has missed the past four games with back pain and is listed as questionable for tonight. SportsInsights members have access to injury and lineup alerts, but make sure to check out our Injury Page for any late, breaking news updates prior to game-time.
St. Louis opened as a -150 favorite at Pinnacle and, according to Sports Insights' MLB Betting Trends, is currently receiving 89% of moneyline wagers, 86% of runline wagers, and 88% of parlay bets. Despite this one-sided betting percentage, the line has barely moved and currently sits at -156.
The public betting chart below is available on our Live Odds 3.0 page to all Live Odds and All-Pro Combo members and shows a breakdown of moneyline Betting Percentages from our six contributing sportsbooks.
Teams

Market %

Sprtsbk.com

BetUS

Carib

WagerWeb

5Dimes

SIA

STL


COL

89%
11%
99%
1%
88%
12%
94%
6%
88%
12%
69%
21%
92%
8%
Our historical betting data also shows there is terrific value on the Rockies tonight. According to our BetLabs software, home dogs in the National League that receive less than 30% of moneyline wagers have earned +59.87 units since the beginning of the 2005 season. Despite a losing record of 708-827, this system results in a 3.9% return on investment (ROI). This one again demonstrates the importance of patience in sports investing.
Game to Watch (8-7, +4.47 units)
At the time of publication, Heritage was offering the best price on the Rockies at +152 but as a reminder, be sure to shop for the best line before wagering on this game.
Colorado Rockies +152 (Heritage)
Enjoy the games!
Daniel Fabrizio
President
SportsInsights.com