Members of Sports Insights enjoy the unique ability to access sports betting percentages coming directly from databases of our contributing sportsbooks. These betting activity statistics are also referred to as betting trends. For the first time, sports bettors see what is actually happening on the sportsbook side. Members enjoy real time betting data (odds, betting percentages, injury reports), providing the ability to monitor the day's action bet by bet.
Understanding the Sports Betting Percentages Statistics:
The percentages are real numbers coming from our contributing sportsbooks. They represent actual bets. SportsInsights.com has been offering sports betting percentages to the public since 1999. We monitor the percentage of wagers on the spread, moneyline, parlays/teasers, and O/U, plus the number of bets placed on every sporting event. We poll each participating sportsbook's database every 1-5 seconds. No other website in the world offer this "inside" information. SportsInsights.com is NOT A CONSENSUS site. We track real bets placed with real money. Please take a moment to read our information about Consensus Betting Data.
What makes our Betting Trends data different?
We've been tracking sports betting percentages (betting trends) data since 1999
We monitor betting activity at multiple contributing sportsbooks
Mores sportsbooks results in more data and stronger numbers
We track Spread, Moneyline, Totals, and Parlays
Below is a screenshot from our Sportsbook Insider live odds page. We display both betting percentages and odds. In Game #451, Dallas Cowbovs vs. New York Giants, Dallas received 52% of the "SPD" (spread) bets placed on this game, while New York received 48%. The Cowboys also received 73% of ML (moneyline) bets versus just 27% for the Giants.

Individual Sportsbook Betting Statistics – SAMPLE
SportsInsights.com members have the ability to separate the sports betting percentages from each individual contributing sportsbook. Customers can view the information page by clicking the "i" icon. That will allow customers to view the breakdown from our seven contributing sportsbooks, a line graph, value rating, key injuries, system plays, officials and weather.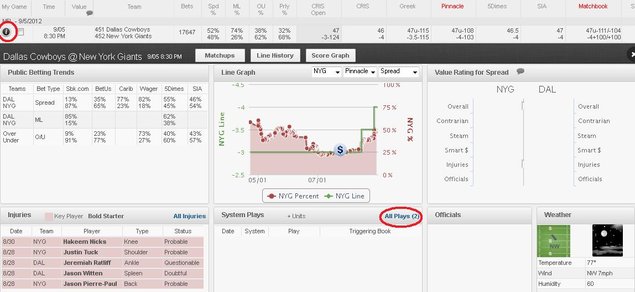 In addition to creating the worlds first true "sports betting marketplace", we've developed a rich set of sports betting tools to help members capitalize on this revolutionary information. Our original thinking and pioneering features will help you achieve consistent winning results. Once you start using SI's original content, you'll ask yourself how you ever lived without it. Read more about Sports Insights Advantages, Sports Insights Betting Systems, and Compare Sports Insights to other live odds services.
Still have Questions?
Check out our Frequently Asked Questions (FAQ) or Contact Us right now.