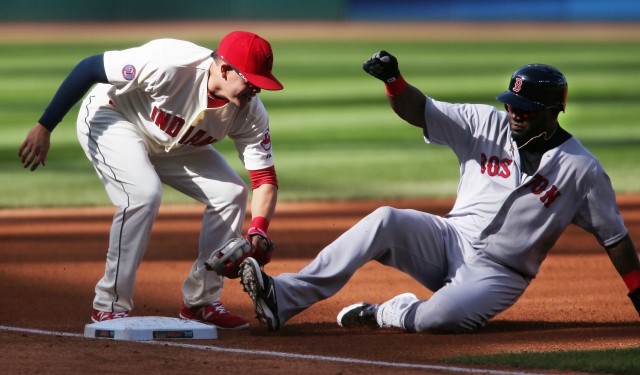 MLB Game of the Day: Boston Red Sox at Cleveland Indians
Update: This game has been postponed due to inclement weather and will be played on Tuesday at 1:10 PM eastern.
With the college basketball national championship game on tap tonight, it's easy to forget that it's also MLB opening day.  Although the Astros/Yankees game has already been postponed due to inclement weather, there are still 11 games on the schedule including a fascinating showdown between two former Cy Young winners.
Over the off-season, the Red Sox attempted to address their pitching woes by signing David Price to a seven-year deal worth $217 million. This contract made the 2012 AL Cy Young winner the highest paid pitcher in baseball history. Price will attempt to prove that he's worth this landmark deal in this afternoon's game against 2015 AL Cy Young Winner Corey Kluber and the Cleveland Indians.
The Red Sox opened as -108 road favorites at the market-setting Pinnacle sportsbook and have received 65% of moneyline bets. Despite this overwhelming public support, the line has flipped and the Indians are now listed as -106 favorites. This reverse line movement is an excellent indicator that sharp money has hammered the home team.
The line graph below, which is available to Sportsbook Insider subscribers, examines how public betting has affected the spread at Pinnacle.

For those who are unfamiliar, the dollar signs on the line graph denote reverse line movement alerts (formerly known as smart money). In this instance, there were reverse line movement alerts triggered on Cleveland -104 at SBG and Cleveland +100 at Sports Interaction (SIA).
We should point out that SIA is one of the most square sportsbooks and hasn't traditionally been very profitable, however, the SBG reverse line movement alert has been one of our top performing bet signals. Since 2007, the SBG moneyline reverse line move has gone 412-485 with +91.62 units won. That means that a $100/game bettor would have earned $9,162 by following this move.
One of our final sharp money indicators involves our newly added money percentages. For years we have received public betting percentages from our contributing sportsbooks, but until recently we only received the percentages of bets on each side. However, several months ago we started to receive the percentage of money wagered on each side from one of the sharpest offshore sportsbooks. This information provides a more complete overview of the sports betting marketplace and allows us to more easily identify what factors are driving line movement.
In today's game the Indians are receiving just 35% of moneyline bets, but 63% of total dollars wagered. This indicates that even though more bettors are taking the Red Sox, large bets made by an individual or betting syndicates have taken the Indians. In other words, this is a clear cut example of "Pros vs. Joes" with squares taking Boston and sharps taking Cleveland.
Cleveland is clearly offering value on the moneyline, but we have also found several sharp money indicators on the over/under. The opening total at Pinnacle was 6.5 and public betting has been split with 51% of bettors taking the over. Despite this even betting, the total has dropped from 6.5 to 6. This can easily be explained by our money percentages, which show that 90% of total dollars wagered have taken the under.
There are also several profitable betting systems which point towards value on the under. One of our most popular Bet Labs Pro systems, which are available in the Think Tank, shows that early season unders have been extremely profitable in cold weather games.
The screenshot below displays the performance of this system since the start of the 2005 season.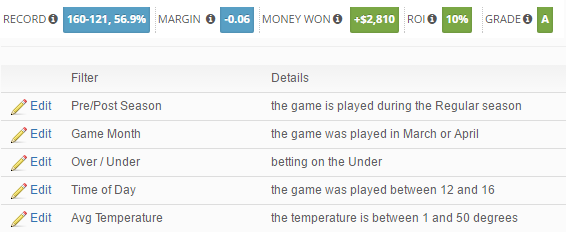 The average temperature over the course of the game is expected to be 32 degrees Fahrenheit, which further validates that there's value on the under — particularly if your sportsbook is still offering the total at 6.5.
We should stress that the only picks we fully endorse are our Best Bets, which are available to Sportsbook Insider Pro subscribers. Since their inception in 2008 our MLB Best Bets have earned +142.9 units, which works out to an average of +17.87 units per season. In addition to these highly profitable picks, Pro members would receive all of our bet signals including the lucrative Pinnacle moneyline steam move. The Pinnacle ML steam move gained +77.3 units last year and +259.87 units all-time!
These numbers are subject to change before first pitch, so bettors should be sure to visit our free MLB odds page for the latest lines, injuries, lineup changes, public betting trends and more.
Have any questions for the staff at Sports Insights? Utilize our live chat to speak with a customer service representative or e-mail us at help@sportsinsights.com.