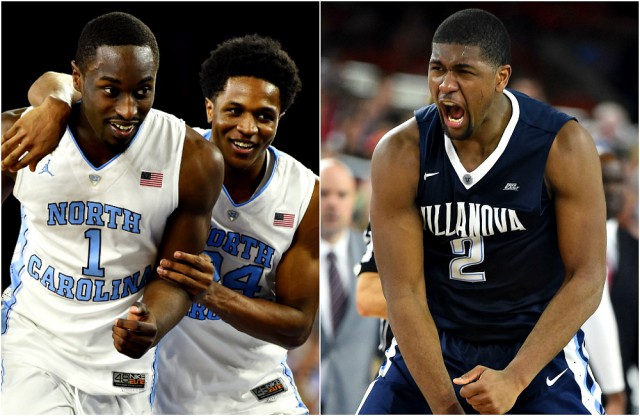 2016 March Madness: Which Team is Offering Value in the National Title Game?
Two of the most storied college basketball programs in the nation will face off tonight when Villanova (34-5, 20-17 ATS) takes on North Carolina (33-6, 20-18 ATS) in the championship game. This will be an interesting clash of styles since the Wildcats are incredibly efficient from the perimeter while the Tar Heels are dominant on the interior.
Villanova's Daniel Ochefu will have the tall task of defending Brice Johnson, the heavy favorite to be named the Tournament MOP. Johnson is averaging 20 points and 9.6 rebounds in tournament action and has already tallied three double-doubles in five games.
For North Carolina, it's all about cooling down Villanova's potent perimeter attack. In Saturday's Final Four matchup against Oklahoma, the Wildcats shot 71.4% from the floor and 61.1% from downtown en route to a 44-point blowout. Villanova starts four players that are 6'6″ or shorter, but the Tar Heels could force lineup changes if they're able to utilize their size advantage in the paint.
In what could be one of the most exciting national title games in years, North Carolina opened as a 2.5-point favorite at the market-setting CRIS sportsbook. At the time of publication, the Tar Heels were receiving 63% of spread bets yet they had dropped to -2 on the spread and -140 on the moneyline. This reverse line movement indicates that early sharp money likes the underdog in this matchup.
The line graph below, which is available to Sportsbook Insider subscribers, examines how public betting has affected the spread at CRIS.

Although there have been no bet signals triggered on the spread, there are several profitable betting system matches which further validate that Villanova could be offering value.
Several weeks ago, we explained that teams with elite defenses have been vastly undervalued during the NCAA Tournament. Our research found that teams who have held their opponent to under 60-points in consecutive games have gone 64-34 ATS (65.3%) including a 5-1 ATS record this season. Villanova held Oklahoma to 51-points in the Final Four and limited Kansas to 59-points in their Elite Eight matchup, which makes them a current game match.
Using our Bet Labs software, we also found that teams receiving less than 40% of spread bets have gone 208-185 ATS (52.9%) during the NCAA Tournament including a 12-4 ATS record when they won their previous game by more than 20-points.

There has clearly been compelling line movement on the spread, but the movement on the over/under has been even more intriguing. CRIS opened the total at 151 and 70% of early bettors have taken the over. Despite this one-sided public betting, the total dropped 1.5-points from 151 to 149.5. Once again this reverse line movement indicates that sharp money is taking the under.
In addition to this reverse line movement, we have triggered two smart money alerts on the total — one at Pinnacle (Under 151) and one at BetOnline (Under 150). The Pinnacle move is much sharper than the BetOnline move, but they both point towards value on the under.
For what it's worth, there has been historical value on the under — especially during March Madness. Since 2005, college basketball unders have gone 20,055-19,786 (50.3%) including 397-375 (51.4%) during the NCAA Tournament. That record improves to 160-138 (53.7%) when the total drops at least a half-point from open to close. When at least two-thirds of bettors are taking the over, that record jumps to 51-33 (60.7%).

We should point out that all of our Bet Labs data is based on the closing line at Pinnacle, so make sure to visit our free college basketball odds page before tip-off to make sure that there haven't been any major changes.
As always, we encourage bettors to shop for the best line since Bovada is offering Villanova +3 and Sportsbook.com is offering Under 150.5. Both of those numbers are significantly off the market average. We also would like to stress that the only picks we fully endorse are our Best Bets, which are available to Sportsbook Insider Pro members.
Which team do you think will win the national title? Do you agree that the under is offering value? Did you have either of these teams in your bracket? Please leave your thoughts in the comment section below?