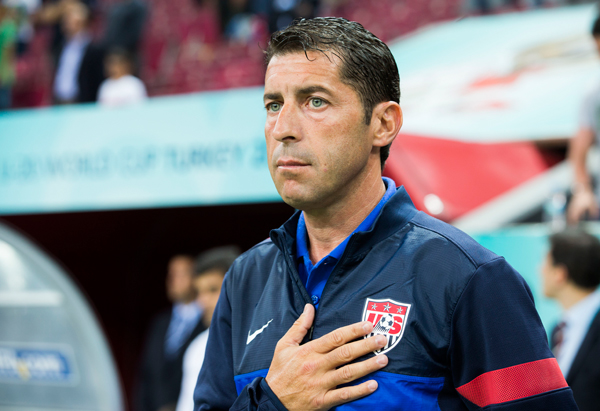 Longshot Value on Next USMNT Manager?
Whether you're a soccer fan or not, you've probably heard that the US men's team will not be participating in the 2018 World Cup in Russia. This is obviously hugely disappointing, especially since it took a 40/1 moneyline parlay to eliminate them on the final day of qualification (yes I bet it for a very small amount to help ease the forthcoming pain). USA had already replaced Jurgen Klinsmann with Bruce Arena as head coach, but after failing to qualify and losing at Trinidad & Tobago, they decided to part ways with Arena. The list of potential managers to take over is very intriguing, and a couple that I think have some value (odds via BetOnline). Important thing to note is that this is for next permanent manager and not just interim:
| Manager | October 18 Odds |
| --- | --- |
| Laurent Blanc | +400 |
| Sam Allardyce | +400 |
| Peter Vermes | +600 |
| Caleb Porter | +1200 |
| Gregg Berhalter | +1200 |
| Jesse Marsch | +1200 |
| Patrick Vieira | +1200 |
| David Wagner | +1600 |
| Tata Martino | +1600 |
| Ryan Giggs | +2000 |
| Sven-Goran Eriksson | +2000 |
| Bob Bradley | +2000 |
| Tab Ramos | +2500 |
| Harry Redknapp | +2500 |
| Eric Wynalda | +2800 |
| Alexi Lalas | +2800 |
| Jurgen Klinsmann | +5000 |
| David Beckham | +6600 |
I know Sam Allardyce has been in the discussion but I wouldn't be a fan of that selection– he just wouldn't be a good look for them right now. Laurent Blanc at +400 is far more intriguing to me, and think he has a much better shot than Allardyce. Third on the list, Peter Vermes, makes a lot of sense but he did say last month he wouldn't be entirely interested in the USMNT job and is happy at Sporting Kansas City. Even if that's not entirely true, there are others on the list who have voiced their interest and eagerness to take over.
One of those guys is Tab Ramos, current head coach of the USA U-20 team and US Soccer Youth Technical Director. While he's vital at the lower levels, he's been outspoken about wanting the top gig and some even think he's the favorite for the job. He doesn't want to just be the interim manager but whether he takes that offer or not, he'll still be in good position for the permanent job. At +2500 I think that's certainly a good price until there's absolute confirmation that he wouldn't be considered.
If I was making a bet it'd probably be on Ramos and then a little on Blanc, but I'd also keep an eye on Tata Martino at +1600. He's done a great job with MLS newcomers Atlanta United and has coached Argentina in the past. Based on the favorites (Blanc and Allardyce), it's clear that the US leans toward someone with International experience, and he definitely fits the bill.