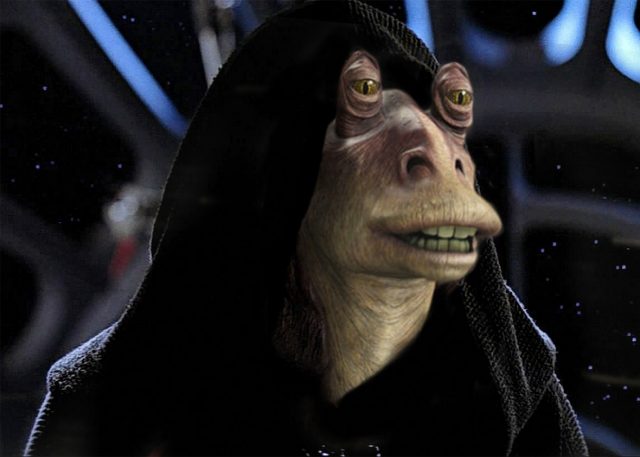 MORE Last Jedi Props
There have been some Star Wars props up for a few months now at a couple of different books. Is Luke Rey's father? Will the movie be nominated for best picture at the Oscars? Box office props. The basics.
However, with the latest trailer coming out a week ago, BetOnline has added a bunch of new, intriguing prop bets that will certainly cause some discussion amongst dorks near and far.
Who will get more screen time? Finn: -225, Poe: +185
Will The Last Jedi be the highest grossing movie of all time? Yes +500, No -1000
Will it have a larger US opening weekend than The Force Awakens? Yes +140, No -170
Will it have a larger worldwide box office than The Force Awakens? Yes +115, No -145
Will it be certified "Fresh" on Rotten Tomatoes? Yes -275, No +200
Will it be nominated for Best Picture at the Oscars? Yes +500, No -1000
Total box office over $2 Billion? Yes -130, No +100
Alright, now time for the good stuff.
Will Kylo Ren kill Leia? Yes +400, No -550
Will Kylo Ren turn to the Light Side? Yes +350, No -600
Will Luke Skywalker die? Yes +155, No -210
Will Rey turn to the Dark Side? Yes +400, No -700
Will Rey's parents be revealed? Yes -550, No +340
Will Snoke be revealed as Jar Jar Binks? Yes +5000, No -6600
This second group of props are juicyyyy AF. We already had plenty of questions after The Force Awakens, but the latest trailer, which was both awesome and confusing, has us asking even more questions. (Don't watch if you want to go into the movie fresh.)
If you've watched any trailer analysis, many "experts" are saying that this is filled with red herrings and the odds for some of these props suggest it, too.
To the naked eye, it would appear that Kylo is on the verge of killing Leia (his Mom), but at 4/1, the odds highly suggest that he won't. Unfortunately, we know that Leia's role in the franchise may be over after this movie depending on what footage they were able to get before Carrie Fisher passed away. Just based on the clips on the trailer and the fact that Kylo Ren killed papa Han, it wouldn't be surprising if he did kill Leia. Is taking the 4/1 odds a sucker bet?
The end of the trailer is where people's minds were really blown. We see Rey and Kylo on the verge of forming some sort of alliance, but what exactly are they going to do? Based on the odds, it's more likely that Rey turns Kylo Ren into a blue or green saber-wielding good guy. Obviously, neither one of these has to happen. They could stay on their respective "sides" of the force throughout the trilogy or even merge into a "super team" of sorts with both dark and light qualities. I have a feeling that the clip of them together is at the end of the film so we may need to wait for a couple more years to see what ends up happening as far as their relationship goes.
Perhaps the best prop, though, is the Jar Jar/Snoke one. In case you didn't know, there has been much folk lore on the interweb regarding Jar Jar Binks, including a famous reddit theory regarding him being Supreme Leader Snoke. The theory is well thought out, backed with evidence, far-fetched, and hilarious all at the same time. Put the house on 50/1 that he is Snoke (you'll either end up homeless or with 50 houses.)
Which ones do you think will happen? Any worth betting on? Let us know in the comments or on Twitter @SportsInsights.