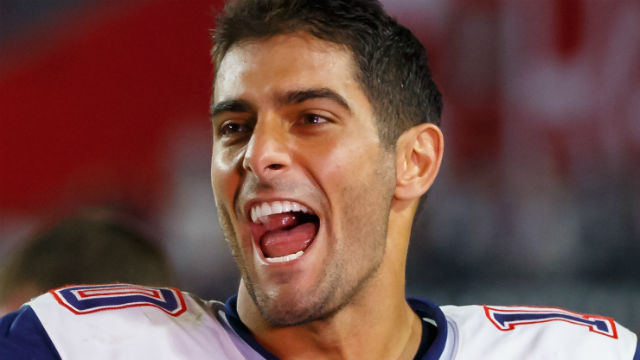 Betting Impact of 49ers' Jimmy Garoppolo Trade
According to ESPN's Adam Schefter, QB Jimmy Garoppolo has been traded from the New England Patriots to the San Francisco 49ers in return for a 2018 2nd-round draft pick.
Over the summer, we polled oddsmakers regarding the point-spread value of quarterbacks around the league and Scott Cooley of Bookmaker.eu believed Garoppolo was worth "around one point". Nick Bogdanovich, the Director of Trading at William Hill, agreed that he was worth something even as a backup.
The big question now is how the addition of Jimmy G. affects ratings for the 49ers. Some books have taken the game off the board, but it appears as if Garoppolo will not play this week given the short notice. According to Cooley, "We were at +2.5 and if Jimmy G. were to play, the line would be +1, maybe a pick 'em."
Pinnacle had moved to a pick 'em last night with heavy action coming in on the 49ers, but moved the line back to SF +1.5 this morning. Even though Jimmy G. isn't expected to play this week, the percentage of spread tickets backing the 49ers has ticked up from 25% to 40% and spread money from 18% to 32% since the trade was announced.
According to updated NFL simulations at BetLabsSports.com, the 49ers (38.2%) have the second best odds to land the #1 pick in the 2018 NFL Draft, trailing the Browns (54.4%).
Even if they don't land the top pick, it appears as though San Francisco won't have a need for quarterbacks this offseason with the addition of Garoppolo. This past summer, they were the favorites at +175 to sign Kirk Cousins next year. Kyle Shanahan just became a very happy man.