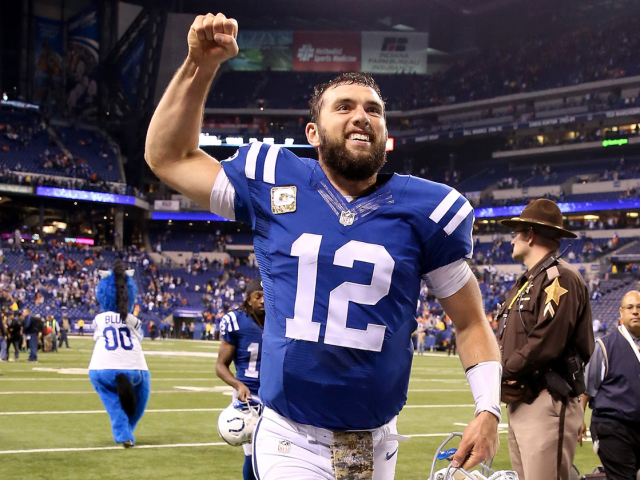 Is Andrew Luck Deserving of His Massive Contract Extension?
Back in February, Colts owner Jim Irsay proclaimed that the team would do everything in their power to retain Pro Bowl quarterback Andrew Luck and promised that the new deal would be "shocking." It was widely assumed that Luck's new deal would exceed $20 million per season, which seemed reasonable given the recent contracts signed by franchise quarterbacks.
In the past few years Aaron Rodgers, Eli Manning, Joe Flacco, Jay Cutler, Cam Newton, Matt Ryan, Tony Romo, Drew Brees and even Colin Kaepernick have signed contracts with total values reaching nine-figures. The guaranteed money has fluctuated tremendously, but salaries for NFL quarterbacks have been rising at an astronomical rate. That said, bettors have always been aware that quarterbacks are far more important than any other position.
Sportsbooks will almost always take a game off the board if there's an injury suffered by a starting quarterback — even if it's not a huge name. Last season there was significant line movement following injuries to middle-of-the-road quarterbacks like Jay Cutler and Marcus Mariota, but there's only one non-quarterback that holds any real value to the line — Vikings running back Adrian Peterson. According to Scott Cooley, an Odds Consultant for Bookmaker.eu, AP is worth about one point to the spread.
[easy-tweet tweet="Adrian Peterson is the only non-quarterback that carries any value in terms of the line." user="SportsInsights"]
Based on this recent precedent and the increasing value placed on starting quarterbacks, it was hardly surprising when Andrew Luck signed a six-year, $140 million contract. This deal made Luck the league's highest-paid player and included an astounding $87 million in guaranteed money.
Many analysts immediately pointed towards Luck's disappointing 2015 campaign and argued that the former number one overall pick was undeserving of his newfound riches. Others argued that the Colts were paying Luck for his potential rather than his current production. A select few stated that Luck was worth every penny of his new deal; but who is right?
Looking solely at last season's production, Luck isn't deserving of his record-breaking contract. The Stanford alum battled injuries, including a lacerated kidney, and threw 12 interceptions in just seven starts. The Colts went just 2-5 straight up (SU) in those games while backup quarterback Matt Hasselbeck posted a 5-3 record in his eight starts.
Although it's easy to look at Luck's struggles last season, it's important to take a step back and examine his full body of work. Luck overcame one of the league's worst offensive lines to guide the Colts to back-to-back AFC South titles in 2013 and 2014. Despite missing roughly half of the 2015 season, Luck has also posted the fourth-most passing yards (14,838) by any quarterback in his first four NFL seasons.
For NFL spread bettors, Luck's value is obvious. In 60 career starts, Luck has gone 37-23 ATS (61.7%) with +11.97 units won. That makes him the eighth-most profitable quarterback since the start of the 2005 season.
| Player | Record (ATS) | Win Rate | Units Won |
| --- | --- | --- | --- |
| Tom Brady | 123-90 | 57.75% | +28.96 |
| Aaron Rodgers | 78-51 | 60.47% | +24.18 |
| Peyton Manning | 114-86 | 57.00% | +23.84 |
| Teddy Bridgewater | 23-6 | 79.31% | +15.93 |
| Russell Wilson | 44-28 | 61.11% | +14.45 |
| Andy Dalton | 44-30 | 59.46% | +12.84 |
| Drew Brees | 110-94 | 53.92% | +12.08 |
| Andrew Luck | 37-23 | 61.67% | +11.97 |
| Cam Newton | 48-35 | 57.83% | +11.75 |
| Eli Manning | 101-87 | 53.72% | +11.58 |
Earlier this off-season I reported that Tom Brady was worth 6-7 points to the spread, depending on the opponent. In order to determine Luck's true value I once again reached out to Cooley.
"He's higher than some might expect in terms of value," Cooley said in regards to Luck's spread value. "Behind a sieve of an offensive line, there aren't many quarterbacks that would have the production that he's had. Luck at this point would have a value of 5-6 points, depending on the opponent."
Andrew Luck is worth 5-6 points to the spread, depending on the opponent. For comparison, Tom Brady is worth 6-7 points. h/t @ByScottCooley

— David Solar (@TheDavidSolar) June 29, 2016
To confirm that valuation I spoke with Jeff Sherman, manager at the Westgate Las Vegas Superbook. Sherman reiterated that Luck was a top-five quarterback and confirmed that he's worth 5-6 points to the spread.
The 26-year-old signal caller may have struggled with injuries last season, but it's clear that sportsbooks still regard Luck as one of the league's most valuable players. It's also worth noting that even though Matt Hasselbeck retired over the offseason, oddsmakers believe there's a negligible drop-off to Scott Tolzien.
It's true that Andrew Luck isn't the best quarterback in the league, but he does rank within the top-five. Here are my personal rankings:
Aaron Rodgers
Tom Brady
Ben Roethlisberger
Cam Newton
Andrew Luck
Cooley concurred that Luck was a top-five quarterback, but cautioned that he was on a different tier than the trio of truly elite quarterbacks: Aaron Rodgers, Tom Brady and Ben Roethlisberger. He noted that the second tier of quarterbacks included Luck, Newton, Russell Wilson, Eli Manning, Tony Romo and Joe Flacco while the third tier was composed of Philip Rivers, Carson Palmer, Matt Ryan and Matthew Stafford.
| Tier 1 | Tier 2 | Tier 3 |
| --- | --- | --- |
| Aaron Rodgers (GB) | Andrew Luck (IND) | Philip Rivers (SD) |
| Tom Brady (NE) | Cam Newton (CAR) | Carson Palmer (ARI) |
| Ben Roethlisberger (PIT) | Russell Wilson (SEA) | Matt Ryan (ATL) |
| | Eli Manning (NYG) | Matthew Stafford (DET) |
| | Joe Flacco (BAL) | |
| | Tony Romo (DAL) | |
Although it's not an exact science, top-tier players are worth 6-7 points to the spread, second-tier players are worth 5-6 points to the spread and third-tier players are worth 3-5 points to the spread. Some of the variables that could impact their value include opponent, teammates, health and offensive system among many others.
According to Nick Bogdanovich, the Director of Trading here at William Hill, Andrew Luck is worth "5.5 [points] on his best day for the Colts against the spread." He also stated that Luck was his fifth-ranked quarterback behind Brady, Rodgers, Newton and Wilson. That was an interesting departure from other rankings that had Roethlisberger listed as the third most valuable quarterback.
Bogdanovich concurred that quarterback is the most important position on the field and stated that stars like Antonio Brown, Odell Beckham, Adrian Peterson and LeVeon Bell are worth between a 0.5 to 1-point on the spread.
Luck isn't on par with Rodgers, Brady or Roethlisberger but he's still an incredibly talented player who will continue to improve with age. All things considered, this was a very reasonable deal for Indianapolis.
---
The Colts (-5) are currently receiving 60% of spread bets for their Week 1 matchup against the Lions, but bettors should be sure to visit our free NFL odds page for the latest lines, injuries, public betting trends and more.
Have any questions for the staff at Sports Insights? Utilize our live chat to speak with a customer service representative or e-mail us at help@sportsinsights.com.