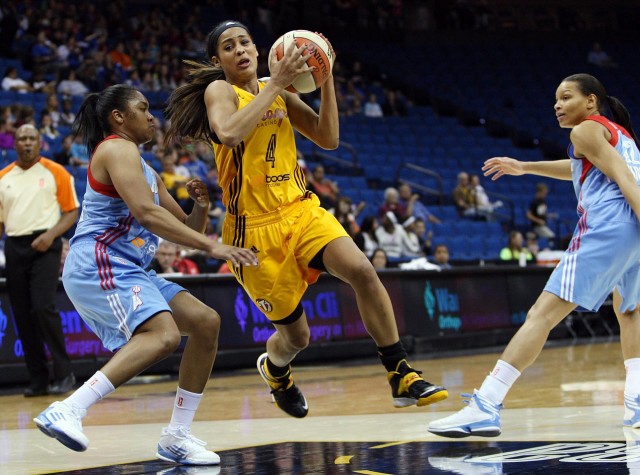 Identify WNBA Sharp Money Using Our Free Odds Page
After numerous requests from users, we decided to release our free WNBA odds page earlier this week. Although it's quite easy to make jokes about this less-than-popular sport, the WNBA actually presents an excellent opportunity for sharp bettors.
Sportsbooks often struggle to set appropriate opening lines, are frequently slow to react to injury news and it's quite common to see massive line moves. This season we've already seen lines at Pinnacle, one of the sharpest offshore sportsbooks, move 8.5-points from open to close:
Since opening yesterday morning, the Tulsa Shock have moved from +6.5 to -2 at Pinnacle. #WNBA

— Sports Insights (@SportsInsights) June 6, 2015
Earlier this season, we used our Bet Labs software to explain why WNBA playoff teams were greatly overvalued. The system, which focused on teams who missed the postseason being favored against playoff teams, has produced a 60-22 ATS record with +35.22 units won and an insane 43% return on investment (ROI). While we would encourage users to continue following this system, we wanted to show bettors a simpler way to identify sharp money in the WNBA.
One of the best ways to identify sharp money is by looking for reverse line movement, which is when the spread moves in the opposite direction of our public betting trends. For example, let's pretend that the New York Liberty are receiving just 20% of spread bets as an 8-point underdog against the Chicago Sky. Based on this public betting, you would assume that oddsmakers would move the line to +8.5 or +9 to encourage more action on the Liberty. If the line instead drops to +7.5 to +7 it means that although more bettors are taking the Sky, more money (or possibly large bets from a respected bettor/betting syndicate) is actually taking the Liberty.
However, there is not nearly the level of public money floating around in the WNBA as there is in any of the other six major sports leagues. That means that a half-point line movement is not nearly as significant, so we instead opted to focus on larger moves.

As you can see, when a team is receiving less than 40% of spread bets and there is at least 1.5-points of reverse line movement, they have produced a 60-39 ATS record with 19.27 units won. This simple system has been profitable for both favorites (23-12 ATS, +10.46 units) and underdogs (37-27 ATS, +8.81 units). It has also been profitable for both home teams (29-17 ATS, +11.47 units) and visitors (31-22 ATS, +7.8 units).
Anyone using our free odds page can identify this reverse line movement by utilizing the lines at Bookmaker (aka CRIS) which, along with Pinnacle and 5Dimes, are known as the sharpest offshore sportsbooks. Bettors should first look for games in which the current line is at least 1.5-points greater than the opening line. If that team is also receiving less than 40% of spread bets, bettors should make sure to shop for the best line before placing their bet. The screenshot below displays one such example: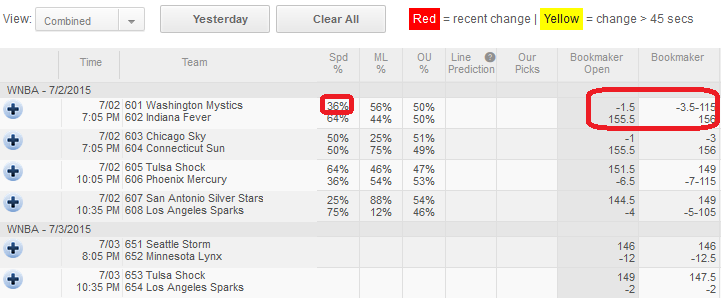 Although the Mystics are receiving just 36% of spread bets, they have moved from -1.5 to -3.5 at Bookmaker. This represents a reverse line movement of 2-points, so bettors would immediately look across the sports betting marketplace for the most favorable line on Washington.
Getting an extra half-point can increase your long-term winning percentage by 1-2%, which is why we strongly recommend that users have access to three different types of sportsbooks: one square (like Bovada, BetOnline or Sports Interaction), one reduced juice (like 5Dimes or Pinnacle) and one sharp (like Bookmaker/CRIS or The Greek). In this example, there are a handful of less prominent sportsbooks offering Washington -3.
Bettors looking for additional sharp money can sign up for our Sportsbook Insider subscription. Pro members have access to all of our bet signals including steam moves and reverse line movement alerts. Historically, the CRIS steam move (214-170 ATS, +23.76 units) and Pinnacle reverse line move (170-132, +27.61 units) have been the most profitable for bettors.
Have any questions for the staff at Sports Insights? Utilize our live chat to speak with a customer service representative or e-mail us at help@sportsinsights.com.
David Solar is the Content Manager for Sports Insights and can be reached directly at David@sportsinsights.com.