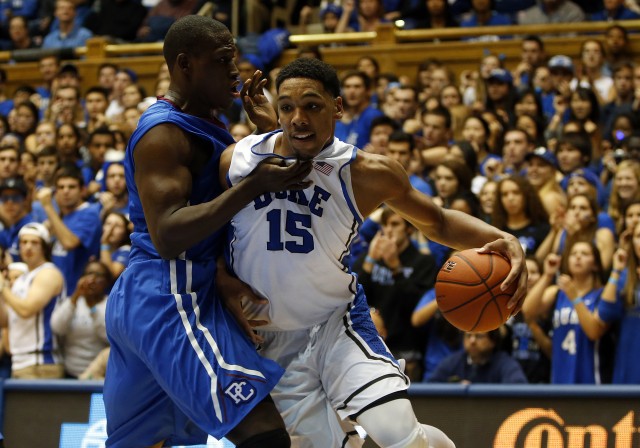 How to Identify Sharp Money in College Basketball
In the sports betting world, the term "sharp money" is often thrown around very loosely, but the term is actually quite specific. Sharp money typically refers to large bets placed by either wise guys or betting syndicates. These two types of bettors frequently place limit bets, meaning they will wager the most money that their sportsbook will allow. Our goal is to ensure that our readers and subscribers are able to follow this sharp money, and there are a number of tricks used to identify what is responsible for line moves across the sports betting marketplace.
One of the most common sharp money indicators is reverse line movement — essentially line movement that contradicts our public betting trends. For example, let's say that Duke opens as a 10-point favorite against North Carolina and that the Blue Devils are receiving 80% of spread bets. We would assume that oddsmakers would move the line to Duke -10.5 or -11 to encourage bettors to take North Carolina. After all, if a sportsbook has 50% of the money on each side they are able to minimize their liability and simply collect the juice.
However, let's assume that the opposite happens and North Carolina moves from +10 to +9. That means that even though more bettors are taking the Blue Devils, more money is coming down on the Tar Heels. You could have nine bettors bet $100 on Duke but if one sharp bettor lays $2000 on North Carolina, the sportsbook would have $1100 of liability if North Carolina wins. Bettors should be looking to take the same side as that one sharp as opposed to the nine square bettors taking Duke. This underscores our core philosophy of betting against the public.
While reverse line movement can easily be identified by comparing the current line, opening line and public betting percentages, not all sharp money indicators are so apparent. Steam moves, which are available to our Sportsbook Insider Pro members, track sudden and drastic line movement across the sports betting marketplace and are another example of a sharp money indicator.
In simple terms, a steam move is triggered when large amounts of money are placed on a single game at a number of sportsbooks. In most cases, this occurs due to betting syndicates and other key players with the resources to place large bets at multiple locations, all at once. Bettors would then attempt to find a slow-moving sportsbook that still has the original number posted. For example, if a steam move is triggered at Pinnacle that moves North Carolina from +10 to +9, you would try to find a sportsbook still offering UNC +10 and get down quickly.
Many bettors will attempt to blindly chase steam, but it's important to realize that not all steam moves are created equal. Sportsbooks like CRIS, Pinnacle, The Greek and 5Dimes take significantly higher limits than many other offshore oddsmakers. This attracts sharper bettors, which leads to both sharp lines and better performing steam moves. Perhaps that explains why the 5Dimes College Basketball steam move (1,204-960 for +134.51 units earned) is more than three times more profitable than the second best move.
Outside of these two sharp money indicators, it's also important to know about other high-level trends. Since 2005, visitors have gone 15,398-14,765 ATS (51%) which proves that home court advantage is vastly overrated. We've also discussed at length how bettors tend to overvalue ranked teams and how bettors can improve their expected returns by taking a team following a loss. This concept of buying on bad news and selling on good news is a key component of our overall contrarian strategy.
It's also interesting to note that although underdogs are traditionally undervalued, this edge only becomes apparent when focusing on conference games or large underdogs — defined by dogs of at least 10 points. This also may seem like common sense, but underdogs perform particularly well in games with low totals while favorites fare better in games with high totals.
The screenshot below, taken from our Bet Labs software, highlights the value of reverse line movement on visiting teams. These records can easily be improved by focusing on some of these aforementioned trends such as underdogs in conference games or double-digit dogs.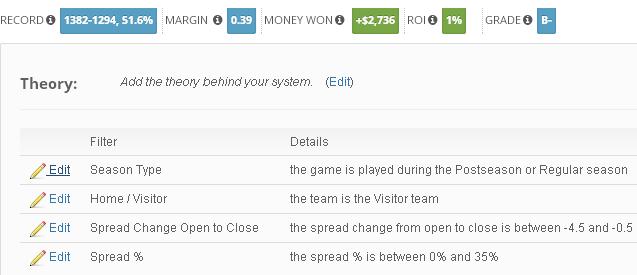 Have any questions for the staff at Sports Insights? Utilize our live chat to speak with a customer service representative or e-mail us at help@sportsinsights.com.