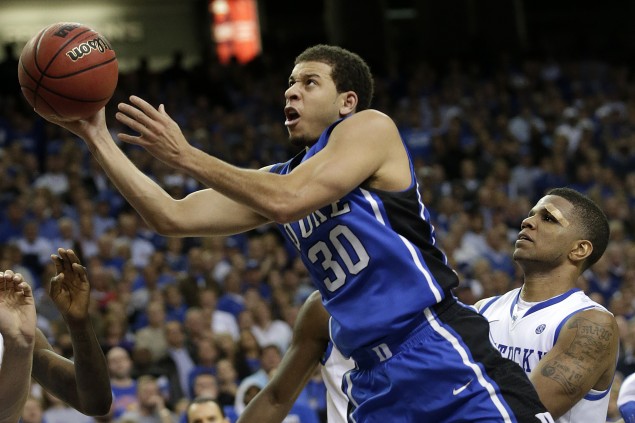 How to Win with NCAA Basketball Steam Moves
Today we are discussing how to win with NCAA Basketball Steam Moves. Sports Insights defines a Steam Move as sudden, drastic and uniform line movement across the entire sports betting marketplace. Steam is the result of a sudden overload of money placed at multiple sportsbooks and, in most cases, occurs due to betting groups, betting syndicates and a few key players with the resources to "get down heavily" at multiple locations, all at once.
Used properly, Steam Moves are an excellent way to find where sharp bettors are putting their money. If you have access to numerous sportsbooks, you can find a book that is slow to react and get the same line as those betting syndicates and wise guys. One of the difficulties with following steam is that wiseguys know that bettors are willing to chase the steam, so they will intentionally bet one side of a game just so they can buy back the other side at a better number.
Often times, bettors will go broke chasing steam, but we have found a way to help members profit from these line movements. Our Sportsbook Insider Pro package not only alerts members via email or text whenever a game gets steamed, but it also includes the record of the triggering sportsbook (the first book to move its line), so members can see which moves have been the most profitable this season, as well as historically.
This season, our top performing NCAA Basketball Steam Moves have been from BetOnline. If you placed a bet every time a Steam Move had been triggered at BetOnline, you would have posted a record of 48-19 ATS, which would have resulted in a profit of +24.56 units. However, perhaps the more interesting NCAA Basketball Betting System comes from 5Dimes.
This season, Steam Moves triggered at 5Dimes have gone 58-39 ATS with +13.73 units earned, but historically the results are even more impressive. Since the 2007-08 season, 5Dimes Steam Moves have produced a record of 932-764 ATS. That equates to a 54.95% winning rate and a staggering +83.23 units earned. That means a bettor with a unit size of $100 would have earned over $8,000 just by following this sharp move.
As you can see in the screenshot below, 5Dimes Steam Moves have been triggered on two college basketball games this evening: Bradley (-9.5) vs. Georgia Southern and Southern Utah (pick 'em) vs. North Dakota. Although both of these teams are currently receiving more than 50% of spread bets, this highly profitable Steam Move indicates that there may be value betting with the public tonight.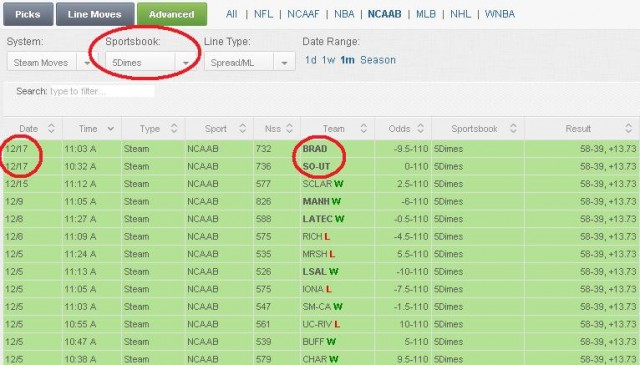 Before the season we wrote our annual College Basketball and Betting Against the Public article, which found that road underdogs of 10-20 points had won at a 54.6% clip since 2008. By utilizing our Pro package, customers are able to access NCAA Basketball Betting Trends as well as our betting systems, including Best Bets, Square Plays, Steam Moves and Smart Money.