Identify MLB Sharp Money On The Go
Line movement can happen for a number of reasons including injuries and weather, but line movement that shifts against our public betting percentages is typically an excellent indicator of smart or "wise guy" money. This is also commonly known as reverse line movement.
The sweet spot for tracking reverse line movement varies from sport-to-sport, but our 2016 MLB Betting Against the Public Report found that the ideal threshold comes when we examine teams receiving less than 30% of moneyline bets. Those teams are particularly profitable when there's reverse line movement of at least 10-cents.
The value of betting against the public is directly correlated with the number of bets placed on each game — especially in college sports where the number of bets varies dramatically. Our Sportsbook Insider members can track number of bets on each game, but if you're not a member focus on nationally televised games, which tend to receive the most action.
Tracking smart money on the go
You may not know we offer a free mobile app to track real-time odds from eight sportsbooks. You can also see market average betting percentages on the moneyline from our seven contributing sportsbooks, which are based on real bets placed by real bettors. You can also view full line movement history for each game, including the opening and current line.
There are several features which are only available to Sportsbook Insider Pro subscribers, namely our Best Bets, steam and smart money alerts, access to over 50 sportsbooks, 1H/2H lines, the number of bets, over/under betting trends, breakdowns of each of our seven contributing sportsbooks, breaking news alerts and much more. However, even free users can still track sharp money using the mobile app.
Let's examine the example below where the Boston Red Sox opened as -148 favorites against the Houston Astros (+136). The Red Sox are receiving 77% of moneyline bets, so you would expect that oddsmakers would adjust their lines to make Boston a larger favorite. This would be done in order to encourage action on the Astros and therefore mitigate their risk.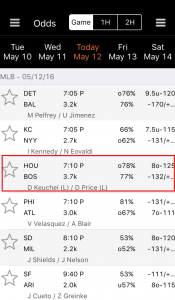 Using the app you can tap on that game, which launches a scrolling sidebar that includes injuries, public betting trends and access to the line watcher. It also shows live odds for five sportsbooks, although you can scroll from left to right to reveal more books.
In this case, you can see that I've have added both Pinnacle Open and Pinnacle. Although the Astros were +136 underdogs on the opening line at Pinnacle, they have dropped to +126 despite receiving limited public support. This is a perfect example of reverse line movement.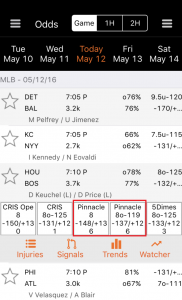 If you click on the current line, it will launch the full line history at Pinnacle. The opening line is always the first data point shown, and each subsequent line move has been time-stamped. Early public money caused the Red Sox to jump from -148 to -157 before sharp money hammered the Astros. That caused Houston to drop from +145 to +126.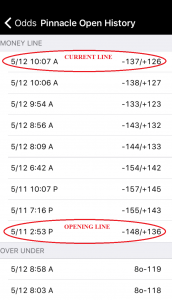 While the sharp money is evident based on the line history, Sportsbook Insider Pro members would have gotten a far superior line by following our steam moves and reverse line movement alerts.
Anybody tracking sharp money based on the reverse line movement at Pinnacle would likely take Houston +126. However, there was a steam move Bet Signal triggered on Houston +133 and a smart money (also known as reverse line movement) Bet Signal triggered on Houston +140. This may not seem like a major difference, but getting an extra 7-14 cents on your bet can quickly add up over the course of a season.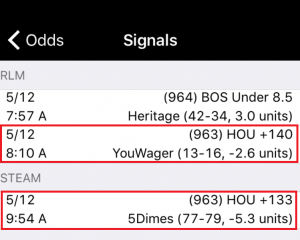 Let's assume that you're taking 400 plays per season and winning at a 40% clip — both of which are cautious projections. At that rate, you would win 160 bets over the course of the season. For $100/game bettors, that extra 7-14 cents adds up to between $1,120 and $2,240 each year.
So why did I choose Pinnacle?
We have found that following market-setting sportsbooks like CRIS and Pinnacle, which take the highest limits and therefore attract the sharpest bettors, historically produce the most profits. Square sportsbooks (like Bovada or Sportsbook.com) will frequently move on air, meaning they'll adjust their moneyline simply because CRIS and Pinnacle have moved their odds. Because of this, it's crucial to watch how the odds at CRIS and Pinnacle compare to other sportsbooks, even if you're betting at a different sportsbook.
You can get our sharp money Bet Signal alerts along with a slew of other features including our Best Bets by signing up for a 4-day trial of Sportsbook Insider Pro.
Stuck at work? You can also track real-time odds and public betting percentages on your computer by visiting our free MLB odds page.