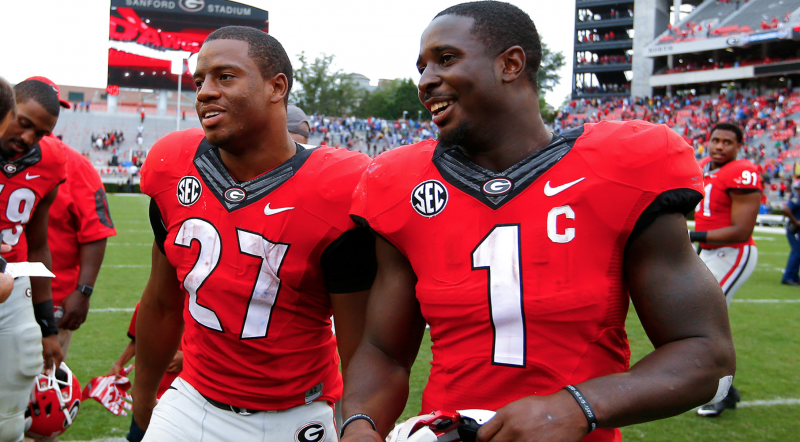 Mega Betting Guide for CFB's Biggest Conference Title Games
You can't ask for much more than this: Four games, four playoff spots on the line, one Saturday.
And when there are this many big games dotting the card, you know there will be action. So we let our Action Network experts loose on Saturday's juiciest conference title matchups: Ohio State-Wisconsin, Georgia-Auburn, Miami-Clemson, and TCU-Oklahoma.
Want to know how the line has moved, and who the sharps are betting? PJ Walsh has you covered. Craving some advanced metrics and a pass/play recommendations for each game? Our one-named expert Stuckey is your guy. How about historical trends — you like those, right? John Ewing has trends for days. Need a few factoids to blow your friends' mind? Take it away, Evan Abrams. Heck, Matthew Freedman even threw in a prospect eval for you NFL nuts.
The point? There's a lot here, so stop reading the damn intro and dive in.
To get all the betting/DFS info your heart can handle, follow us on Twitter @ActionNetworkHQ and subscribe to our daily newsletter here.
BIG 12: TCU-OU | SEC: UGA-AUB | B1G: OSU-WISC | ACC: MIA-CLEM
---
#11 TCU VS. #3 OKLAHOMA (-7.5)  |  O/U: 63.5
12:30 p.m. ET | FOX | Arlington, Texas
Betting market: Baker Mayfield's antics may be raising red flags among NFL front offices, but they sure haven't affected public betting support. Oklahoma is receiving an overwhelming majority of the spread tickets and money (see chart below), making it the most public side of the major conference championship games. The line held firm at -7 all week until moving to -7.5 in most shops on Saturday morning. — PJ Walsh
Trend to know: When two top-10 conference foes play each other, the team getting less than 50% of spread tickets is 50-37-3 ATS. That, in this case, is TCU. — John Ewing
What the metrics say: TCU's defense has been susceptible to giving up big plays, ranking 112th in Standard Downs explosiveness (defined here and here). That isn't great, especially against OU's offense (No. 1 overall in Standard Downs explosiveness). But the Horned Frogs' D will have the advantage on third-and-short, ranking seventh in Stuff Rate. — Stuckey
Key injuries/suspensions: Safety Nick Orr, TCU's second-leading tackler, will be suspended for the first half after throwing a punch in last week's game against Baylor. But the Horned Frogs will get back two of their best defenders from injury, safety Niko Small and leading tackler OLB Travin Howard. — Stuckey
Did you know? In Power 5 Conference Championship game history, schools that play inside their home state are 2-10 SU and 4-8 ATS (0-5 ATS over the past 10 seasons), losing by an average of 15.9 points per game. This game will be played in Arlington, Texas, not far from TCU's Fort Worth campus. — Evan Abrams
Prospect Watch: Listed at 6'1″ and 220 pounds, Baker Mayfield is an uncertain NFL prospect because of his height and crotch-grabbing personality. Evaluators will compare him to other short spread-system quarterbacks and ask why he transferred from Texas Tech after just one year. His talent, though, is unquestioned, as he's posted an elite three-year mark of 11.9 adjusted yards per attempt at Oklahoma. As of now, he's the only player in the 11-season history of ESPN's Total QBR metric to record two seasons above 90.0. — Matthew Freedman
Pass or play? Play TCU +7 (or better). That's too much value to pass up. Remember when OU was -6 at home against these same Horned Frogs? TCU is now catching a full point more on a neutral field not far from campus in a game in which they will be healthier. They should be the looser team, as they look to play spoiler. — Stuckey
---
#6 GEORGIA (-2.5) VS. #2 AUBURN  |  O/U: 48
4 p.m. ET | CBS | Atlanta, Georgia
Sharp action: Coming off a decisive Iron Bowl victory, Auburn opened as 3-point favorites. Wiseguys quickly took the value with Georgia at a key number, and professional money (see chart below) moved this line all the way to Georgia -2.5 right before kickoff. — PJ Walsh
What the metrics say: You don't want to throw against this terrific Auburn passing D. Good thing the Bulldogs are built to run: 10th in Rushing S&P+ and sixth in Rushing Explosiveness (metrics defined here and here). Georgia has the country's best red zone scoring offense; the Tigers' D ranks 74th overall inside the 20. And don't overlook special teams: UGA has a huge advantage on kickoff returns — 15th in yards per return, while Auburn's coverage unit ranks dead last. — Stuckey
Did you know? Since 2009, the winner of the Iron Bowl is 7-0 straight-up and 5-2 ATS in the SEC Championship Game. — Evan Abrams
Injury to watch: The health of Auburn RB Kerryon Johnson bears monitoring. He ran the ball 32 times for 167 yards in the Tigers' recent 40-17 win over Georgia. He was also Auburn's leading receiver that game with two catches for 66 yards, and a TD. With the Tigers' reserve RBs out or banged up, Johnson carries even more importance than normal. He's listed as probable, but he still might not be 100%. — Stuckey
Trend to know: Teams getting less than 50% of spread bets in conference title games are 40-28-3 (59%) ATS. Georgia was getting 45% of the action before kickoff. — John Ewing
Pass or play? Play Georgia. I fully expect Georgia to load up with the run, so the under is also worth a look. — Stuckey
---
#8 OHIO STATE (-3.5) VS. #4 WISCONSIN  |  O/U: 50
8 p.m. ET | FOX | Indianapolis, Indiana
Betting market: The majority of spread tickets are taking Wisconsin and the points (see chart below). The line at Bookmaker.eu opened Ohio State -5.5, moved up to -7, before dipping down to -3.5 on Saturday morning. — PJ Walsh
Sharp action: Recreational bettors see a higher-ranked, undefeated Badgers team getting points and jump aboard, while wiseguys haven't hesitated to lay the points with the Buckeye. — PJ Walsh
What the metrics say: The Badgers' numbers are going to be skewed. The toughest opponents they've played all year have been Florida Atlantic (15th in S&P+ rating) and Michigan (22nd). Ohio State should be able to keep the chains moving all day with a rushing attack that ranks eighth in Power Success Rate (fancy stat defined here). Wisconsin's defense ranks 75th in the same metric. — Stuckey
Trends to know: During the playoff era, undefeated teams have gone 44-61-1 (41.9%) ATS in November and December. The Badgers are currently undefeated. And then there's this: Urban Meyer is the most profitable coach in our database when playing ranked teams: 30-17-1 (63.8%) ATS. — John Ewing
Did you know? Over the past 25 years, only four schools other than 2017 Wisconsin have entered their conference title game undefeated and an underdog: 1994 Alabama, 2008 Alabama, 2009 Alabama, and 2015 Iowa. — Evan Abrams
Pass or play? Play Ohio State but stop around for the best line. The game will be won in the trenches, where Ohio State has an advantage on both sides of the ball. — Stuckey
---
#7 MIAMI (FL) VS. #1 CLEMSON (-10)  |  O/U: 46
8 p.m. ET | ABC | Charlotte, N.C.
Betting market: Clemson opened as 5-point favorites at Pinnacle, and a heavy dose of public and sharp support has pushed it up to -10. It will be interesting to see if some wiseguys come in on Miami now that +10 is out there. — PJ Walsh
What the metrics say: Miami relies on an explosive offense, as they rank 119th in time of possession. The problem? Clemson has the sixth-best defense in terms of efficiency and the 14th-best unit at limiting explosiveness (parameters defined here). And Canes might have trouble grinding out drives if that's what it comes to: Miami ranks 115th in third-down conversion percentage, while Clemson has an elite third-down D (11th). — Stuckey
Injury to watch: Miami will be without its starting RB (Mark Walton, ankle injury suffered earlier this season) and starting TE (Christopher Herndon, knee injury suffered last week vs. Pitt). One of the best pass-catching tight ends in the country, Herndon was slated to be a huge advantage for Miami versus a Clemson team dealing with significant injuries at linebacker. His replacement, Michael Irvin II, has name recognition, but isn't the same caliber of player yet. — Stuckey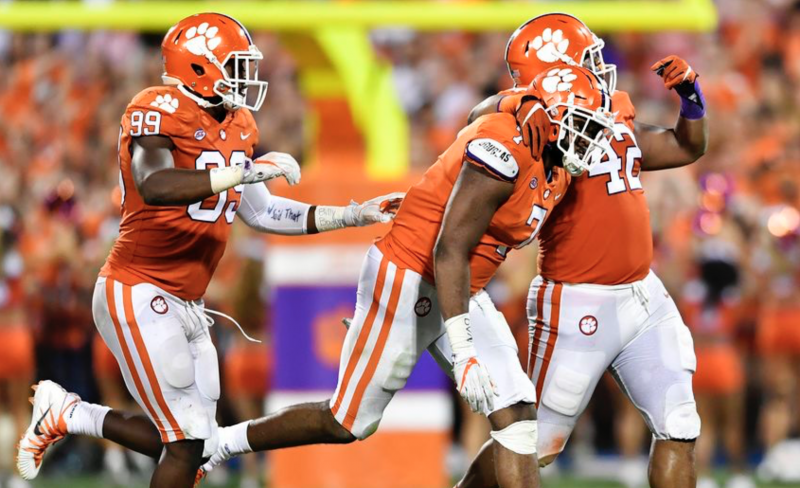 Trend to know: Top 10 teams after a loss have gone 38-61-6 ATS since 2005. Teams that lost the game before a conference title tilt have a 11-16 straight-up record. That falls to 5-11 SU when they lost by 10 or more points, as Miami did against Pitt last week. — John Ewing
Did you know? Since 1984, when Jimmy Johnson took over as the Hurricanes head coach, Miami has won 10-plus games in 14 different seasons, including 2017. During this span, a 10-win Miami team has never been listed as a TD underdog prior to this week. And when the Canes have been a dog in those 14 seasons, they've gone 12-2 SU, including 8-0 since 1990. — Evan Abrams
Pass or play? Pass. I expect Clemson to win by controlling the clock, limiting turnovers, and preventing big plays. Those are three main ingredients to beating Miami. But there's just no value left in this number at -10. A second-half play on the Tigers could make sense; they should wear Miami down over the course of the game. — Stuckey