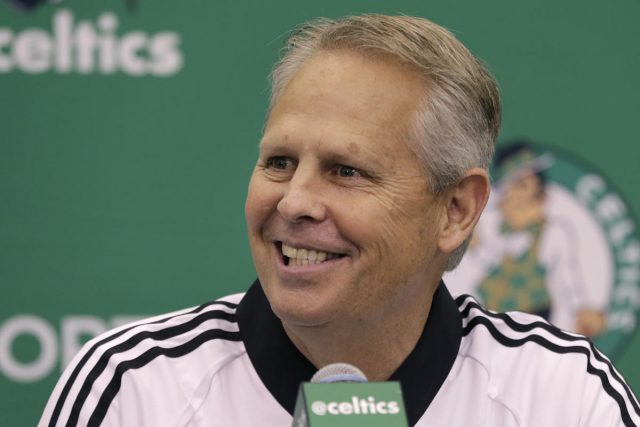 How Have the Major NBA Offseason Moves Affected Futures?
Ahh…the NBA offseason. Just about the only time of year in the NBA where things don't go exactly as planned. So far it has been a very entertaining offseason. The #1 overall draft pick was dealt by "Trader Danny" Ainge. Jimmy Butler was shipped up north on draft night to the up-and-coming Timberwolves. CP3 and PG13 have both been traded to Western Conference "contenders", hopeful to amass enough superstar talent to somehow derail the mighty Warriors. And, of course, Gordon Hayward made the 4th of July a stressful day for Celtics fans by delaying his official announcement until hours after news leaked on Twitter that he still hadn't made up his mind.
Gordon Hayward's agent, Mark Bartelstein, tells ESPN: "Gordon hasn't made a decision yet. We are still working through it."

— Adrian Wojnarowski (@wojespn) July 4, 2017
With all of this star power exchanging hands, futures odds have been moving like crazy. It's ironic because in this modern NBA, there is still essentially a 80% implied probability that the Warriors or Cavaliers win the title no matter what big names other contenders bring in. With most of the fireworks likely over for now, let's look at how these major moves have altered the odds.
As far as player props go, the books were spot on. Five free agents had odds posted at Bovada for their next team and all five were signed by the favored team.
Blake Griffin: Clippers -125
Kyle Lowry: Raptors -115
Paul Millsap: Nuggets -140
Serge Ibaka: Raptors -135
There have also been the blockbuster trades. Multiple books had odds posted for Paul George's next team after he announced his plans to leave Indiana, but the Thunder were not a listed choice. They would have been part of the field, which was listed at +400 at BetOnline and +600 at Bovada.
The trade caused the Pacers to fall from 66/1 to 100/1, while the Thunder moved from 75/1 to 33/1. Interestingly enough, in the recently released NBA Win Totals, the Thunder are listed at 46.5, which is worse than their 47-35 record last season. Although George helps their postseason chances, books don't feel that the Thunder will be much better during the regular season.
The Chris Paul and Jimmy Butler trades were a bit more unexpected and both caused big changes in title odds for the teams involved.
The Clippers went from 40/1 to 100/1 at Westgate to win the title while the Rockets jumped from 30/1 to 15/1. While the payouts are much different, the implied probabilities are actually not that substantial. The Rockets improved their chances from about 3% to about 6%, while the Clippers went from 2.5% to 1%. Sort of sad if you think about it.
The Timberwolves have had plenty of young talent the past couple of years, but no veteran presence. That changed when they brought in the two-way star, Jimmy Butler. They jumped from +10000 to +6600, while the poor folks in Chicago watched their Bulls' odds go from +10000 to +50000. The Butler-Wade-Rondo superteam didn't last long.
Although the Raptors aren't in the top echelon of title-contenders, re-signing Lowry and Ibaka helped their chances. Their conference championship odds moved from +2000 to +1400 and their title odds went from +6600 to +5000.
Perhaps the most substantial move was Hayward to Boston. Before the NBA draft, the Celtics were +1400 at 5Dimes to win the NBA championship. They're now +750, which represents a 5.1% swing in implied probability (from 6.7% to 11.8%). No other transaction this offseason resulted in a bigger shift.
There will be some more minor moves over the course of the summer, but as you can see, they shouldn't really result in major odds changes.
For futures movement over the offseason, be sure to check our NBA title and conference odds, division odds, and win totals.
Feel free to comment with any thoughts or contact us with any questions by emailing help@sportsinsights.com.