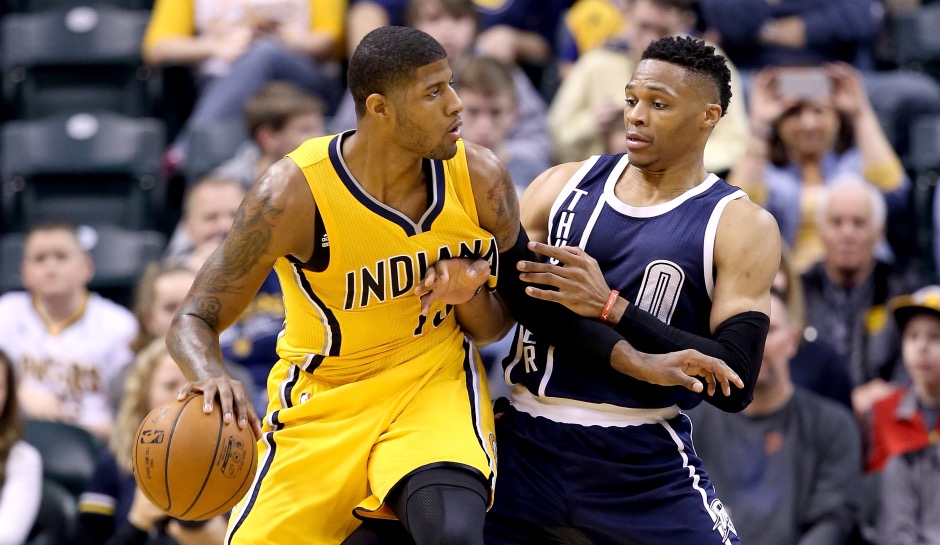 NBA Trade Impact: Paul George to the Oklahoma City Thunder
Hours before the 2017-18 NBA Free Agency window officially opened, the Indiana Pacers traded Paul George to the Oklahoma City Thunder for Victor Oladipo and Domantas Sabonis. The early consensus among experts and fans is that the Pacers didn't get nearly enough back in the trade, and it's hard to argue that. Indiana was always expected to lose George, but a future draft pick in return was almost certain. The morning after the trade, Adrian Wojnarowski reported that the Pacers previously wanted Marcus Smart, Jae Crowder and multiple 1st round picks from Boston but the Celtics weren't ready to make a move before acquiring Gordon Hayward.
As a result of the trade, NBA title odds for both teams quickly moved for next season:
At Bookmaker, the Thunder moved from 75:1 to 33:1 to win the NBA title while the Pacers moved from 200:1 to 450:1.
At 5Dimes, the Thunder moved to 30:1 to win the title but the Pacers actually remained at 200:1.
At Bovada, the Thunder moved down to 25:1 while the Pacers are 200:1.
At BetOnline, the Thunder are available at 40:1, a much better price than around the market. Since the Western Conference is so stacked, they're also listed at 25:1 to win the conference, which is the same price you'd get at Bovada for OKC to win the title. The Pacers are 200:1 to win the title, consistent with 5Dimes and Bovada.
Paul George is currently listed at 12:1 to make the All-NBA First Team next season (via 5Dimes).
Chris Paul Trade Impact to the Rockets
Jimmy Butler Trade Impact to the TWolves