Gambling Market Undecided on Paul George's Future
On Sunday afternoon, Adrian Wojnarowski of The Vertical dropped a "Woj-Bomb" that confirmed what many people believed about Paul George.
Sources: All-Star Paul George tells Pacers he plans to leave franchise in 2018 free agency, prefers Lakers. https://t.co/anP4bvbwir

— Adrian Wojnarowski (@WojVerticalNBA) June 18, 2017
Ouch…just brutal. If you're a Pacers fan, that has to hurt almost as bad as a compound ankle fracture suffered during a Team USA scrimmage.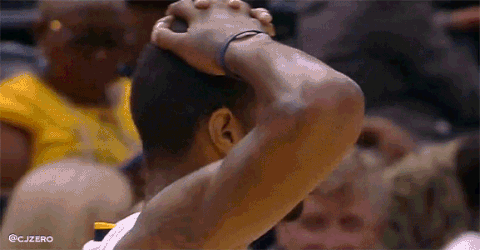 George's decision to say that puts the Pacers' front office in a difficult situation. Since the rest of the league knows he wants out of Indy, potential trade packages will likely have less value. Also, teams other than the Lakers will probably be reluctant to pay the asking price for what looks to be a one year rental.
However, the Pacers really have no reason to keep him so they'll essentially be forced to get pennies on the dollar at some point either this offseason or before the trade deadline.
With that being said, two different sportsbooks have posted Paul George props regarding where he will start next season. Here's the catch…the odds are wildly different at the two different books — Bovada and BetOnline.
Very different odds for Paul George's next team at BetOnline#Lakers +175#Cavs +200#Pacers +600
Field +250 https://t.co/U8BW2ycyXx

— David Solar (@TheDavidSolar) June 20, 2017
Even since David's tweet, the odds have moved around a bit. In the table below you'll find the odds from both books. Look for updates as we near closer to a potential deal.
Team
BetOnline
(6/20 @ 8:00)
BetOnline
(6/20 @ 2:30)
Bovada
(6/20 @ 2:30)
Lakers
-155
+175
+200
Pacers
+550
+600
+100
Cavaliers
+425
+200
+500
Clippers
N/A
N/A
+1200
Wizards
N/A
N/A
+1600
Suns
N/A
N/A
+1600
Field
+400
+250
+600
The oddsmakers at Bovada feel that the Pacers won't deal George before the season starts. The folks at BetOnline strongly disagree. Their odds reflect the belief that the Pacers and Lakers will work out a deal to bring George into town a year ahead of schedule. Some people believe that the Lakers have no reason to do this, though. They aren't going to contend this season even with PG13 so why would they give up a boatload of valuable assets when they can sign him next offseason? Those neigh-sayers might want to think about putting some money down on the Pacers or one of the other teams listed.
I find it interesting that the Celtics, who have been linked to just about every big name in the league, are not listed as a choice at either book. I have a good feeling that bettors who put their money on the field will have the Celtics in mind when doing so.
It's sure to be one hell of an offseason so be sure to follow our blog and Twitter (@SportsInsights) for more interesting props, breaking news, and gambling information.
Feel free to comment with any thoughts or contact us with any questions by emailing help@sportsinsights.com.