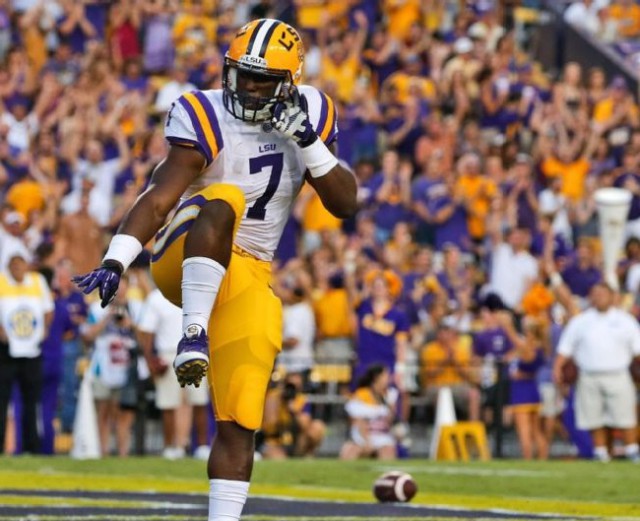 Has the Heisman Hype Gone Too Far on Leonard Fournette?
There may not be a more popular player in college football than LSU running back Leonard Fournette. The 6'1″ 230-pounder is a physical runner who showcased a rare combination of speed and strength in his first season, rushing for 1,034 yards and 10 touchdowns as a true freshman. On the merits of his performance, Fournette opened the season with the fourth best odds (+1300) of winning the Heisman Trophy.
Fournette has somehow managed to surpass these lofty expectations, rushing for 864 yards and 11 touchdowns in just four games. These video game numbers have caused Fournette's Heisman odds to jump from +1300 to -250 at 5Dimes, with the field listed at +190. That's right, after just four games oddsmakers believe it's more probable that Fournette wins the Heisman than all other players combined.
This vine gives a glimpse into why fans are so enamored with Fournette:
https://vine.co/v/exe0x9OlvW9
When this prop bet was first released, I was shocked. There's no argument that Fournette has been the nation's best player, but there are so many other fantastic players. TCU quarterback Trevone Boykin (+1000) has tallied over 2,000 total yards and 21 touchdowns, and will be on center stage during the last two weeks of the season with games against Oklahoma and Baylor. Fournette may be peaking now, but Boykin has the opportunity to peak when Heisman voters are really paying attention.
Seth Russell (+800), who was my preseason Heisman pick when he was listed at +5000, is leading Baylor's top-ranked offense which is averaging 64 points per game. Ezekiel Elliott (+900), who was the preseason favorite, has quietly rushed for 729 yards and 8 touchdowns including a 274 yard performance last week against Indiana. And let's not forget about fellow sophomore Nick Chubb (+1600) who ranks 3rd in the nation in rushing yards.
Any of these players could provide stiff competition for Fournette, and I'm not the only person who believes his Heisman odds are being overvalued. William Hill's UK affiliate has Fournette listed much lower at +150 and Stations has him listed at +160. Even before Fournette moved to -250, former Caesars oddsmaker Todd Fuhrman stated that the hype had gone too far.
The natural over reaction by bettors to a player's hot start https://t.co/VBtNzpuQGT

— Todd Fuhrman (@ToddFuhrman) September 30, 2015
Need some context? Last year at this time Dak Prescott (+175) was listed as the Heisman favorite with eventual winner Marcus Mariota listed at +800. Prescott eventually finished 8th in Heisman voting.
LSU may be undefeated, but their victories against Mississippi State and Auburn are looking less impressive by the day. With upcoming games against Florida, Alabama, Mississippi and Texas A&M, I wouldn't be surprised to see the Tigers vulnerabilities exposed.
Brandon Harris, LSU's sophomore quarterback, managed to complete just 4 of 14 passes last week against Eastern Michigan, and is averaging less than 100 passing yards per game. Expect teams to stack the box against LSU and for Fournette's production to curtail.
There's no doubt that Fournette has been the nation's top performer so far, but it's still way too early to make him the clear-cut favorite. I love the value on "the field" at +190 and expect that there will be an arbitrage opportunity within the next few weeks.
Have any questions for the staff at Sports Insights? Utilize our live chat to speak with a customer service representative or e-mail us at help@sportsinsights.com.
David Solar is the Content Manager for Sports Insights and can be reached directly at David@sportsinsights.com.