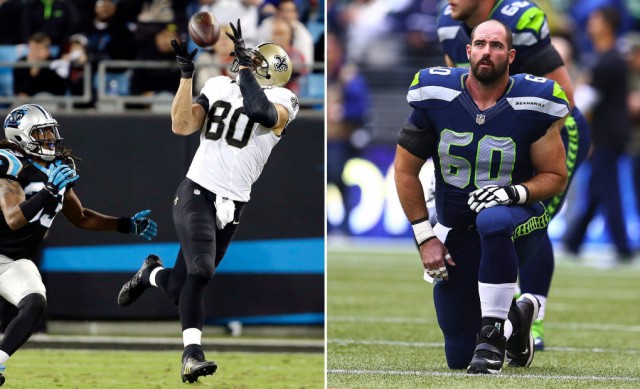 How Has Free Agency Affected NFL Futures?
Despite the fact that NFL free agency technically started Tuesday at 4PM, the truth is that teams have been actively shopping for weeks now. One week ago, the Eagles and Bills completed the rare NFL blockbuster trade with Philadelphia sending star running back LeSean McCoy to Buffalo in exchange for young linebacker Kiko Alonso.
Another shocking trade took place on Tuesday (3/10) with the New Orleans Saints trading away All-Pro tight end Jimmy Graham (along with a fourth round draft pick) to the Seattle Seahawks for center Max Under and a first round pick. In between there were a number of key signings with the Jets welcoming back Darrelle Revis, the Dolphins coughing up big bucks for Ndamukong Suh and Julius Thomas leaving Denver for Jacksonville.
We've been updating all of this off-season's player movement throughout the week; however, we were curious whether any of these major players swapping teams would impact the futures market. Although it's typically quarterbacks who have the largest impact on the spread, traditionally free agency has a limited impact on Super Bowl futures.
When there is any movement in the NFL futures market, it's most often due to an influx of public money. That theory is supported by this tweet from Sportsbook.com — a very square offshore oddsmaker:
https://twitter.com/Sportsbook_com/status/575353235793444864
Frank Gore is certainly a familiar name, but a 31-year old running back who averaged just 4.2 yards per carry over the past two seasons should not cause this type of movement. Although it's not surprising, Seattle's acquisition of Jimmy Graham and New York's signing of Darrelle Revis caused significant changes to each teams futures as well.
https://twitter.com/Sportsbook_com/status/575670271203368962
Although the Jets move from +10,000 to +7,500 only equates to a 0.32% improvement in their implied odds, the Seahawks move from +750 to +550 represents an implied probability change from 11.76% to 15.38%.
Perhaps the best summation of yesterday's madness can be expressed with the following tweet.
lol RT @DavidPurdum: Vegas sports book @CGTechnology_ has pulled its NFL season win totals off the board during free agent madness.

— Jeff Sherman (@golfodds) March 10, 2015
CG Technology, which many bettors may recognize as the former Cantor Gaming, posted NFL win totals several weeks ago. They are well-respected and considered by most to be a sharp sportsbook.
When ESPN's David Payne Purdum reported that they had pulled these win totals off the board due to free agency, it seemed like a massive overreaction. Those sentiments were clearly shared by Jeff Sherman (@Golfodds) who is the Assistant Manager of the Westgate Sportsbook.
If you're truly looking for value betting on Super Bowl futures, don't look for these trendy teams whose prices are being over-inflated by square bettors and don't overreact to free agency hype. In fact, teams like the 49ers who have seen their odds plummet due to free agency are offering far superior value. We constantly preach the value of buying on bad news and selling on good, and this situation is no different.
Readers can view the latest futures by utilizing our free NFL resources, and we will continue to update this piece as key players like DeMarco Murray and C.J. Spiller sign their next contracts.