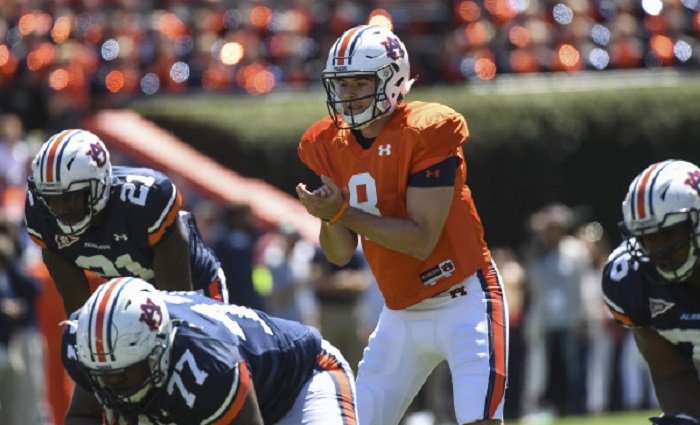 Fading Trendy College Football Win Totals
Now that we've had most of the summer to analyze the futures market, let's take a look at a couple value bets for Win Totals based on fading the public.
Auburn Over 8.5
72% of bets at Bookmaker on Auburn UNDER 8.5, but the juice has moved from +125 to -160 on the OVER. Back in May, BetOnline actually opened the win total for Auburn at 8 games, and The Greek has also reported sharp action on the Auburn Over, which has shifted the juice dramatically. Here's a look at how their schedule breaks down for 2017: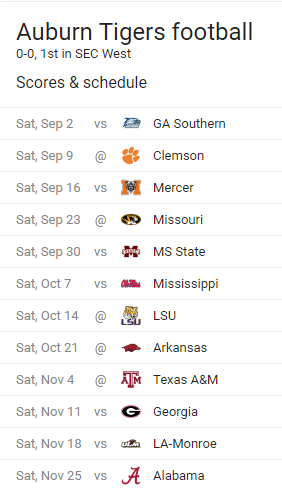 Auburn has had recent question marks at the QB position but they welcome transfer Jarrett Stidham this season from Baylor. Often we see the public betting Overs, but in this case we're seeing a big majority take the Auburn Under. However, I see at least 6 wins right off the bat (GA Southern, Mercer, Missouri, Mississippi State, Ole Miss, and UL Monroe). This means that they need to go at least 3-3 against Clemson, LSU, Arkansas, Texas A&M, Georgia and Alabama in order to get to 9 wins. They'll be underdogs against Alabama but that'll be a rivalry game at the end of the year. They'll likely be small dogs against Clemson and LSU so grabbing a win in one of those will put them in great position. I was able to grab Over 8.5 wins at +125 juice but you'll have to shop around the market to find a comparable price.
West Virginia Under 7
71% of tickets at Bookmaker on West Virginia OVER 7, but the juice has moved from +105 to -125 on the UNDER since opening. This means that the sharper and bigger money is on WVU to go Under 7 wins this season. The Mountaineers are set to regress this season after finishing 10-2 last season (10-3 including the bowl loss to Miami FL). They were 4-0 in games decided by less than a touchdown, and return very few tackles from 2016. An optimist may see more than 7 winnable games on the schedule, but the opener against Virginia Tech is crucial and I think they lose to the Hokies on a neutral venue.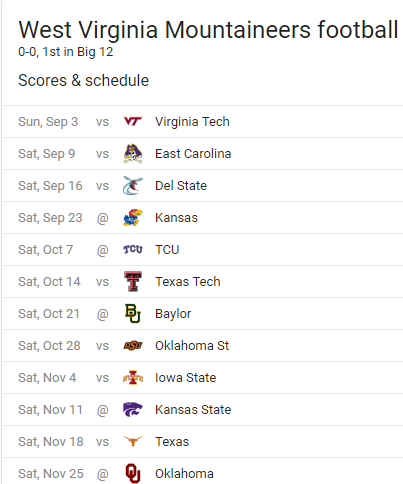 They should get wins vs. Delaware State and Kansas, but ECU, Iowa State and Texas Tech are no sure things and the rest is very, very iffy. In order to lose the Under 7 bet, WVU would have to win at least 8 games and I can't find that many victories on the schedule. The end of their schedule also features very tough games at Kansas State, vs. Texas and at Oklahoma. They may get to 7 wins and push, but that's the highest I see, so the value is on the Under rather than the Over.
Currently, here are the most-bet NCAAF Win Totals by the public at Bookmaker:
88% on Stanford Over 8.5 (o-140)
86% on Maryland Over 3.5 (o-146)
86% on Purdue Over 2.5 (o-145)
85% on Boston College Over 4 (o-119)
85% on South Florida Over 10 (o-129)
83% on Miami Ohio Over 8 (o+131)
82% on Ole Miss Over 5.5 (o+100)
82% on Washington State Over 7.5 (o-133)
81% on Mississippi St Over 5.5 (o-123)
80% on Oklahoma State Over 9 (o-108)
78% on Central Florida Under 7.5 (u-126)
Updated Win Totals for all 130 schools
Join us live Saturday mornings at 11am ET
We're now holding our members-only live Sports Betting Hangouts Saturday mornings to prepare you for a full day of College Football. Members, simply log into your account Saturday morning to access the hangout.
Not a member? Start a trial today to join our Sports Betting Hangouts held six days a week, plus all the other Sportsbook Insider Pro benefits.