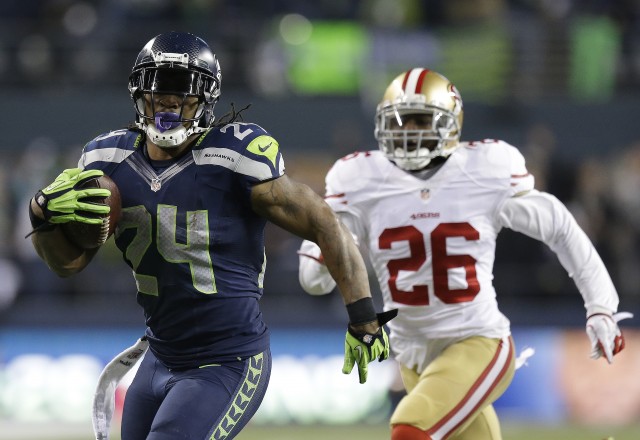 Early NFL Week 15 Lines
The list below compares the early week 15 lines from Sportsbook.com with the preseason lines from CG Technologies.
Note: Sportsbook.com lines are displayed first.
Arizona Cardinals at St. Louis (-2.5 | -1)
Tampa Bay Buccaneers at Carolina Panthers (-3.5 | -6.5)
Green Bay Packers (-6.5 | -4.5) at Buffalo Bills
Jacksonville Jaguars at Baltimore Ravens (-12.5 | -10.5)
Pittsburgh Steelers at Atlanta Falcons (-1.5 | -3.5)
Cincinnati Bengals (-2 | -1.5) at Cleveland Browns
Washington Redskins at New York Giants (-3.5 | -3.5)
Minnesota Vikings at Detroit Lions (-7 | -7)
Houston Texans at Indianapolis Colts (-7 | -4.5)
Oakland Raiders at Kansas City Chiefs (-10 | -8.5)
Miami Dolphins at New England Patriots (-7.5 | -6.5)
Denver Broncos (-3.5 | -3.5) at San Diego Chargers
New York Jets at Tennessee Titans (-3 | -1.5)
San Francisco 49ers at Seattle Seahawks (-6.5 | -3.5)
Dallas Cowboys at Philadelphia Eagles (N/A | -3)
New Orleans Saints at Chicago Bears (N/A | -3)
It's interesting to note that the lines for three games (WAS/NYG, MIN/DET and DEN/SD) have not changed since those preseason lines were released in mid-May. It's also worth nothing that two games moved 3-points with Seattle and Carolina both adjusting from -3.5 to -6.5.
Bettors may also want to circle San Diego (+3.5 vs. Denver), Buffalo (+6.5 vs. Green Bay) and Cleveland (+2 vs. Cincinnati) as potential plays. Our past research indicates that home underdogs are tremendously undervalued during the last three weeks of the regular season — particularly dogs of 8+ points.
Looking for the latest odds and public betting trends? Make sure to visit our free NFL odds page. Have any questions for the staff at Sports Insights? Utilize our live chat to speak with a customer service representative or e-mail us at help@sportsinsights.com.
[adrotate group="4″]