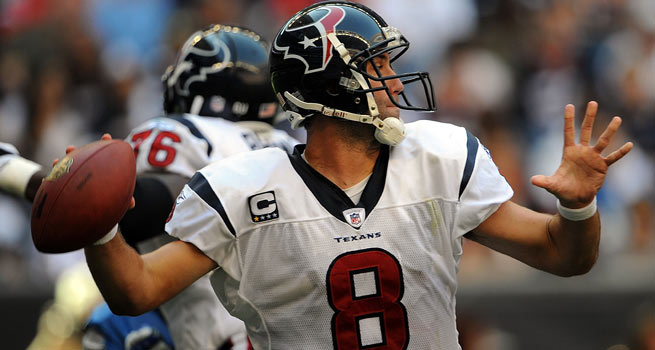 Early Line Movement: Week 1 Edition
After months and months of anticipation, the NFL season will kick off tomorrow evening with the defending Super Bowl champion New York Giants hosting their longtime NFC East rival Dallas Cowboys. While the game itself should make for entertaining television, it's difficult to find value in such an evenly bet game as the host Giants are currently receiving 56% of spread bets as a 4-point favorite.
However, looking ahead to Sunday's slate of games there is a plethora of fascinating line movement which is only bolstered by the fact that we have been able to track this betting data over the past several months. So which games should bettors have circled for opening weekend? Read on to find out.
 Miami Dolphins at Houston Texans – 1:00 PM EST on Sunday
This matchup features two teams with vastly different resumes. Last season the Texans outscored their opponents by 103 points en route to a 10-6 record and a playoff berth. Quite an accomplishment considering an injury to quarterback Matt Schaub (the Virginia product played just 10 games) forced unknown rookie T.J. Yates into a starting role.
Down in South Beach, the Dolphins showed signs of life at times but ultimately the team limped to a 6-10 record. This season could be even tougher as they hand the reins over to rookie QB Ryan Tannehill, who will be forced to learn on the job. Considering the team also dealt away star receiver Brandon Marshall and cornerback Vontae Davis, the Fins figure to be as popular as Roseanne's rendition of the Star Spangled Banner.
Fans are aware of the discrepency between these two teams which is why Houston is currently receiving a whopping 84% of spread bets and 90% of parlay bets. This ridiculously lopsided betting — along with the announcement that Tannehill and not Matt Moore would be the opening day starter — has caused the line to move from -6.5 to -11.5 at Pinnacle. Public money has played a large role in moving this line five points including moves past key numbers at 7 and 10. No game has come close to this type of line movement, and there could be some value on the Dolphins created from public bettors pounding the home favorite.
The line graph below does an excellent job of highlighting the astounding line movement that has occurred at Pinnacle.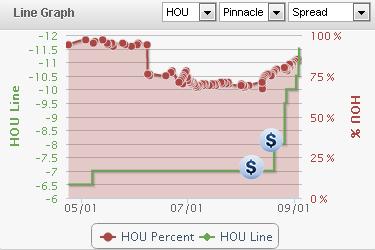 New England Patriots at Tennessee Titans – 1:00 PM EST on Sunday
Like the Dolphins/Texans game, the public betting has been extremely one-sided for this matchup. After reaching the Super Bowl last season, the Patriots offense added yet another elite weapon in WR Brandon Lloyd while improving their defense through the draft with a pair of first round picks in linebackers Chandler Jones and Dont'a Hightower. Perhaps that explains why New England is a huge favorite (+299 at Pinnacle) to win the AFC this year.
Facing off against an unproven Titans team, it's easy to see why 84% of spread bets would take the visiting favorite. However, this game fits a number of historically profitable betting trends which indicate that the value is on Tennessee. First of all, with just 16% of spread bets, the Titans fit our 80/20 betting system.
Since 2004, underdogs receiving less than 20% of spread bets have gone 84-63 for +16.56 units and an 11.3% return on investment (ROI). That 57.1% winning percentage also improves slightly if you focus solely on home dogs. In addition, consider this: Despite receiving just 16% of spread wagers, the line on the Titans has moved from +6.5 to +6 at Pinnacle. This reverse line movement indicates that sharp money likes Jake Locker and his Tennessee teammates.
The table below shows a breakdown of the spread betting percentages from our six contributing sportsbooks.
Teams

Market %

Sprtsbk

BetUS

Carib

WagerWeb

5Dimes

SIA

NE
TEN
84%
16%
81%
19%
91%
9%
89%
11%
80%
20%
68%
32%
93%
7%
St. Louis Rams at Detroit Lions – 1:00 PM EST on Sunday
We have found betting against the public is a very profitable philosophy in the NFL, but there are a number of fascinating trends that could prove advantageous to sports bettors. For example, our research has determined that home field advantage is vastly overrated and that leads road teams to be thoroughly undervalued.
Since 2004, road teams have gone 1120-1068 against the spread (ATS) resulting in a 51.2% win rate and 2.29 units earned. Although this alone would not be a system worth betting, it reveals a significant bias and provides an important filter for creating a lucrative betting system. By using our powerful BetLabs software, we have discovered that visitors have a 0.7% ROI at the 40% level, 1.3% ROI at the 30% level, 5.2% ROI at the 25% level, and 8% ROI at the 20% level.
It is also interesting to note that despite an overwhelming number of bettors backing the Lions, the line has actually dropped a full point from -9 to -8 at Pinnacle. This reverse line movement once again demonstrates that sharp money likes the visiting Rams.
Which week one games will you be keeping an eye on? Do you think there is a sharp side for tomorrow's Cowboys/Giants game? Leave your thoughts in the comments section below.