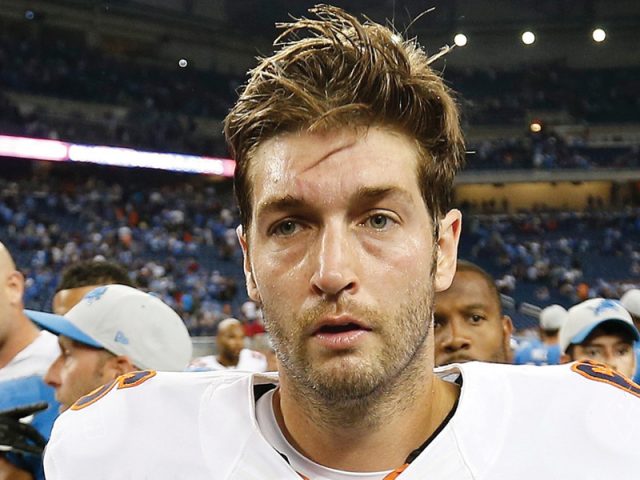 Dolphins Sign Jay Cutler: The Anti-GOAT
Last Thursday at Dolphins training camp, Ryan Tannehill went down with a non-contact knee injury that rightfully provoked fear within the organization. The next morning, it was revealed that he would indeed be missing some time, but it didn't appear to be the worst-case scenario.
ICYMI: Ryan Tannehill could rest and rehab for 6-8 weeks or have season-ending surgery.https://t.co/CAtwT7NfOs

— Adam Schefter (@AdamSchefter) August 4, 2017
On Sunday, the Dolphins may have answered which option Tannehill was going with by coaxing Jay Cutler out of retirement to sign a 1-year contract. It's now looking like Tannehill's season is over before it started.
With all of this being said, the Dolphins odds have taken a hit. For their week 1 affair at home against the Bucs, the line at Westgate has gone from a PK to TB -2.5. This lines up with Tannehill's value of 2-3 points to the spread. The total also dropped from 47.5 to 45.5.
The Dolphins were never considered Super Bowl contenders to begin with, but swapping Cutler for Tannehill didn't help their chances. At Bookmaker, the Dolphins were +4500 (2.2% implied probability) to win the Super Bowl and +760 to win their division before Tannehill's injury. Right after his injury, their Super Bowl odds went to +6300 (1.6% IP). After signing Cutler, their odds ballooned to +7700 (1.3% IP), with their division odds also moving to +970.
Though Cutler is expected to be the starter, their backup may take over at some point. Matt Moore is considered by oddsmakers to be one of the best backups in the league and given his track record of exceeding expectations and Cutler's track record of sucking, it wouldn't be surprising if Moore finishes the year as starter.
Moore has a 20-7 record against the spread, while Cutler has a 55-81 record…worst by a lot since 2003.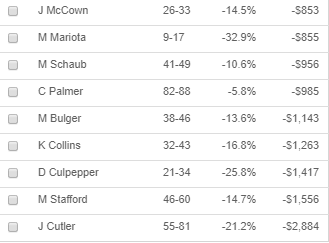 To see how the line moves for their week one game, follow our free odds page to get full line histories, public betting percentages, and more.
Be sure to follow us on Twitter @SportsInsights for more news on the story.