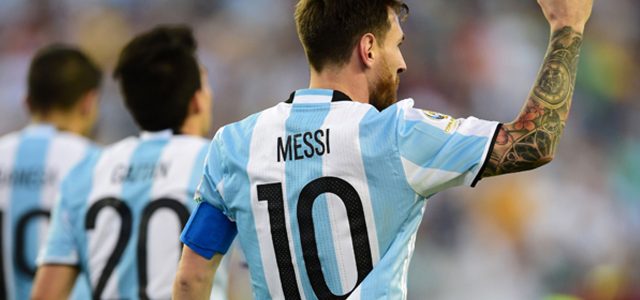 Copa America Semifinal Preview: USA vs. Argentina
We've reached the semifinals of Copa America and fans are getting two incredible matchups of USA-Argentina and Chile-Colombia. USA lost the opening match of the tournament 2-0 to Colombia but have now won three straight games to advance into the semifinals, including a 2-1 win over Ecuador in the quarterfinals. They'll face arguably the best team in the world, Argentina, who easily defeated Venezuela 4-1 in the quarterfinals.
The first semifinal match between USA and Argentina will take place on Tuesday, June 21 at 9 pm ET in Houston, while Chile and Colombia will play on Wednesday, June 22 at 8 pm ET in Chicago. We'll go a little more in depth on USA-Argentina below:
Opening Odds (Pinnacle)
Argentina -202
USA +681
Draw +348
Current Odds and Market Betting Percentages
Argentina -210 (70% of tickets)
USA +780 (25% of tickets)
Draw +337 (5% of tickets)
Although Pinnacle opened Argentina -202, some books like 5Dimes and SIA actually opened Argentina -270. This line appeared to be a bit too high and the market quickly adjusted. SIA still lists Argentina at -250, while sharper books like 5Dimes and Pinnacle are at -210. The game total hasn't budged off of 2.5 so there's not much to report there. Here's a look at the moneyline graph:

With 3-way soccer lines, moneyline moves tend to work differently than a normal spread. There are 3 outcomes to think about rather than 2, and these bets are based on 90 minutes of action only. Many public bettors like the idea of picking a winner and will avoid taking the draw even if there's value on it. Right now nearly 70% of moneyline bets are on Argentina (-210), but 25% of bets are also on USA (+781). Just 5% of moneyline bets are on the Draw (+337).
Now let's say that every wager is $100 and there are exactly 100 wagers on the game. If Argentina win, the sportsbook is paying out 70 winning tickets at -210 odds for -$3,360 total (70 tickets x $48 payout for each win). They are also taking in 30 wagers on either USA or Draw, which have lost, so that's +$3,000. Thus, the sportsbook would lose -$360 total if Argentina win.
Let's then take the scenario of USA winning at +781 odds. We'll use the same parameters of $100 each bet, and 100 total wagers on the game. 25% of tickets are winners on USA at +781 odds, which means sportsbooks would pay out $781 on 25 separate bets. This would equate to the sportsbook paying out -$19,525 on a USA win. They'd also take in the $7,500 in losses on Argentina and the Draw for a net loss of -$12,025.
In reality, we know that each ticket on USA to win is probably risking less than each ticket on Argentina to win, since the odds are so different on each side. Even if every USA bet is just $50 each, books would still have a net loss of -$2,262 if the USA won. Without even doing the math, the sportsbook would be rooting for a draw (getting just 5% of wagers at +337 odds) in this case. Pinnacle, for example, is a sharp offshore book that caters to long-term winners, and they generally have a much higher percentage of bets on the draw than any other sportsbook.
As for the actual game, USA will be without a few key players due to suspension. Defensive midfielder Jermaine Jones (red card), midfielder Alejandro Bedoya (yellow card accumulation), and forward Bobby Wood (yellow card accumulation) will all miss out on the semifinal match. Each had started in all four of USA's Copa America games this tournament so there will absolutely be some decisions to make for head coach Jurgen Klinsmann. As we mentioned in our quarterfinal preview, Klinsmann is often criticized and this will be a big match for him to prove his worth.
For Argentina, Leo Messi is back and in full form, which is scary for any team in the world. He missed the opening match of the tournament due to a back injury and played just 30 minutes in their second game, yet still came on to score 3 goals. He owned Venezuela in the quarterfinal despite their physicality on him, something the USA will absolutely have to do to have any chance against him.
Bettors can also avoid taking the 90-minute line and simply bet on which team will advance to the finals:
Argentina -475
USA +380
[easy-tweet tweet="Based on the odds, there's roughly an 80% chance that Argentina progresses over USA." via="no" usehashtags="no"]This is a stark comparison to the other semifinal match where Chile have a 51% chance to progress over Colombia.
USA are still +1200 underdogs to win the title, which are actually longer odds than when the opened prior to the tournament (+700). They even reached +1500 prior to the quarterfinals, showing just how strong their remaining competition is.
Here's a look at the betting results so far for this year's Copa America, which hasn't been kind to bettors who like the draw:
| Copa America Results | Moneyline Faves | Moneyline Dogs | Draw |
| --- | --- | --- | --- |
| Wins | 21 wins | 5 wins | 5 wins |
| Units Won | +4.75 units | -1.65 units | -14.30 units |
| Highest Payout | Chile +155 vs. Colombia | Peru +869 vs. Brazil | Peru/Colombia +278 |
Lastly, a reminder that all members can add Copa America to their Live Odds page, while non-members can follow the latest line moves and market trends for free here.
Are you hedging with any of your future bets? Can USA pull off two upsets to win the Copa America?