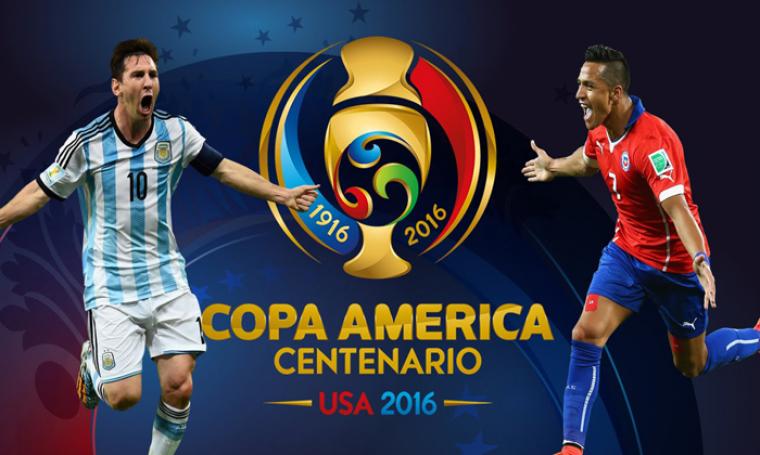 Copa America Final Preview: Argentina vs. Chile
The 2016 Copa America Final will take place on Sunday, June 26th at 8 pm ET at MetLife Stadium. Argentina rolled USA 4-0 in one semifinal match, while Chile beat Colombia 2-0 in the other, setting up a rematch from the 2015 Copa America Final between Argentina and Chile. Prior to the tournament, Argentina was the favorite to win at +250 odds while Chile was available at +1100 odds. Here's a look at each team's title odds since March:
Country
June 23
(5Dimes)
June 20
(5Dimes)
June 15
(5Dimes)
June 3
(5Dimes)
May 27
(5Dimes)
May 12
(5Dimes)
March 6
(5Dimes)
Argentina
-265
-160
-135
+185
+195
+225
+250
Chile
+225
+360
+800
+750
+800
+825
+1100
Colombia
N/A
+535
+600
+1100
+975
+1050
+1500
USA
N/A
+1200
+1500
+990
+970
+800
+700
Mexico
N/A
N/A
+635
+990
+1200
+1200
+1400
Ecuador
N/A
N/A
+2000
+3000
+3300
+4000
+5000
Peru
N/A
N/A
+6500
+7000
+6600
+5000
+5000
Venezuela
N/A
N/A
+9000
+11000
+10000
+8000
+8250
Costa Rica
N/A
N/A
N/A
+6000
+6400
+5000
+5000
Haiti
N/A
N/A
N/A
+85000
+80000
+50000
+50000
Paraguay
N/A
N/A
N/A
+8000
+6600
+6600
+6500
Uruguay
N/A
N/A
N/A
+940
+930
+950
+1400
Jamaica
N/A
N/A
N/A
+22500
+20000
+20000
+20000
Bolivia
N/A
N/A
N/A
+25000
+20000
+20000
+10000
Panama
N/A
N/A
N/A
+25000
+20000
+20000
+20000
Brazil
N/A
N/A
N/A
+570
+470
+400
+350
Chile were my value pick prior to the tournament at +800 odds and I planned on hedging if they faced Argentina in the finals. Even though Chile are playing like one of the best teams in the world, it's hard for me to justify not hedging my original bet. Even with some injuries, Argentina look poised to capture their first major trophy in 23 years. Here are the 3-way moneyline odds at 5Dimes (based on 90 minutes of play, not including extra time or penalties):
Opening moneyline:
Argentina -115
Chile +395
Draw +253
Current moneyline:
Argentina -104 (75% of bets)
Chile +361 (23% of bets)
Draw +246 (2% of bets)
75% of moneyline bets from our contributing books are coming in on Argentina while 23% of bets are on Chile. That's actually a lot of support for the underdogs considering that their odds say they have just a 19% chance of winning in regulation time. This was very similar to the semifinal game between Argentina and USA, where there was nearly 35% of tickets on USA +780. Sportsbooks gladly welcomed those tickets as USA hardly stood a chance against Argentina.
[easy-tweet tweet="In the Final, only 2% of bets are taking draw, which may be a good bet considering how well both teams are playing." via="no" usehashtags="no"] Last year's Copa America Final also ended in a draw and was decided when Chile won 4-1 on penalty kicks. On Friday afternoon the draw was listed at +272 but is all the way down to +246. Considering there are so few tickets on the draw, there's definitely some value in this game reaching extra time.
Over at William Hill in Nevada, Argentina are receiving over 90% of spread money and 65% of moneyline money. However, the majority of tickets are actually coming in on Chile, which shows the bigger and sharper money is on Argentina. Just 1% of the money there is taking the draw at +265 odds, again showing there may be some good contrarian value on these teams going to extra time/penalities.
Here's a look at the line graph for this match since opening at 5Dimes, showing the initial line move on Argentina, but recently on the draw and Chile:

Copa America has seen a couple big upsets (Peru over Brazil, Costa Rica over Colombia), but overall it's been a great tournament for betting moneyline favorites. Moneyline favorites have gone 21-5-5 this tournament for a net gain of +4.75 units. Betting on the draw did very poorly however, cashing in just 5 of the 30 matches. Despite having a bet on Chile to win the tournament, I do not like their chances to win this game outright and would lean towards the draw:
| Copa America Results | Moneyline Faves | Moneyline Dogs | Draw |
| --- | --- | --- | --- |
| Wins | 21 wins | 5 wins | 5 wins |
| Units Won | +4.75 units | -1.65 units | -14.30 units |
| Highest Payout | Chile +155 vs. Colombia | Peru +869 vs. Brazil | Peru/Colombia +278 |
Members have access to all sports and features, but free users can view the latest line moves and betting percentages for Copa America here.
Lastly, Chile's Eduardo Vargas (6 goals) is the current -300 favorite to be top goalscorer with Leo Messi (5 goals) at +190. Messi opened the tourney as the +500 favorite while Vargas was available at +4000 odds. In the event that both players finish with the most goals, it's important to check your sportsbook's rules for tiebreakers.
If you bet Chile to win the title, are you hedging with Argentina on the 2-way line or 3-way line? Feel free to leave your thoughts and comments below.